Hello World,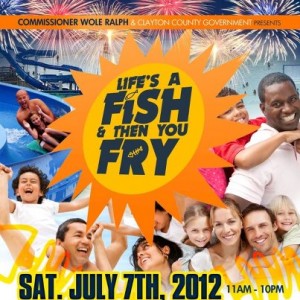 I have been classified as an introvert, but the older I get, the more I find myself being out and about – especially in the A, my beloved hometown…One of the events I recently attended was "Life's a Fish & Then You Fry," which is more of a movement instead of just a regular ole summer fish fry…Read my interview with entrepreneur Anthony "AJ" Joiner, one of  the brainchildren behind one of the summer's best parties…and check out these pics…
1.How and when did the "Life is a Fish and Then You Fry"start? 
"Life's a Fish & Then You Fry" started as a birthday party in April 2009. I bought all the fish, fries and fixings, and invited people to my home for my 36th bday. And it was completely free. People encouraged me to charge for fish plates, but I didn't want money to get in the way of people having a fun experience.
After the first party, people literally begged me to do it again so that they   could bring their friends. So…I did another one, and that's when I decided to give it a name. "Life's a Fish & Then You Fry" was officially born.  I wanted to continue doing it because people were having a genuine good time. There were never any incidents; everyone was meeting new people. It was just fun. It was an option for people who didn't want to go to the club or for people who liked to do something every once in a while.
2. Tell me about the evolution of the party and how it got bigger and better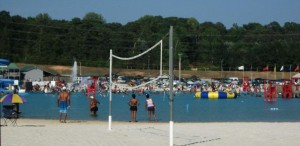 every year
It turned into an underground movement! It grew exponentially from 60 plus,  to 150 plus to 500 plus! It was sheer word-of- mouth and people posting their pics on Facebook!
For the last two years, we partnered with Chris Cornell , owner of E Period LLC , and this year, we partnered with Clayton County Commissioner Wole Ralph and others to host this party in the Clayton County International Park and Beach!
Chris used to attend the house parties. He had his own large scale barbecue that he did yearly for his birthday. At one of the fish fries (the one where police and news helicopters were hovering above trying to figure out what was happening) we discussed a partnership… and the rest is history…
Commissioner Wole Ralph attended one of the fish fries and expressed interest in creating a county partnership with Clayton County. He enjoyed the event and thought the partnership would make sense. We could organize, promote and make the event unforgettable. The county could provide the facility, security, emergency management plans, and help facilitate our needs to make it city-wide! The park had over 3,500 patrons over the course of the day so we were really excited!
3. Who were some of the featured performers?
We had a great lineup of performers – Untitled, Soulantis, Josh Bias & The 630 Band, and we ended the party with an incredible show by Phillippia and a fireworks show! We also had some great comedians – Comedian Landry, Comedian Arnesto and and Gerald Guillory!
Oh, this was ONLY the beginning. For anyone in ATL the 4th of July weekend 2013, it will be even more spectacular! So, if you're NOT going out of town – get $10 ready for an evening of unforgettable live entertainment along with a few tricks we have up our sleeves.
Any thoughts?
Below is a video of Phillippia performing for the crowd! Check out the couples dancing onstage!