Hello World,
We're on the last page of the book of 2016, and who knows how our stories will unfold in the New Year. For Pastor Andre Landers, his days of preaching at Higher Living Christian Church are over as of 2016 as the megachurch building in Hampton, Georgia will be sold by the Evangelical Christian Credit Union at a public auction on Jan. 3, 2017 to recoup a debt of more than $21 million, according The Christian Post. But Landers is looking forward to the New Year according to his Facebook page. In a post, he said, "2017 begins an era of resilience and renewal! Our next service will be our first service as iThrive Christian Church. Join us on January 8, 2017 at Charles Drew High School in Riverdale. Our service times are 8 and 10 am."
If that was all there is the story, that wouldn't be a big deal… Unfortunately, a church shutting down or facing a foreclosure even is not a rarity. And I'm sure a church opening isn't either. But from what I've read there is a backstory that makes this particular church opening worthy of a blog post as 2016 closes. Before I get into the backstory, I must say I've never met Pastor Landers (although I did see him in a DSW a few years back) nor did I have the opportunity to visit Higher Living Christian Church so I'm only blogging based on what I've read. Well, according to the news source Because We Care – Atlanta South, which is also cited in the CP article, the church once had 10,000 members on two campuses. However, the church began to lose its membership a few years ago when Pastor Landers was rumored to be having an affair. An unnamed member of the church told 11 Alive the same story. "From that point, people started to leave. I think some differences of opinion as how things are being run internally, so the congregation started to shrink." The story took an even more scandalous turn when the pastor allegedly suddenly divorced his then wife Kim Landers who was also reportedly struggling with breast cancer at the time. Apparently, his then wife had no idea that her husband no longer wanted to be married and said so in a Facebook post….
Further complicating the story is the fact that Pastor Landers remarried this year. "In a twist Pastor Landers then remarries and makes his new wife the first lady of HLCC, seemingly the last straw as member numbers dwindle over the years, our source continues." And he is not shy about his new wife… Check out this Instagram post from a few months ago…
But wait, there's more story to tell, chile…Before Higher Living Christian was named Higher Living, it was originally named New Birth South Metropolitan Church, which officially opened on February 25, 2001, with a congregation at 300 at the AMC 24 movie theater in Morrow, Georgia. As suggested by the original name of the church, Landers was once a protégé of Bishop Eddie L. Long…I wonder why the name of the church was changed…Whatever the reason was at the time, it makes sense now given what Bishop Long is still going through…I won't rehash that story except to say read my blog post Bishop Eddie Long Releases New Book 'The Untold Story' While Pastor Jamal Bryant Sidesteps Paternity Claim Today… (my most popular post of 2016 by the way…)
Well, a few months ago, Bishop Long has revealed that he is struggling with his health. Although he declared himself healed, CP also reported earlier this month that Bishop Long "has taken another sick break from church to get rest as church officials fended off rumors Thursday that he is now under hospice care." It doesn't help that he appears shockingly gaunt in a recent service…A pic from his Twitter account is below…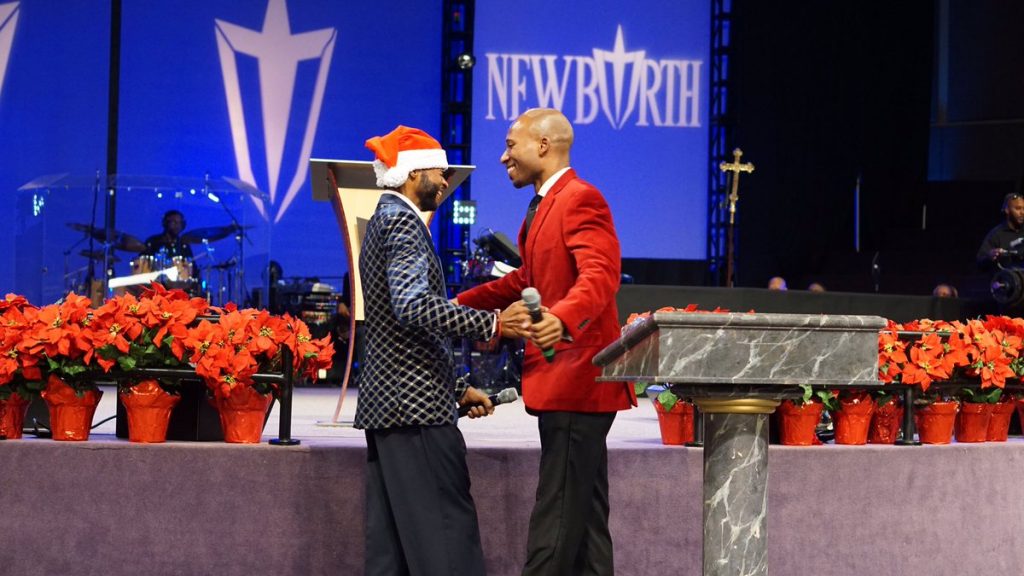 Nevertheless, New Birth is having a Watch Night Service at two times this Saturday, according to the church's Facebook page.  A service will be held at 6:30 p.m. and 9:30 a.m.
So my question to you is this: Given what we know about the stories of New Birth South/Higher Living/iThrive & the original New Birth, are either of these churches where you want to start your 2017 story? (And I must point out that the God I serve is a God of grace and mercy despite our backstories.)…It has been said that how you spend your New Year's Eve is how you will spend the rest of your year. And while iThrive is not hosting a Watch Night Service per se, it is having its inaugural service on Jan. 8…
Any thoughts?
Comments
comments