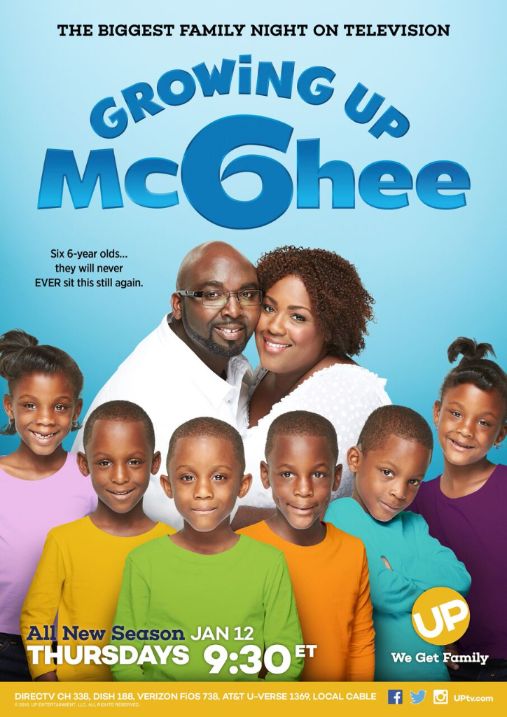 Hello World,
Earlier this month, the McGhee sextuplets along with their parents Ro, a minister, and his wife Mia returned to UP for the second season of their hit show Growing Up McGhee, which comes on Thursdays at 9:30 p.m. EST! The next show will air on Thursday, Feb. 9!

In the second season of Growing Up McGhee, with the McGhee sextuplets now six years old, their curiosity about life is making every day exciting and challenging for Ro and Mia. As they get older, each child is beginning to express their own individuality, and with that comes new interests and experiences that keep the family busy, laughing and sometimes a bit exasperated. Mia is also discovering that she is going to need to let go of the reins as the kids start socializing with friends at school and not just their siblings. From learning how to ride a bike without training wheels, going to work with Ro or learning how to play a musical instrument – all times six! – each day brings a new adventure. For Ro and Mia, the kids maturing also gives them a little more time for themselves to help them reconnect with who they were before they had kids. The season ends with an extra special event…Ro and Mia never had a wedding when they got married, so it's the perfect time to renew their vows with their kids in tow and get that dream wedding they never had.
Below is my interview with Mia McGhee:
Mia, you mentioned that the money you spend on back-to-school shopping for the children is comparable to the money you would spend on a college education! I know you were joking, but have the two of you become extreme couponers since you have a budget of nearly $2,000 for back-to-school shopping? What are your top strategies for saving money on back-to-school shopping?

My strategy for saving money is to shop at places with the best deals. I love coupons but with everything that I have going on, I don't have time to be an extreme couponer!

According to you, the children need to continue dressing alike because it's easy to pick your children out in a crowd. But the children seem like they want to start dressing differently. At what age do you think you will allow them to dress differently and how will you cope?

Our kids can stop dressing alike when they start buying their own clothes. I'm joking! Whenever they develop their own style and start picking out their own clothes I'll be fine with it!

Of all the sextuplets, Elijah is the tallest and his clothes are handed down to his shorter brothers. How do you think he feels about that in relation to his sisters and brothers?

Elijah loves being the tallest. It reminds him of his grandfather, Ro's dad, whom he is crazy about because he's tall with muscles (as Elijah would say).

Madison and Olivia were looking at bras when the family went to back-to-school shopping, have you already started thinking about how you will deal with puberty with six children going through it at the same time?!


Madison and Olivia are fascinated about becoming women. To be honest, I have not thought about how we are going explaining puberty to the kids. All I know is that right now, I'm taking it one stage at a time.

I know what it feels like to have been in kindergarten twice because when my family moved from Miami to Atlanta, my parents were told I was too young to enter the first grade after completing kindergarten in Miami.(And I turned out fine by the way 🙂 ) I don't remember having negative feelings about it, but Isaac cried when all the children were told they would have to repeat kindergarten. Why did he cry, how is he doing now, and how are the rest of the children coping?


Issac did cry about repeating kindergarten because he looked forward to going into 1st grade but honestly, that was short lived. Kids are resilient and all of them have adjusted so well and we now know more than ever that it was the right choice.

Mia, you said their first day of school is your first day of vacation and Ro said, "It's me, my wife and silence." What are your favorite things to do as a couple while the kids are at school that maybe you can't do in the summer months when you have to care for the entire family?

My favorite things to do as a couple while the kids are in school if Ro doesn't have to work is to just be together. I know it sounds simple but and spending time with each other is still my favorite thing.

What do you hope families will learn by watching Growing Up McGhee? And what have learned from being a part of Growing Up McGhee?

My hope is that our show is an encouragement to other families. If we can do it with sextuplets, you can make it too, but you have to remain hopeful. We've learned to pace ourselves and to enjoy the moments while we can. We know we only get one shot at being parents and if that isn't motivation, I don't know what is.
Also, UP is doing a "Watch and Win" sweepstakes with every new episode! The details are: UP will be giving away over $50,000 in 2017! During each new episode of an UP original show, the network will give away $1,000 to one lucky fan by engaging UP's audience in a "Watch & Win." Each week will be a new sweepstakes with a new chance to win! During a commercial break, the network will give fans a word or phrase they must enter online at WatchUPandWin.com for a chance to win. From there, fans can participate with the brand in other ways to earn additional entries like signing up for the UP newsletter, watching UP content and correctly answering trivia about UP shows on Twitter. Each week, UP will announce winners on-air and talent will encourage viewers to enter. UP will also be giving away 2nd place prizes of $100 Amazon giftcards. Series included in the giveaway are Bringing Up Bates, Growing Up McGhee, Small Town, Big Mayor and Date My Dad.
Any thoughts?
Comments
comments