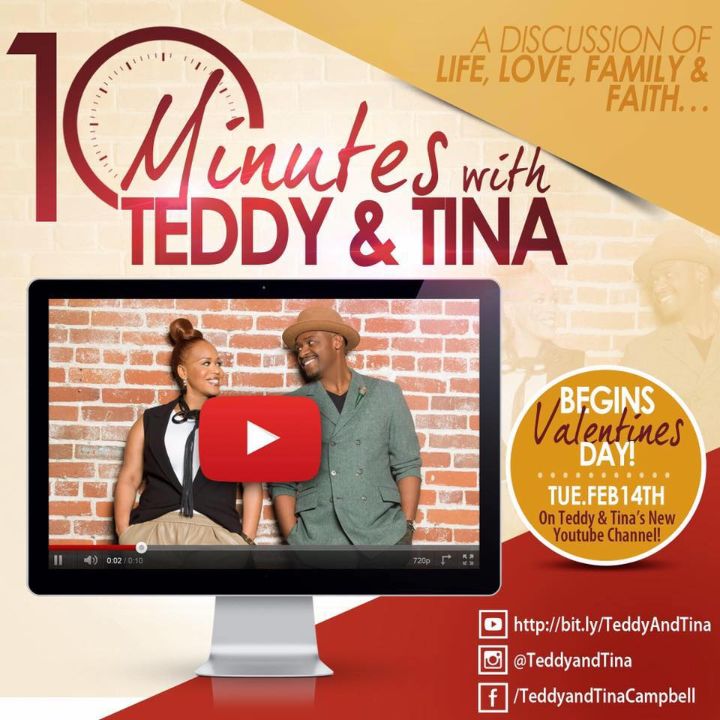 Hello World,
Happy Valentine's Day!!!
Teddy and Tina Campbell (from Mary Mary) are debuting their new web series "10 Minutes with Teddy & Tina" TODAY.
From their Facebook page about the show…
A few years back, we opened up our lives, via our reality TV show, and showed the many perils of marital infidelity. Through our journey, we also showed that in honoring our vows to love each other through better and worse, God honored us with a stronger marriage, friendship, and family. We don't just have the satisfaction of sticking it out and staying together; our marriage is God's depiction of a beautiful love story that gets better by the day. And if it's possible for us, it's certainly possible for you.

Our journey has inspired us to help other marriages, families, and individuals by sharing our perspective on Life, Love, Family, and Faith via a new web series entitled "10 Minutes With Teddy and Tina", that is premiering on our YouTube channel Tuesday, Feb 14th, Valentines Day!

Since it kicks off on Valentine's Day, we're going to kick it off with a discussion of LOVE. Listen folks, tests become testimonies so that we can testify and possibly encourage and inspire someone else on their journey, so that's exactly what we intend to do. It's fun, intriguing, insightful, grown & sexy, spiritual; it's a really good #webseries but you should see for yourself by subscribing to our YouTube channel.

Below is a snippet of the show!
Their testimony is inspiring! I will be tuning in!
Any thoughts?
Comments
comments