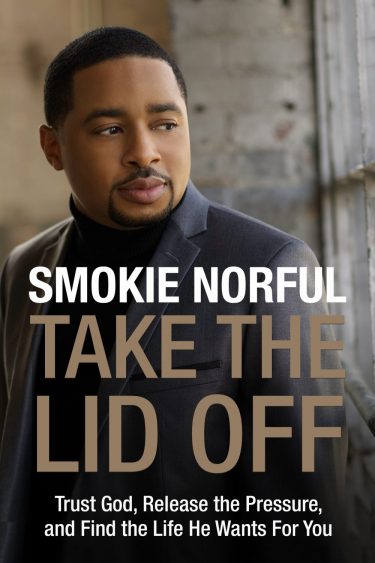 Hello World,
When the pressure of life seems to boil over – and it does for everyone – Pastor and GRAMMY-winning musician Smokie Norful has one piece of advice: take the lid off. This concept was inspired by watching his grandmother make her signature dish of sweet rice. When the heat got too high, the pot began hissing and boiling over, like it was about to explode and create panic. His grandmother would remind him the only way to avoid an eruption is to remove the lid. Like that pot of rice, the only way to avoid an emotional overload is to take our own lids off — that is, to stop being trapped inside ourselves and instead look to God and his grace to show us the strategy that makes us all he intends us to be, and serve him in the way he has called us to.
This is the premise behind Norful's new book Take the Lid Off: Trust God, Release the Pressure, and Find the Life He Wants for You (Thomas Nelson), which is available as of TODAY. In Take the Lid Off, Norful — who is the founder and pastor of Victory Cathedral Worship Center, a congregation of 5,000 members with three campuses in the Chicagoland area — outlines four steps to take to relieving the pressure and drawing closer to God in the process:
1. Look Inward, experiencing the cleansing of forgiveness and the power of God.
2. Look Outward, seeking for others to experience the joy of living for God and have the best God has to offer.
3. Look Upward and marvel at God's love and strength to accomplish his purposes.
4. Move Onward, devising a strategy to accomplish all God has put in our hearts to do.
Norful — through detailed explanations and relatable examples — guides readers in understanding that, when you focus on these four steps, the pressure of life goes down, you gain peace and perception, and things work out much better in the end. By working to "take the lid off," readers can become the people they were created to be.
Interesting Biographical Highlights From Take the Lid Off :
*Norful is a PK (preacher's kid).
*Prior to his music career, he worked as junior high school teacher in Pine Bluff, Arkansas where his father was the president of the local school board.
*Although Norful was a successful gospel artist, he was miserable at one point and had even stopped going to church.
*Fellow gospel artist Donnie McClurkin was instrumental in convincing Norful to become a pastor.
*Some people who supported Norful in his music career weren't as supportive when he became a pastor.
*Norful's GRAMMY Awards are displayed behind his sons' trophies for karate, T-ball and soccer.
*When Norful became a pastor, he gave up 80 percent of his income for several years.
Check out the Take the Lid Off trailer below:
To underscore the message of Take the Lid Off Norful is partnering with his long-time label home, Motown Gospel, to release a digital-only album titled Nothing Is Impossible. The 12-track project, available Sept. 9, 2017, features some of Norful's most beloved songs of encouragement and inspiration, including "Still Say Thank You," "No One Else" and "Run Til I Finish."
About the Author:
SMOKIE NORFUL is founder and senior pastor of Victory Cathedral Worship Center, a congregation on three campuses in Bolingbrook and Chicago, Illinois. A multiple Grammy-winning artist who has sold more than three million albums worldwide, he has also received Stellar awards; Dove awards; an NAACP Image Award nomination; a Soul Train Award nomination; two nominations for the BET Award for gospel music; two RIAA certified Gold-selling compact discs; and countless other accolades. A graduate of the University of Arkansas at Pine Bluff and Trinity International University in Deerfield, Illinois, Norful also served on the board of regents for Trinity International University. He lives with his wife and family in the Chicago area. 
Learn more about Norful at SmokieNorful.com, and connect with him
Take the Lid Off is available on Amazon, Barnes & Noble, ChristianBook.com, 
and other major bookstores nationwide and online.
Any thoughts?
Comments
comments