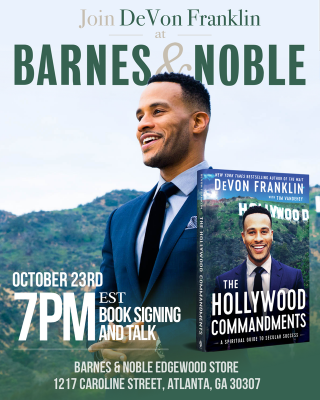 Hello World,
Hollywood producer and Meagan Good's hubby DeVon Franklin is coming to the A on Monday! He will be signing and talking about his latest book The Hollywood Commandments at Barnes & Noble bookstore, 1217 Caroline Street, Atlanta, Georgia 30307, at 7 p.m. on Oct. 23!
In The Hollywood Commandments, DeVon Franklin, the New York Times bestselling author of The Wait, reveals 10 life-changing commandments for your success learned from working over 20 years in the most secular environment on the planet: Hollywood! With The Hollywood Commandments, DeVon will help you:
Identify the unique traits that will propel your career to new heights
Overcome fear and build the courage to pursue new opportunities waiting for you
Gain the confidence to make important decisions with greater peace and clarity
Negotiate the life and career advancement you deserve!
YOU WON'T LEARN THESE 10 COMMANDMENTS IN THE CHURCH.
YET, THEY WILL HELP YOU THRIVE IN YOUR CAREER AND ACHIEVE THE LIFE YOU'VE BEEN PRAYING FOR!
Check out the trailer below…
DeVon Franklin is a bestselling author, spiritual success coach, and the CEO of Franklin Entertainment, a production company in conjunction with 20th Century Fox. He is the producer of the box office hit Miracles from Heaven and the upcoming animated film, The Star, for Sony Pictures Animation. He's Dr. Oz's go-to guy for spiritual success coaching on The Dr. Oz Show and he's the co-host of the TLC event series, This Is Life Live.
Variety named DeVon one of the "10 Producers to Watch" and Beliefnet called him one of the "Most Influential Christians Under 40." He is the author of the New York Times bestseller, The Wait (co-written with his wife, award-winning actress Meagan Good) and Produced By Faith. I interviewed DeVon about his first book Produced By Faith. Check out my article on MOVIEGUIDE. 
Any thoughts?
Comments
comments