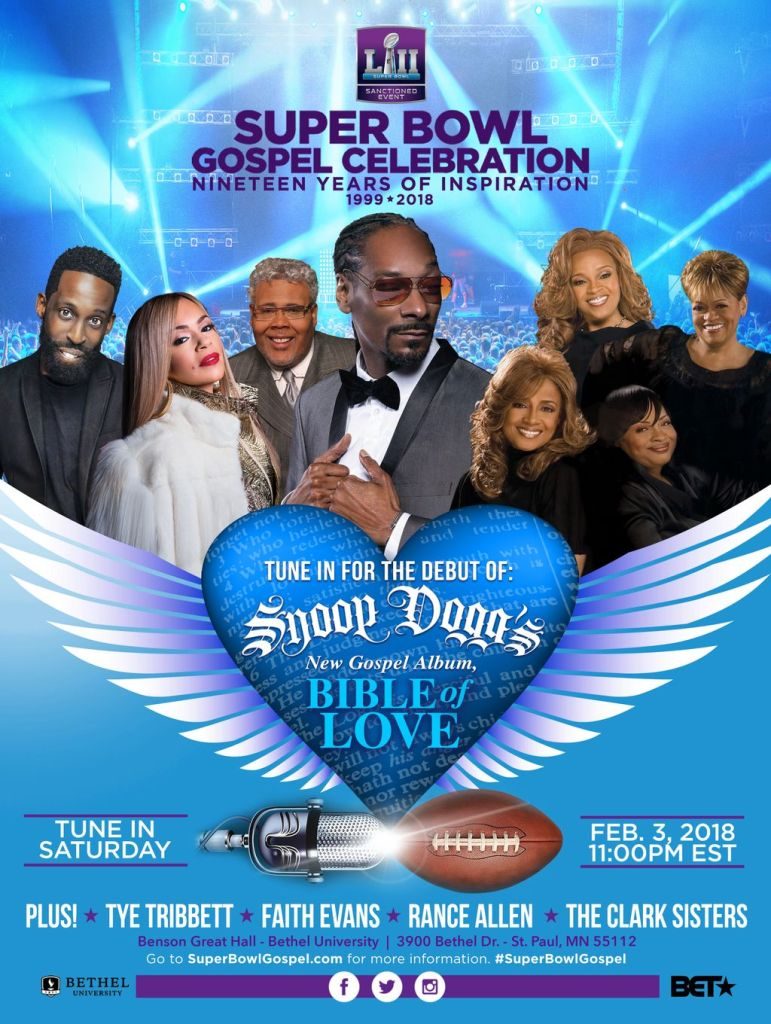 Hello World,
I'm not gonna even lie. I could care less about the Super Bowl on Sunday…Who is playing? (Although I will be attending a Super Bowl Party at a friend's house 🙂 )
But I am intrigued by the fact that rapper Snoop Dogg aka Mr. Gin and Juice aka Mr. Smoke Weed Every Day aka Martha Stewart Sidekick will be debuting his long awaited gospel album "Bible of Love" during the Super Bowel Gospel Celebration, a 1-hr special, which will air Saturday, Feb. 3 on BET at 11 PM EST and Sunday, February 4th at 11 AM & 11:00 PM EST. Salvation is for everybody, but singing about salvation ain't….Or will he be rapping?… Or both…We will see…
Also, GRAMMY® Award-winning hip hop and R&B singer Faith Evans, GRAMMY® Award-winning gospel singer Tye Tribbett, GRAMMY® Award-winning gospel vocal group The Clark Sisters and GRAMMY® Award-nominated gospel musician Rance Allen will reportedly join Snoop Dogg.  Other performers at this year's Super Bowl Gospel Celebration include Christian and R&B singer Erica Campbell, GRAMMY® Award-nominated percussionist and singer Sheila E., GRAMMY® Award-winning gospel singer Donnie McClurkin and GRAMMY® Award-winning vocal and instrumental ensemble Sounds of Blackness.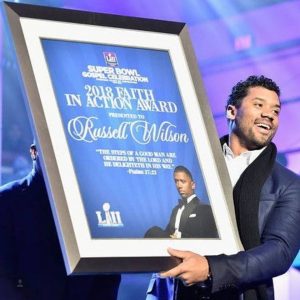 Seattle Seahawks quarterback Russell Wilson will be awarded the 2018 Faith in Action Award, and Arizona Cardinals wide receiver Larry Fitzgerald will receive the 2018 Lifetime of Inspiration Award at the celebration.
The annual event joins together key NFL Players, top Gospel/Contemporary Christian and mainstream GRAMMY® Award-winning artists and special guests all on one stage to bring audiences an evening of uplifting music and inspirational messages. This year's concert will be hosted by NAACP Image Award®-nominated actress from HBO's hit show InsecureYvonne Orji, and gospel singer and star the OWN Network show The Book of John Gray Pastor John Gray.The celebration was taped on Thursday, Feb. 1 at Benson Great Hall at Bethel University in St. Paul, Minnesota.
Melanie Few (Partner of Results Media & Marketing (Entertainment & Lifestyle Marketing Agency) launched the Super Bowl Gospel Celebration in Miami in 1999. During Super Bowl XXXIII weekend in 2002, the event became the first, and remains the only inspirational concert sanctioned by the National Football League (NFL), bringing faith, football and inspiration together. The show has drawn crowds in the thousands and has demonstrated growth year-after-year, selling out venues in major Super Bowl host cities, as well as to bring inspiration to over 2 Million viewers each year.
Since its inception, SGBC has donated a portion of its proceeds and more than 6500 tickets to local and national charities. The event brings key NFL players and top artists together on one stage for uplifting music and inspirational messages. In addition, SBGC offers an opportunity to extend goodwill from corporate and broadcast partners and sponsors.
Check out the promo video below!
Any thoughts?
Comments
comments