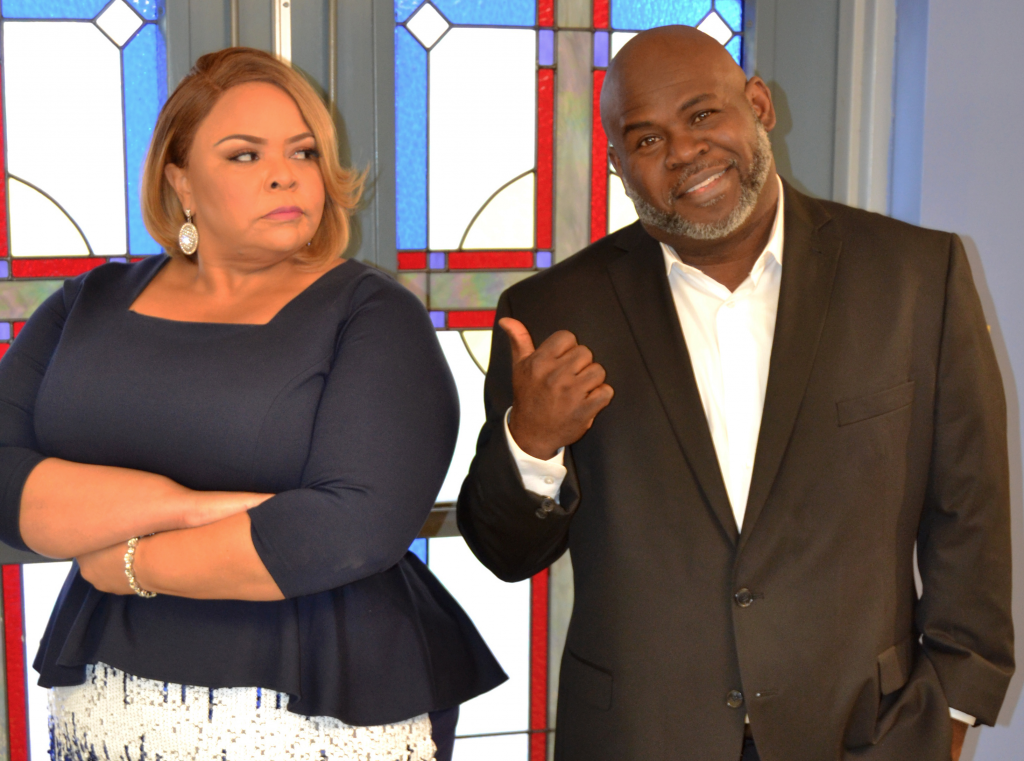 Hello World,
Happy FriYAY! I know it's a looong way from Christmas (and I'm ready to be done with cold weather), but I've found it's always great when we can look forward to something in the future. So keep reading for something we can look forward to at Christmas time…
TV One has announced that production is underway in Atlanta for the new original holiday movie, MERRY WISH-MAS. This Christmas movie stars Tamela Mann (The Manns) as Keneisha 'Kenni' Wright, a single and successful Atlanta businesswoman who hasn't returned home for the holidays in years, she plays opposite her creative and life partner, husband David Mann(The Manns) as Jessie Jenkins, an old high school friend. The two reunite at Jessie's fledgling wellness facility, the Beverly Living Center, where Kenni is reminded of the transformational power of love, hope and faith, amplified by the spirit of the holidays. The Manns also serve as executive producers on the project, which will premiere this winter on TV One.

Directed by award-winning actress, director and producer Terri J. Vaughn, this feel-good romantic comedy revolves around Kenni, who has avoided the annual holiday trip to her hometown of Columbia, South Carolina for years. While she is hoping for the best, as with any family, there are unresolved issues lingering that could make the holiday not so bright. The movie also stars veteran actress Kim Fields(Living Single) as Celine, a regular at the center who loves seeing the new smile Kenni puts on Jessie's face, but is protective about his feelings. Towanda Braxton (Braxton Family Values) plays the role of Natalie, the persistent local woman who has a crush on Jessie. Elizabeth Omilami (Madea's Family Reunion) appears as Kenni's matchmaker mom Regina, while Chrystale Wilson (The Player's Club) steps into the role of Kenni's sister and food truck entrepreneur Dionne, adding a high dose of sibling rivalry. Rap artist Yung Joc, best known for popular singles "It's Goin' Down" and "I Know You See It," makes a cameo appearance.
I got a chance to visit one of the set locations, a lovely, small stone church where the finale is being filmed, and interview Roger Bobb, whose company Bobbcat Films is executive producing the movie; Terri Vaughn and her Nina Holiday Entertainment partner Cas Sigers-Beedles, who wrote the film. In addition, I was also able to speak to Elizabeth Omilami  (the daughter of Hosea Williams from Hosea Feed the Hungry) and Chrystale Wilson.
Below are a few notable quotes:
On David & Tamela Mann:
Roger Bobb: I've known David and Tamela for ages. I love them as entertainers and as a family. The world will never have enough of David and Tamela.
Terri J. Vaughn: Everyone is used to Tamela being an anointed pillar of strength, but in this movie, the character that she is playing is a bit snooty. She thinks that she created a life that is better than what she experienced in her hometown. So you will see her in not the best light. David usually plays the comedic role, but he's the straight man in this movie. He's a strong, spiritual pillar.
On Favorite Scenes:
Terri Vaughn: One of my favorite scenes is a heated discussion between Tamela, her sister and her mom played by Elizabeth Omilami. Another one juicy scene happens between David and Tamela in a junkyard. They have a romantic moment in the middle of junk.
Roger Bobb: I can't give it away but the finale of this film is amazing!
On Messages in 'Merry Wish-Mas':
Elizabeth Omilami: Forgiveness. Life is too short to not forgive. Even if you were right, go back and apologize.
Chrystale Wilson: We don't respect the elderly like other cultures do.  The movie also touches on sibling rivalry and jealousy.
On Nina Holiday Entertainment:
Terri J. Vaughn: This is a divine working relationship and friendship. We've been through divorce, remarrying and kids. Cas is super talented, super creative and super smart. She is literally the person I talk to every day.
Cas Sigers-Beedles: (With laughter) We're work wives! This is the first Christmas film I've written. I wanted to tell a story about a woman who is somewhat like me. She is career-driven but afraid of love but she wants to love.
Elizabeth Omilami: When you laugh out loud, you know you have yourself a good writer. My husband was like, 'What are you reading?' When you have a great script and the lines are poppin', you want to do the work.
I filmed a brief video of Terri Vaughn and Cas Sigers-Beedles as they discussed their partnership. (Obviously, I have more to learn in this medium.) After The Altar Call was one of several media outlets invited to the set….
"Heartwarming stories like Merry Wish-Mas that bring families together and make us laugh are as much a part of the season as Christmas trees and Santa himself," said Vaughn, who makes her TV One original film directorial debut. "And this movie, touching upon family conflicts, singlehood and love, money woes, and wishing for Christmas miracles, is set to become a highlight of the coming holidays."
So are you looking forward to this new Christmas movie starring David and Tamela Mann?
Any thoughts?
Comments
comments