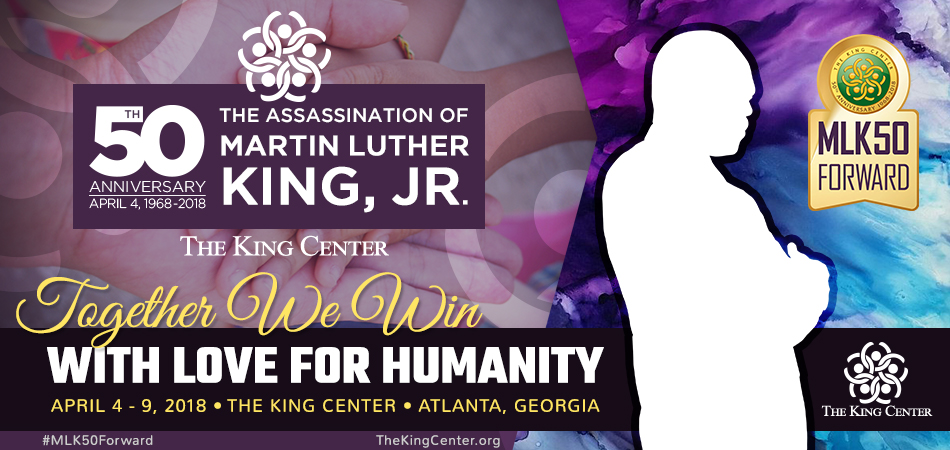 Hello World,
To be clear, today April 4, 2018, is not a day that we celebrate the assassination of likely the greatest civil rights leader to have ever lived 50 years ago before he was shot to death on April 4, 1968. We are commemorating Rev. Dr. Martin Luther King Jr.'s life and times not the tragedy of the death of a 39-year-old man who accomplished more than many who lived two of his lifetimes…
If you are in Atlanta, Georgia, his birthplace or Memphis, Tennessee, where he was assassinated, you have many opportunities to commemorate his life and times. Below are just a sampling of these events:
From The King Center's website mlk50forward.org:
Martin Luther King, Jr. Peace Prize Award Ceremony on April 4, 2018, Ceremony: 10:30 a.m. – 11:45 a.m., Luncheon: 12 p.m. – 2:00 p.m. The Martin Luther King, Jr. Nonviolent Peace Prize is The King Center's highest award presented for commitment to nonviolence as a way of life through which social justice, human rights and civil liberties are attained for all. The prize also recognizes achievements in the eradication of poverty and racism, and the successful quest for alternatives to war. Honoring Benjamin Ferencz and Bryan Stevenson. To register and for more information, go to eventbrite.com. 
Global Bell Ringing & Wreath Laying on April 4, 2018 at 6:01 p.m. CST. The Global Bell Ringing will begin at the National Civil Rights Museum in Memphis, TN and The King Center in conjunction with the rest of the world.
The Wreath Laying, which will include the King Family, will take place at the crypt of Dr. Martin Luther King, Jr. and Mrs. Coretta Scott King in Atlanta, Georgia.
King Centennials Speaks on April 7, 2018 at 11:00 a.m. – 4:00 p.m. The Centennial Generation of "King Children", Miss Yolanda Renee King, Granddaughter of Martin Luther King Jr. and Miss Maryn Rippy, Granddaughter of AD King, will host an event highlighting youth all over the world doing innovative and extraordinary work for humanity. The program
will be co-emceed by Hudson Yang, Eddie from ABC's "Fresh off the Boat" and  Storm Reid, Meg from the movie "A Wrinkle in Time." Admission is free, but you must register at eventbrite.com. 
March for Humanity & Love for Humanity Tribute on April 9, 2018. The march will be 12:00 p.m. – 2:30 p.m., and the Morehouse Event will be 2:30 p.m. – 5:00 p.m. The March in Atlanta will begin in front of Historic Ebenezer Baptist Church and end at the campus of Morehouse College followed by a Love for Humanity Tribute. Registration is required.
From the National Civil Rights Museum's website mlk50.civilrightsmuseum.org:
10:00 AM Daylong Tributes from the MLK50 Main Stage in the Museum Courtyard on April 4 – Musical, dance and spoken word performances and reflections from civil rights leaders in salute to Dr. King. Free to the public.
3:30 PM The 6:01 50th Anniversary Ceremony from the Balcony of the Lorraine Motel on April 4– The Beloved Community will gather for the official ceremony with the laying of the wreath, ecumenical liturgy, musical and spoken word tributes, and remarks from civil rights icons. Free to the public.
6:01 PM Bell Toll on April 4 – Bells ring at places of worship, college campuses or institutions 39 times across the nation to honor the number of years Dr. King dwelled on this earth and to pay homage to his legacy.
6:15 PM Evening of Storytelling – Civil Rights Icons and New Movement Makers in dialogue about "the Movement" then and now. This is a ticketed event at Crosstown Concourse in Memphis. The event will address the MLK50 theme, Where Do We Go From Here? Michael Eric Dyson and April Ryan will co-moderate a session with a set of candid discussions on the political, legal, and cultural aspects of social justice activism.  Former MSNBC anchor Tamron Hall will host a session with CongressmanJohn Lewis and James Lawson.  Invited speakers will share their recollections from the front lines, analysis of modern strategies, and ideas for new techniques that modern activists can use to further Dr. King's platforms for peace, justice and equity.  Confirmed guests include seasoned civil rights icons Jesse Jackson,Marian Wright Edelman, Diane Nash, Clarence Jones, Bill Lucy,Coby Smith, Mike Cody, and Elaine Turner along with newcomers Yadon Israel, Bree Newsome, Quentin James, Nicole Porter, Tamika Mallory, Alicia Garza, and Tami Sawyer.  Apparently, this event is sold out, but you never know if someone will not show up and you can get in 🙂 For more information, go to mlk50.civilrightsmuseum.org.
Also, through Civil Rights Tours Atlanta, on Saturday, April 7, you can retrace the funeral route of Dr. King. See the places 50 years ago that served as key points in his funeral. They will also be observing the third anniversary of Civil Rights Tours Atlanta — showing you how incredibly things have changed. Reserve your seat @ www.civilrightstour.com and use the promo code "Civil" for a 20% discount!
And if you don't live in Atlanta or Memphis, below is a link to an interview with journalist Alexis Scott.
From WABE.org:
Her grandfather founded "The Atlanta Daily World," the nation's oldest daily African-American newspaper. Scott became the paper's publisher for 17 years and is currently a political commentator for "The Georgia Gang." For WABE's ongoing ATL68 series, Alexis Scott joined Lois Reitzes on "City Lights" to discuss her impressions of civil rights leader Dr. Martin Luther King Jr., 50 years after his assassination.
How are you commemorating the life and times of Rev. Dr. Martin Luther King Jr.
Any thoughts?
Comments
comments