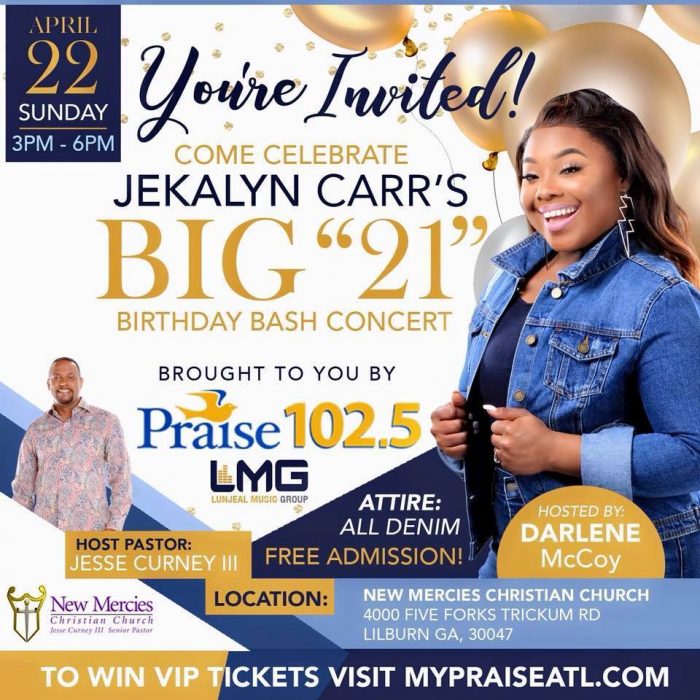 Hello World,
Do you remember your 21st birthday? Sadly, I'm not sure that I do. I hope I had a great time 🙂 . It looks like gospel star Jekalyn Carr will be having a great time when she turns 21! On the heels of her #1 Billboard single "You Will Win," and Billboard #1 chart-topping album One Nation Under God, GRAMMY®, Two-Time Billboard Music Award and GMA Dove Award-nominated and Stellar Award-winning artist, Jekalyn Carr is turning 21! (She has accomplished a lot by this age, huh?)
Lunjeal Music Group and Atlanta's inspiration station, Praise 102.5 invites you to join Jekalyn Carr on April 22nd from 3-6 p.m. at New Mercies Christian Church in Lilburn, Georgia for an afternoon of praise and celebration. The concert is hosted by Atlanta's own national syndicated radio personality, recording artist, and actress Darlene McCoy, who will be performing her single "Even Me" at the birthday bash.
Free to the public, Jekalyn and team are looking forward to great things ahead, as they celebrate this milestone in her life. To win VIP tickets, visit MyPraiseATL.com for more information.
Any thoughts?
Comments
comments