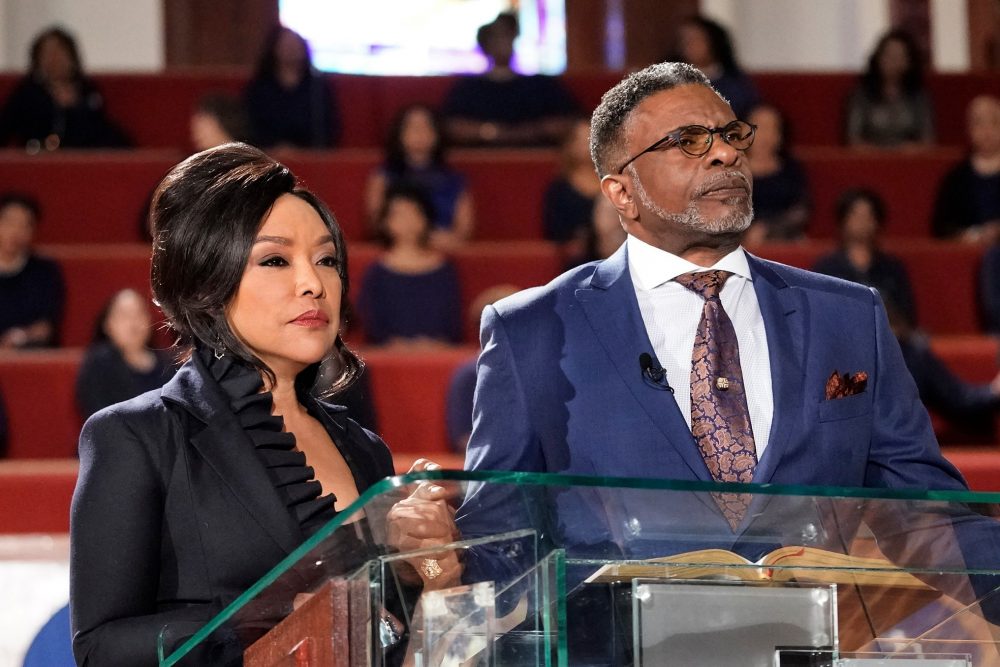 Hello World,
Although OWN's "Greenleaf" had a bye week last week, they got right back in the game with this week's episode so keep reading for my Greenleaf Recap Season 3 Episode 6: She Changes Everything…
Since I used an NFL term (bye week), one might expect that I would continue on the theme of male empowerment as depicted by sports, but I'm a switch hitter (baseball reference) because this episode was all about female empowerment and how women are changing the game! As least that is what Lady Mae would like to do, but more on that later…
Alright, let's go…
She's a Bad Mama Jama…
Lady Mae comes down the stairs with a revised proposal of what she and Bishop will say to the congregation about their divorce. "Oh the long awaited rewrite," Bishop says. "I've printed it in large print so that you can read it on Sunday." That was low-key shade although you're supposed to print a speech in big letters so that you can see the words without straining. Y'all know Lady Mae has no problem with shade. She is the ultimate bad mama jama. Bishop notices that there is "nothing about saying good-bye" in the speech. Lady Mae says she has come to the conclusion that she is staying. Bishop and Lady Mae exchange more words before Lady Mae screams, "I will be praying for you." If you have to scream that you will be praying for someone, maybe you shouldn't…
Instead of a bad mama jama, Charity is a bad mama right now. She is face down on her coach passed out while her son Nathan is screaming his head off. It's so loud that Lady Mae and Marisol, holding Nathan, confront her. Lady Mae says that Marisol heard the child over the dryer in another part of the house. After asking Charity if she is under the influence, she says, "I'm going to take this pharmacy of yours and throw it in the toilet." And then she gets gully with it. "Don't put me in the position where I have to agree with Kevin," Lady Mae says. "On what?" Charity asks. "Your fitness as a mother." Wow.
It seems that not even Sophia's mother can comfort her daughter right now. And even Zora in all of her self-centered stupidity realizes it. She goes to Sophia's room and apologizes for how she treated her cousin just before she was taken to the emergency room. "I didn't know you were really sick." Sophia says, "I forgive you. Now go to hell!" Yeah, she's mad…"You made a joke about me getting pregnant," Sophia says. "I don't want an apology from anyone like you." Was that Sophia's way of calling her cousin a heathen?!
Grace is able to distract herself a bit from her daughter's woes when her man Darius calls. He asks her is the legal defense fund she has created up and running as woman who was apparently abused has now killed her husband.
Speaking of husbands, Rochelle is still trying to steal Lady Mae's soon-to-be ex-husband. Rochelle meets with Bishop at his office and says she can help him with his tax bill. After telling him about crytocurrency, she says, "People are getting rich quick." "Can we?" Bishop asks.
Also now in her office as well, Lady Mae calls home to check on Charity. After Marisol informs Lady Mae that Charity is still on her sofa, she tells Marisol to have the power turned off in her suite. That should wake her up! But Lady Mae, like Bishop, also has a guest to entertain in her office. Maxine Patterson shows up at Calvary to much fanfare. After Maxine promises everyone that she will sign autographs and take pictures later, the two, called "sister warriors" by Lady Mae's starstruck assistant Karine, retire to Lady Mae's office.
Bishop and Rochelle come out of his office due to all of the hubbub. Rochelle says, "I wonder what Mae's up to?" (Why does she feel comfortable calling her Mae rather than Lady Mae?) Bishop replies, "The devil only knows."
Minutes later, Rochelle meets with Grace and Darius. Darius tells Rochelle about the abused woman who finally killed her husband, but all Rochelle can do is gawk at Darius right in front of his girlfriend! "Is that a custom shirt? It fits you so well." Rather than be straight up offended, Grace is kind of amused by it probably it confirms something she already knows: Rochelle cannot be trusted. She has to keep an eye on her.
Meanwhile, back in Lady Mae's office, their two assistants agree on a date that Maxine will speak at Calvary. But then, Lady Mae tells the two assistants to leave as a private matter needs to be discussed. Lady Mae tells her about Charity. Maxine says, "I know a soul doctor." "But is she discreet?" Lady Mae asks. "No, but that's not her gift." LOL
She Wolf…
I am so through with Zora!!! The girl took Marisol's cell phone from her purse to call Christian Breezy aka Isaiah. She played nice with her grandmother Lady Mae when she first came to stay with her at the estate, but now, she is acting like she was raised by a pack of wolves. After Lady Mae reminds her of the rules (no computer and no phone and no talking to that boy) Lady Mae rightly calls her out for her disrespect and Zora responds with, "I hate it here." Lady Mae says, "What you hate is yourself." Exactly. Any girl that would continue to be with a boy who beats and disrespects her on some level hates herself! Zora calls her mother Kerissa to tell her that she wants to come home, but Jacob vetoes that request.
Lady Mae holds back for no one! #GREENLEAF pic.twitter.com/NjvzjbWCnn

— Greenleaf OWN (@GreenleafOWN) October 4, 2018
Meanwhile in another part of the house, the Iyanla Vanzant (who is playing herself), Maxine Patterson's soul doctor,  is also attempting to have a breakthough with Charity who looks like she was raised by wolves at this point – hair and eyes all wild… She asks her, "Why take painkillers? All I see is pain" with her trademark term of endearment "Beloved." (Why is it that every time I hear her use this term, I want to laugh? It's not right, but I know it's okay! LOL. Y'all pray for me.).
.@IyanlaVanzant has arrived!!! #GREENLEAF pic.twitter.com/YSz9FZTl2X

— Greenleaf OWN (@GreenleafOWN) October 4, 2018
Charity tells her that "no one cares about me." Iyanla asks her "Did you embarrass yourself by marrying a man who is gay?" "He hid it from me," she replies. "I find it hard to believe that he was able to hide a secret that big!" Iyanla says. Say that, Iyanla! I knew from the the first episode of "Greenleaf" that Kevin was gay! Charity goes on to tell her that she married Kevin because he made her feel safe in her home. Iyanla asks, "What would it take for you to feel safe and wanted?" I bet Iyanla helped to write her lines, don't you?
And yet in another part of estate, Sophia is still in pain (and she will be for quite some time). It must feel like she's been thrown to the wolves after learning that she is sterile in the last episode. I still find it harsh that the writers feel it necessary to put her through so much. But her boyfriend Roberto is trying to help her through it. He brings a pink teddy bear to her in her bedroom. Still in her pajamas, she says, "Sorry I'm such a buzzkill." He says, "Want to pray about it?" Sophia responds with, "Not really." She is feeling sorry for herself and says, "I will never have kids, and I have to take hormones for the rest of my life. He did this." I'm a bit surprised that she shared all of the details with her boyfriend. I thought she would have kept some of the details to herself, but it's good that she shared all of it with him. He's pretty mature for a teenage boy as he is trying to be there for her when it seems that many teenage boys would have have just stopped seeing her. He tells her that the Bible is full of women who were barren but later had kids. She yells, "I'm not barren. I'm sterile." Aren't they pretty much the same thing?
Minutes later, Sophia asks her mother to take her place on Sunday and teach her Little Saints class. "How can I stand there and tell them that God is good when He isn't?" She says that her mother shouldn't be concerned that she won't be in church on Sunday. "You quit going for 20 years!"
Everything She Wants…
Bishop and Lady Mae seem to have finally made peace with the fact that their marriage is over as they calmly discuss the statement they will be making come Sunday morning. Still, Bishop tells her to make sure that she adds a farewell because "there won't be another chance to say it." Has he met his soon-to-be ex-wife before? She always gets everything she wants…But in this moment, she doesn't cause a ruckus as the two plan to meet with Iyanla and Charity before they go to church.
Iyanla encourages Charity to share her truth with her parents. "When I was growing up, I felt scared." Y'all, I thought she was going to follow up that with she was also molested by Uncle Mac! But she said she felt like Faith and Grace were scared too. Then she says she didn't tell her mother because "I knew you didn't want to hear it. That scared me even more." Lady Mae starts to get upset now because it's evident that Charity has disclosed all of the Greenleaf's business! And instead of hearing and trying to understand Charity's pain, she tells her that she needs to get a "backbone." She tells her that her childhood wasn't perfect (i.e. she was molested by her father), but "I've never blamed my mother for any of it." Wow, Lady Mae, it always comes back to you. Lady Mae should have blamed her mother to some degree. Lady Mae says, "The world is scary, but don't look at me. You fix it. That's how Jesus works not me."  Lady Mae is a woman in denial and expects everyone else to play along…That's how Satan works, Lady Mae. So it looks like if Charity wants to get some healing, Lady Mae is not truly going to help…
After this meeting and before church, Bishop says to Lady Mae, "You can have the house. I will take care of the IRS bill, but you have to leave the church." Surprisingly, she agrees with one stipulation. "I want 'A Day With Lady Mae.'" (I guess this is a Women's Service of some sort) Bishop agrees but tells her that after that she has to move on.
At church, Zora is still intent on getting everything she wants and calls that boy while she is in someone's office. That child is off the rails.
After Charity sings about the "Balm in Gilead," Bishop, who is in royal blue, and Lady Mae, who is in continuous black," announce that they have some "news to share. We're only human and we've never claimed to be anything but. We're divorcing." Gasps can be heard from all points of the sanctuary, but Bishop continues. "Some of you may ask, 'Have they prayed about it? Have they tried to work it out? We did. We have."
Lady Mae goes on to tell the church that she will be still hosting 'A Day With Lady Mae" and her special guest will be Maxine Patterson, who is in the audience. The theme of the all-day seminar will be "She Changes Everything."
After the service, Grace walks out in the hallway and hears the chatter about the announcement. Among the statements that she overhears is "I can't have a pastor who is divorced." Outside in the parking lot, Maxine shares her plan with Lady Mae. It is one of Sankofa. "We're reaching back and picking up what you dropped." In other words, Maxine hopes to help Lady Mae take over Calvary, but she also has a Plan B if Plan A doesn't work. "We will march up the road and plant a new one."
Will Lady Mae get everything she wants?
There She Goes…
Instead of thanking Iyanla for getting through to Charity, Lady Mae tells her that she didn't appreciate being "bushwhacked." Iyanla points that it was her daughter's truth. Lady Mae says Iyanla made it seem like her problems were all of her fault. There Lady Mae goes again…deflecting like the devil wants her to… She points that she is already blamed by her eldest daughter but she won't be blamed by her youngest daughter. And there you have it. Why Lady Mae cannot stand Grace. Grace calls her mother out on her issues. Iyanla sees through the smoke screen and says she can come to her when she is ready to deal with her own pain.
Grace tells Sofia what happened in church and Sofia says she knew something was up because everyone was blowing up her phone all day. Then Grace tells her that although she didn't go to church, she is going to have to come back. But Sophia sets her straight. "I'm not going to church ever again. "
Stay strong, Sophia! #GREENLEAF pic.twitter.com/Oyh3xprYKV

— Greenleaf OWN (@GreenleafOWN) October 4, 2018
She goes outside to the pier and throws her chain (I think she received it when she was baptized.) in the lake. And there she goes. Walking away from God. Not Good. But I understand.
Any thoughts?
Thank you sooo much for reading my Greenleaf Recap Season 3 Episode 6: She Changes Everything and my other recaps so far. If you would like to keep up with OWN's "Greenleaf," and my recaps, please click on this link to subscribe to my blog 🙂!
Comments
comments