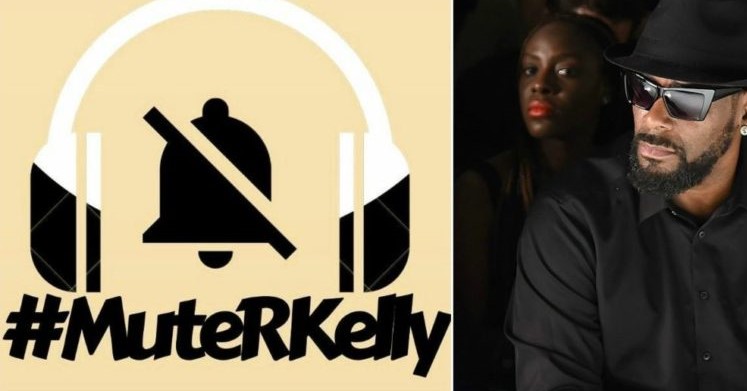 Hello World,
He may be the self-proclaimed Pied Piper of R&B, but the Gospel/Christian community gets down with R. Kelly too, quiet or not as quiet as kept actually. But after the three-day-in-your-face, testimony after testimony riddled exposé aptly and tragically titled "Surviving R. Kelly," will those who claim to have a higher calling such Kirk Franklin, Marvin Sapp & more mute the man who sings "Your Body's Callin?"
And I won't be a hypocrite. I'm including myself in that community. As I've communicated here before, I came of age in the golden era of the '90s. I graduated from high school in 1992 which was also the year that "Born in the 90s" debuted. This was when R. Kelly was still with his group Public Announcement. Man, I loved that album. "Dedicated," "Honey Love" and "Slow Dance (Hey Mr. DJ)" were my three favorite songs from that album. His voice was earnest, sensual and melodic plus he was fine too. It was a no brainer for the pastor's daughter who was exploring her newfound freedom as a college freshman. I remember dancing to his songs at parties, which I couldn't attend when I lived at home with my parents. The next year, he went solo with his album "12 Play," and I loved that one too. Whereas his first album with Public Announcement was more sensuous, sex and plenty of it was the theme of "12 Play." The man knew how to blend his sexuality and artistry, and songs like "Bump 'n Grind was the perfect backdrop to "Freaknik."
In 1994, his collaboration with teenager Aaliyah as the producer for her debut album "Age Ain't Nothing but a Number"produced some instant hits as well. I LOVED the jeep remix of "At Your Best (You Are Love)." Me and my girls most definitely bumped (old school word) that song in my girl Keet's pink and white Geo Tracker jeep when we went to see and be seen at Greenbriar Mall after reuniting back in the A from our various college campuses. It was genius to make an Isley Brothers song jeep worthy "bump"able.  Now back then, we didn't have social media but slowly through magazines like VIBE, I learned that the close vibe between 27-year-old R. Kelly and his 15-year-old protégé Aaliyah may have more than an older brother/younger sister scenario…much more. VIBE writer Danyel Smith's Dec. 1994/Jan. 1995 article "R. Kelly: The Sex, The Soul, The Sales And The Scandalous Marriage to Teenage Superstar Aaliyah" made that clear. Me and my girls discussed the issue, but by then, adulthood as in play-time-is-over-and-now-it's-time-to-find-a-job- after-college-graduation was ahead of me and what R. Kelly did or did not do with one teenage girl would not deter me.  I went on with my life following college graduation, but R. Kelly had earned himself a spot on my college days playlist. And when I was feeling nostalgic, I could and would listen to his songs to take me back to when my most serious issue was deciding if I should start partying on Wednesday night after three days of classes or postpone partying till Friday when I could party without worrying about getting up for class in the morning.
But I didn't have to be nostalgic about his music because the hits kept coming and not all of them were raunchy either. "I Believe I Can Fly" debuted in 1998 and became an instant hit worthy of being played at anywhere  from church services to preschool graduations.
That's probably around the time that the gospel and Christian communities took notice.
That was also around the time that I rededicated my life to Jesus Christ as well. I tried to clean up my playlist and no longer listen to certain kinds of music, but I was happy that R. Kelly didn't necessarily have to be banned. "Lean on Me," Kirk Franklin's song featuring R. Kelly, Mary J. Blige, Bono and came out at that time and I loved the collaboration. I thought "I Wish" was a beautiful inspirational song.
As it turned out, R. Kelly, the self-proclaimed Pied Piper of R&B , could turn out a gospel hit as easily as he could an R&B hit. That's talent, I tell you. Whitney Houston's last gospel song (written by the R) "I Look to You" before she passed in 2012 was haunting considering all that she had been through. And the way R. Kelly sang his rendition of the song he gave to her at her homegoing…chills…
And since then, more gospel artists have employed his services from Isaac Carree's 2013 hit "Clean This House" to Marvin Sapp's 2017 hit "Listen."
And yet even as he helped people praise God and presumably praised Him himself, the Pied Piper of R&B was allegedly  luring young girl after young girl into his virtual harem according to what was revealed in Lifetime's "Surviving R. Kelly." It may have began with Aaliyah in the '90s but sadly it did not end there. If what has been revealed in the three-day documentary is true, R. Kelly is a pedophile – plain and simple. Last year, when #MuteRKelly movement began here in Atlanta, I FINALLY began to come to grips with the alleged facts as they have been presented. He allegedly operated what amounts to a sex cult up in Johns Creek, which is a suburb of Atlanta, my hometown. I couldn't look away anymore. I couldn't recall my college days bumping "Bump 'n Grind" at Freaknik, praise the Lord with R. Kelly plus Kirk Franklin with "Lean On Me," "Step in the Name of Love" at a grown folks' party, reminisce about my single days with "Feeling Single" and on and on in peace. And now, after surviving "Surviving R. Kelly," I'm muting R. Kelly.
At least one other Christian is joining me – Chance the Rapper.
How about you?
Any thoughts?
Comments
comments