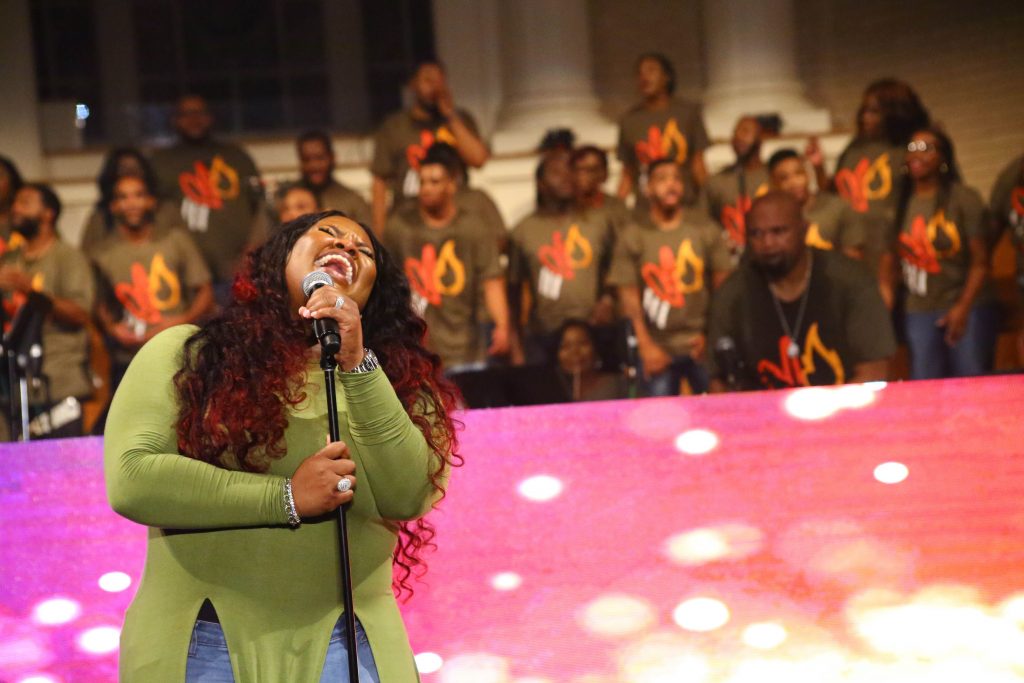 Hello World,
Friday night, I ventured over to the Dec at The dReam Center Church of Atlanta to check out the album release party for Tasha Cobbs Leonard's third album HEART. PASSION. PURSUIT. (Motown Gospel). First of all, the dReam Center has moved and grown! A few years ago, it used to be in North Atlanta in a kind of medium-sized industrial building and now it is in large traditional church building just past South DeKalb Mall. Secondly, although Tasha Cobbs Leonard is a multiple Stellar and Dove Award winner and, GRAMMY®-Award winning recording artist, I honestly didn't expect the onslaught of folk that were trying to get up in the church. The parking lot was full, folk parked in the surrounding neighborhood and an overflow parking lot nearby the mall was getting action too. I ended up parking in the grass and almost got in a tiff with two older ladies who had their eye on the parking spot that I was trying to stake out! LOL. But after that, everything flowed pretty smoothly.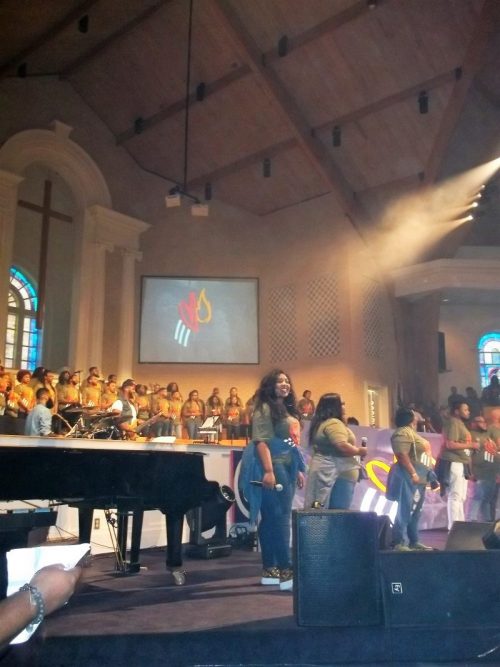 This is the stage/altar area of the dReam Center…Pretty traditional…
So just ahead of me I noticed Shekinah Anderson, who is the best friend of Tiny Harris and a reality star in her own right. Of course, I had to look around for Tiny or T.I., but I did not see them. I also noticed Egypt Sherrod, former radio personality and current realtor and host of HGTV's "Property Virgins."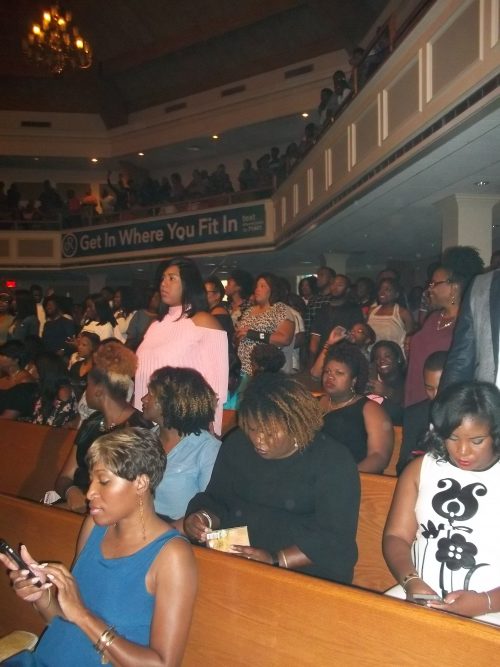 So I've never seen a church with this type of sign affixed to the architecture…"Get In Where You Fit In." Okay…not traditional…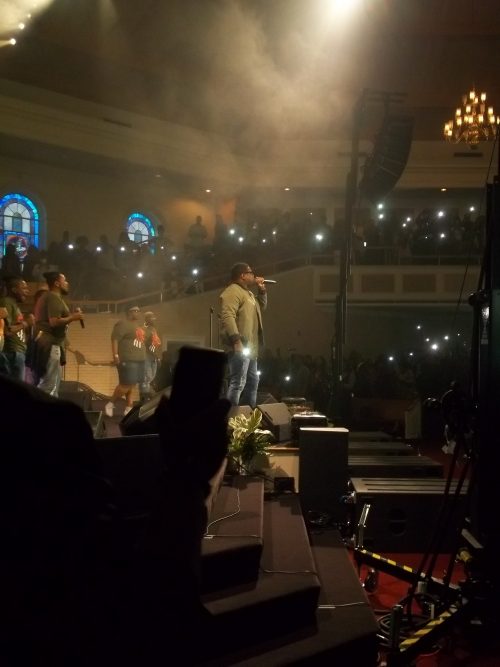 Pastor William Murphy asked everyone to turn on their cell phone lights (so I don't know how to do that LOL) because in his words, "It's about to be a 'lit'uation." "Light it up and let the world know who Jesus is."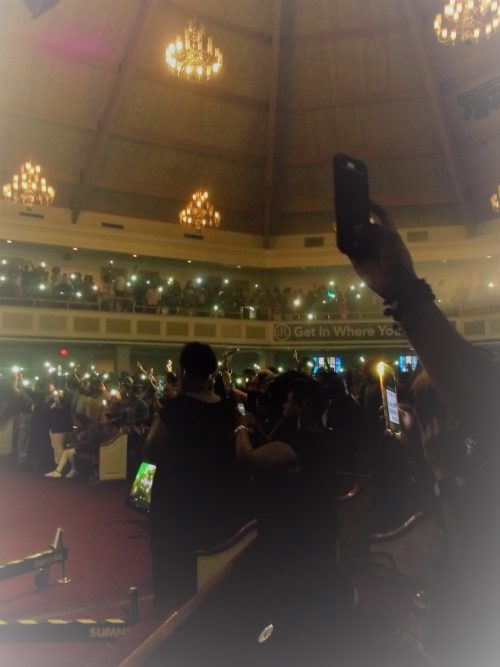 That's pretty, huh?
So Pastor Murphy told what I thought was a pretty powerful story about when he first stated the dReam center on Jan. 15, 2006. He said he thoroughly prepared for the sermon he delivered on that Sunday. Although there were roughly 350 people there, only one person joined the church. He said he tried to act like he wasn't bothered by the fact that only one person joined. That person, however, was Tasha Cobbs. This was years before she recorded her first album, but look at the impact she has had in the name of God since then. It just goes to show that through one person you can impact the world, and you never know who will be that one person! I mean it was standing room only at that church for Tasha Cobbs Leonard, and I saw a few people who were turned away…
Pastor Murphy also shared how Tasha Cobbs Leonard's album HEART. PASSION. PURSUIT. was recorded nearby where the Interstate 85 bridge in Atlanta collapsed in March and how he thought that was significant as the goal of the album is to build bridges between different races, cultures and ethnicities.
Then it was time for Tasha to saaang….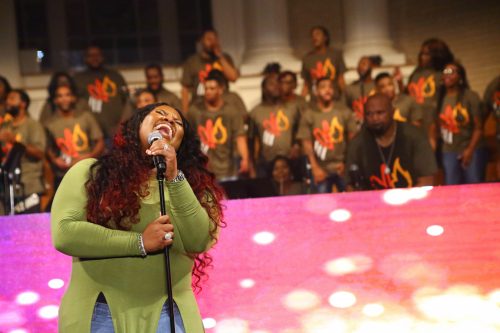 If you look closely, you can see her hubby Kenneth Leonard, just behind her to the right, looking like he's supervising everything…Photo Credit: Tonya Reeves & Michael Walker/UMeek Images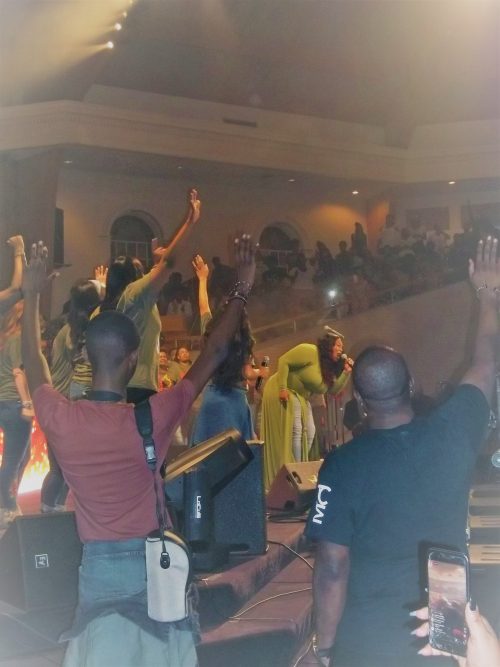 I like this photo because everyone's hands are lifted up, but she is getting down…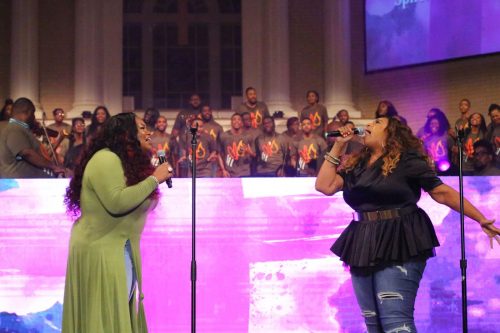 Tasha Cobbs Leonard and Kierra Sheard. Kierra is featured on the song "Your Spirit." So I kept looking around for Nicki Minaj, who is featured on "I'm Getting Ready," but I guess she wasn't there…Photo Credit: Tonya Reeves & Michael Walker/UMeek Images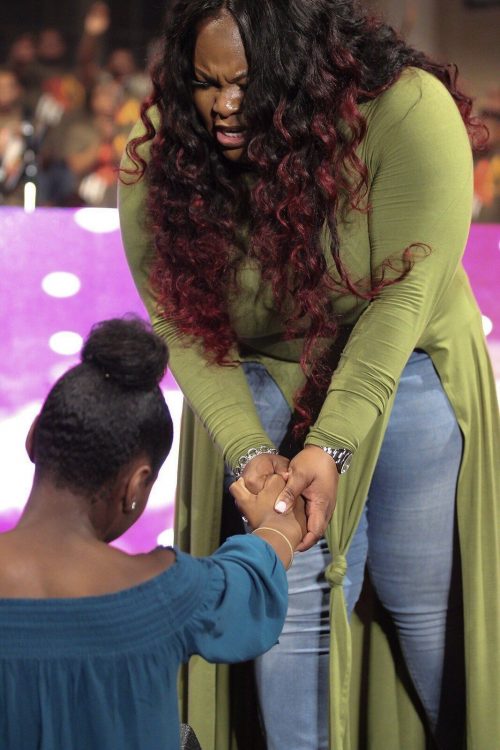 So this teenager or preteenager (The older I get, the harder it is for me to tell…) came up during the middle of the concert and pressed some money in Tasha's hands….Obviously, she was moved…Photo Credit: Tonya Reeves & Michael Walker/UMeek Images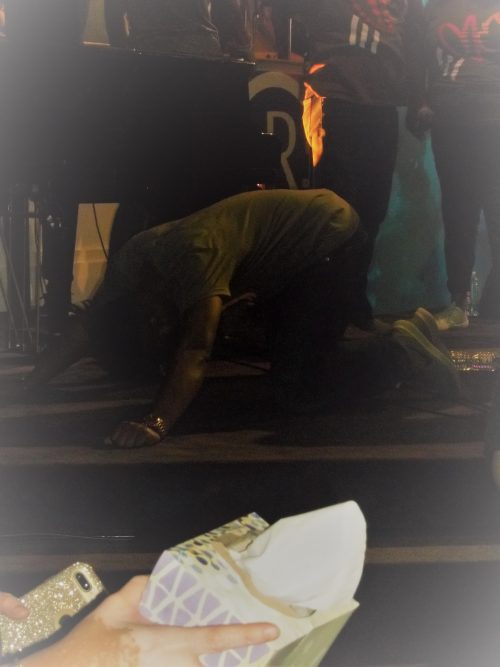 And even her fellow singers were moved…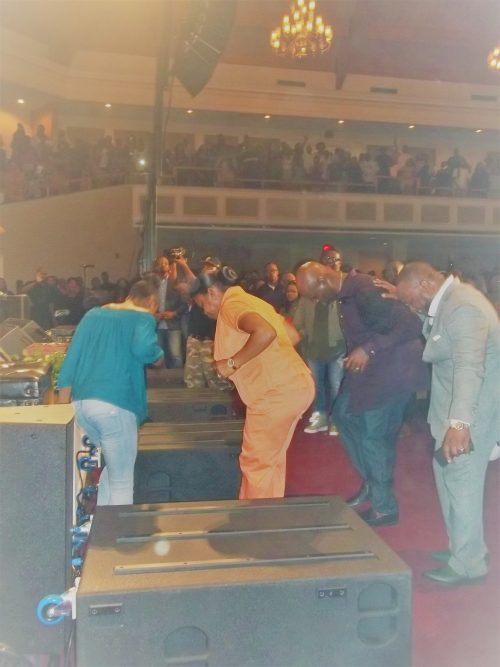 A Holy Ghost dance…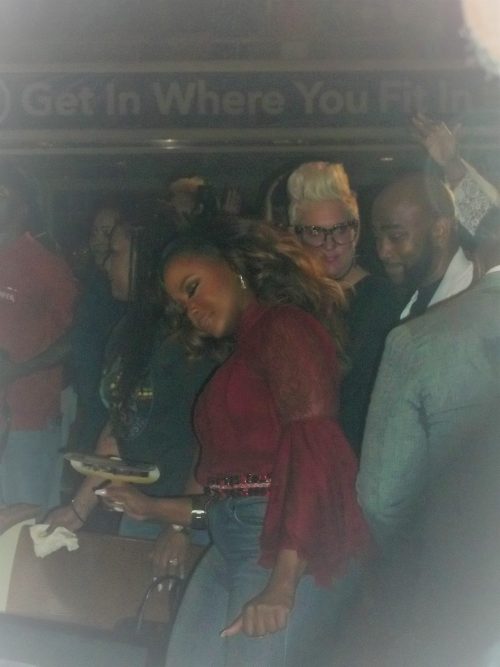 Attorney Phaedra Parks, formerly of the "Real Housewives of Atlanta" was there and feeling it…See Pastor Kim of the "Preachers of Atlanta" behind her…
At the end of the concert, Tasha Cobbs Leonard gave an altar call and spoke about the purpose of her album….
Also in attendance were Jimi Cravity, Breona Lawrence, Anna Golden, Bishop Paul S. Morton, Catherine Brewton, Bishop Travis Jennings, Pastor John Gray, Aventer Gray, Y'Anna Crawley, Todd Galberth, Bryan Pierce and more. So I hope you feel like you were there at Tasha Cobbs Leonard's album release party…
The highly anticipated album, HEART. PASSION. PURSUIT. (Motown Gospel), from multiple Stellar and Dove Award winner and, GRAMMY®-Award winning recording artist Tasha Cobbs Leonard, is available now in stores, and online everywhere.For more information about Tasha Cobbs Leonard visit: 
www.TashaCobbs.org
Any thoughts?