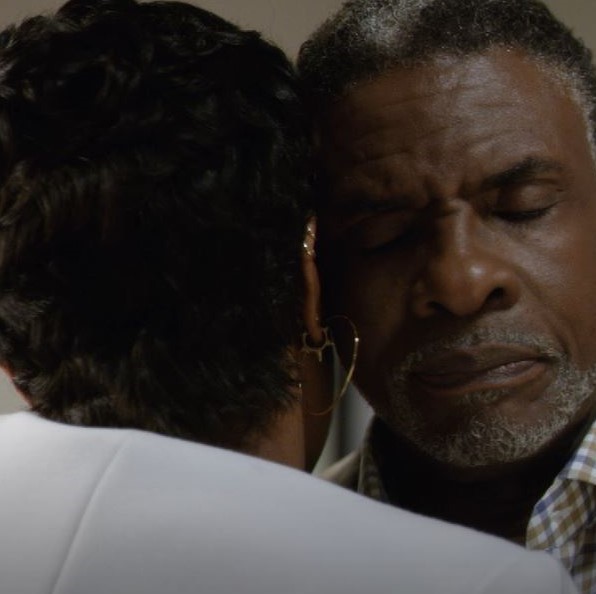 Hello World,
You.Already.Know!  OWN's "Greenleaf" is getting gooder and gooder every week! Yes, I know "gooder" is not a word, but this show is beyond good…So I won't delay no mo….gon head and get comfortable so you can read this "Greenleaf Recap Season 2 Episode 15: Two By Two."
It Takes Two…
Bishop and his granddaughter Sofia make a precious pair, "poetry in motion," as she shows off the moves she's been learning to prepare for the debutante cotillion. He tells Sophia he is willing to dance with her anytime she wants, particularly as the big day is only two weeks away! (Will her cousin Zora's bruises heal by then?…More on that later…)
The bearer of bad news, Lady Mae says the maid's husband is in the hospital so she won't be available to go on the road with Charity and baby Nathan for the concert tour. However, Bishop says that shouldn't be a roadblock in her plans, as Charity should have the "same access to happiness you've taken for yourself over the years." Wow! Obviously, something is up with these two.
This rift is even more apparent when back at Calvary, Rochelle Cross comes into Bishop's office and Bishop responds with, "I was praying for a distraction" along with a big smile. He tells her he is working on his sermon. The sermon will be about Noah's Ark and the flood, but he doesn't know which part of the story to focus on in his sermon. "You will find something to shake the walls. You always do," Miss Cross says before handing a check to him. When Bishop asks Miss Cross about the reason she is giving the church another big check, she discloses that she recently had her five-year cancer screening and has go to the doctor's office to get the results. He offers to accompany her there. These two are becoming quite comfortable with one another. Was she paying Bishop to say a special prayer to God on her behalf? Do you think it's possible to buy a special prayer? I've been going to church all of my life, and it has never occurred to me to give money to the church to get a special prayer. Do some people do that?
Two Dope Boyz In A Cadillac…
Deputy Mayor Skip Leonard is back and hits up his boy Jacob for some support. Apparently, the mayor is stepping down at the end of his term and Skip wants his spot. Basie was supposed to be Skip's spiritual advisor, but as Basie is MIA, Jacob will have to do. Skip attempts to entice Jacob by pointing out that church and state can often overlap, community development block grants are available and that lots of cash is waiting to be claimed. It comes across as shady as a dope deal…smh…But Jacob, I think, is attempting to least start off on the righteous foot. He asks to see to Skip's policies to determine if they line up with his beliefs.
At the doctor's office,  Bishop and Rochelle anxiously await to hear the news about whether Rochelle's cancer has returned. The ordeal has given Bishop an idea for his sermon. The animals went into Noah's Ark two by two. Obviously there is strength in numbers and each animal needed a counterpart. This episode's title illuminates that fact.  "Well, I needed you today," Rochelle says to Bishop.
Finding that crazy glass bird in her office at Calvary, Grace realizes that Lady Mae has summoned her. (What is that glass bird about anyway?) Lady Mae tells Grace that her maid's husband is undocumented and was so afraid that he would be "sniffed out" and "deported," he didn't go to the hospital until he was very sick. Apparently, he has meningitis. Lady Mae asks Grace to help him. Grace agrees to do so and then asks, "Is something wrong between you and Daddy?" "Yes," Lady Mae says but that's all.
Back at the doctor's office, Rochelle gets some great news! Her cancer has not returned. Rochelle tells Bishop that she is having some kidney issues that need to be monitored, but otherwise everything is "all clear." "I'm so glad that God decided to put you in my life," Rochelle says to Bishop.
At the Greenleaf estate, via her laptop, Charity pledges to Jabari that she is going on the tour although she may have to start two weeks later than expected.
Across town at the Triump parsonage, Zora examines her bruises in her bedroom until her mother Kerissa attempts to come in. Since the door is locked, she has time to cover herself with a jacket, but Kerissa senses something is up. Kerissa asks her what is going on, especially as her teacher told Kerissa that Zora is not participating in class like she once did. Zora is such a spunky girl I didn't expect her to be prone to being abused by that insecure boy Gospel Chris Brown. But I guess the same could be said of Rihanna too.
Just the Two of Us…
"Have you seen my earring?" Grace asks Darius as she is getting dressed. Obviously, Pastor Grace has no qualms about being sexually involved with her boyfriend Darius although the two are unmarried. The two are falling more and more in love, and she wants him to spend some time with her parents although "something is going on with them."
Speaking of Bishop and Lady Mae, the two have an awkward encounter in the bathroom. (I love it when Bishop has on his do-rag and robe! LOL) Lady Mae asks Bishop about him being with Rochelle Cross earlier in the day. He tells her that she needed "spiritual support" when she went to the doctor. He also tells her that although Lady Mae didn't ask, Rochelle's cancer is still in remission. "I would hate to think you were being denied any crucial information." Ouch.
Thankfully, another Greenleaf couple is getting along although they are confused about what is going on with their daughter. Jacob tells Kerissa that maybe she is getting high. "I was at that age." That's all the incentive Kerissa needs to search through Zora's room until she finds a condom, hidden under her daughter's pillow.
She confronts Zora about her discovery. "I knew that boy was no good." Kerissa explains that the fact that she waited until she was married to Jacob to have sex him earned his respect. "Did it?" says Zora with all of the attitude of a teenage girl rude enough to pop off at her mother but too timid to stand up to her "boy"friend. Kerissa slaps that chile. My mama would have done that and den sum…Please…She says that boy can no longer come over and asks her to read 1 Corinthians 7. My mama would have a got a Bible and hit me with it! Forget reading it…
While one Greenleaf daughter is hiding information, another Greenleaf daughter is holding back nothing. Now that Kevin is gone, Charity tells her father that yes, she wants to go on the road, in part, to be with Jabari, but she also wants to sing. "I want to sing to the nations." After all, Tamela Mann will be singing at Madison Square Garden! "I can't be the first woman to bring her baby on tour." Bishop encourages her to go and tells her he will find another worship leader while she is away.
Two Hearts…
Jacob meets with the Triumph staff. He tells them he wants to increase the church attendance by bringing in the homeless members of his former church. He wants to bring them by bus! The treasurer Ms. Weaver does not want to bring in this "less than desirable element" and furthermore money is needed insure the buses and the drivers. Apparently, there is not enough money in the budget for this endeavor, particularly as the church already lost 200 members since Basie's departure. Jacob has a heart for homeless people, and Ms. Weaver, sadly, doesn't. "I'm not the one in charge. The money is in charge."
Across town at the Greenleaf estate, Bishop tells Lady Mae that Charity will be going on tour. "Like everything else in your family, it's not up for conversation." One time for Bishop! He's coming up with one-liners like he is Lady Mae for reals…
Darius comes over to the estate to have dinner with the Greenleafs. He tells Lady Mae that his parents, before they died, were members of First Presbyterian. Apparently, days after his father died, his mother died. "To have a bond like that with another person, I cannot imagine," Bishop says in front of the family.
Back at Triumph, Tasha gets a call from Basie! He's somewhere in the great outdoors, looking unkempt, but tells Tasha,"When it comes to the Greenleafs, make them pay."
Back at Calvary, it seems that Rochelle was able to set up a meeting with an immigration attorney, I guess, in Bishop's office. Grace is there as well. Rochelle and Bishop tell the attorney about the plight of the maid's husband who is the personal chef at the Greenleaf estate. (Are there names Marisol and Kiko? Somebody help me out please. I hate to refer to them by just their occupations.). The immigration attorney says of Rochelle and Bishop, "These two are a one-two punch." Grace is looking at them like, What is going on?
That is not Bishop's only meeting for the day. He stops by Carlton's house to ask him to be Calvary's director of music while Charity is on tour. He says, "I'm not interested in coming back as the exception." Carlton wants all gay people to be accepted at the church( like they are at Triumph) not just Carlton and his husband. "Two by two," Bishop says. "The Lord finally gave me my message. The church can still change the world."
Speaking of greater inclusivity, Jacob tells the church that he wants Triumph to expand its outreach to the homeless and the church can afford to do so as it received a $75,000 grant courtesy of Deputy Mayor Skip Leonard. "Some folks said it couldn't be done, but they haven't met my God." Ms. Weaver has a sour expression on her face at first but eventually stands to join the congregation as they clap following Jacob's announcement.
Now, members of the Lonely Hearts Club it seems, Bishop and Lady Mae finally get down to business on the balcony. "Are you ready to talk now?" Bishop says. "Are you?" Lady Mae responds. "I know you had an affair with Lionel," says Bishop. Not even denying it, Lady Mae says,"What matters is that when he asked me to leave you, I didn't!" She then explains that had Bishop not had an affair with her sister, she would not have retaliated by having an affair with Lionel! Sooooooo…I really didn't think Bishop and Mavis were each other's type! But I guess I was wrong! Mind blown! Bishop says, 'I don't know if I love you right now or ever will again." Awwww, he shouldn't have said that. Bishop and Lady Mae go together like peas and carrots. Both of them have just the right amount of good and evil to make them a powerful pair…Lady Mae says, "I didn't choose you because you were perfect." By the end of the confrontation, Bishop's face begins to contort like he wants to cry but he maintains his composure…
Tasha, who is also now a member of the Lonely Hearts Club, tells Jacob she has moved out of her First Lady Office to make room for the new First Lady. She says, "I believe in you Jacob." I know that Basie is telling her to scheme against the Greenleafs, but I do think she likes Jacob which could be a problem in the future. Jacob says, "If we both keep believing in Jesus, we will all make it to Heaven together." Amen…
Check out a snippet of "Two By Two" below…
Thank you sooo much for reading my Greenleaf Recap, Season 2 Episode 15: Two By Two and my other recaps so far. If you would like to keep up with OWN's "Greenleaf," and my recaps, please click on this link to subscribe to my blog 🙂!
Any thoughts?