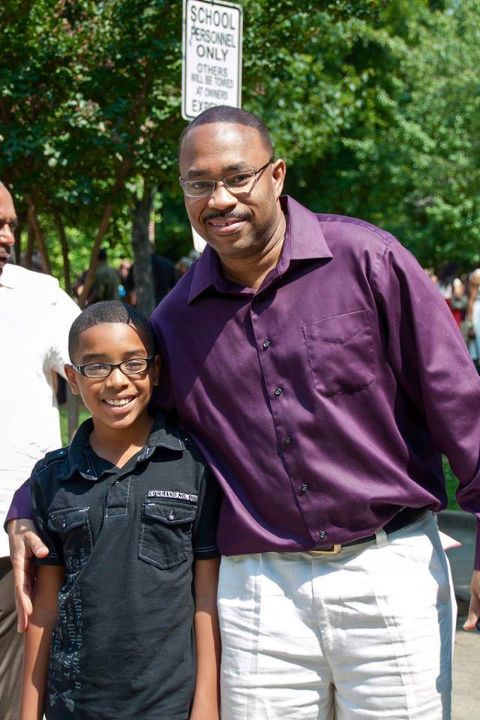 Hello World,
Happy Father's Day to all of the fabulous fathers out there with a special shout-out to my father-in-law and my father Dr. Denzil D. Holness, a man who is a father and a friend! Although my father is my favorite father, I want to highlight another father today. When I saw Vincent McCant's essay about his struggle to parent his son Jack on his Facebook page earlier this week, I knew I had to share with all of you who read this blog! With his permission, check out Vincent's essay below…
Essay: Black Fathers, Fight for Your Right to Parent…

Very few people outside of my family and close friends know that I was embroiled in two custody battles recently, spanning a total of four plus years.

I have a 12-year-old son, who I care greatly for. He is my world and my only child.

I met his mom in the summer of 2003 at a summer concert. His mom is a creole girl from Louisiana, very attractive and the ex-girlfriend of former-heavyweight champ, Mike Tyson.

Things escalated very fast during our brief relationship and soon I was having my first child, a son. The minute I found out we were having a son, the relationship ended for a variety of reasons. Because we were not married, I chose to have a paternity test done, then I hired a lawyer. The next step was legitimizing my son through a formal custody order, with child support included.

Having a son at the age of 33 forced me to become more responsible, because at that point in my life I was living only for me. I spent wildly, partied all the time and, quite frankly, was a player.

Having a child got me back in school, more serious about life and wanting to live a different lifestyle. I was traveling back and forth overseas quite a bit on business for the first two to three years of my son's life, only seeing him once a month. While living in Beijing, China, I decided enough was enough and left a very lucrative career with a high six-figure salary to be home more with my son. It was a tough decision, but it was necessary.

I completed my master's degree with honors in the summer of 2006, with a focus on supply chain management and immediately began consulting for major companies like Home Depot, Coca-Cola, NCR and others. I had been an IT leader for years, who directed major software implementations involving ERP and procurement.

Fast forward to 2007, I was now a full-blown, hands-on father, spending as much time as I could with my son. He reshaped my life and gave me a new purpose and meaning. I became a better person overall because of him.

As a more responsible father, I became increasingly uneasy about his environment, his school and most of all, his performance in school. Despite living almost an hour away from him, I was very involved with his school, teachers and the PTA. Based on things I was observing and conversations that were going nowhere with his mom, I felt compelled to seek full custody.

At church one Sunday in May of 2007, I met the woman who would become my future wife in her role as an usher. Over the course of two years, we would often speak at church. My wife developed a deep bond with my son early on, a relationship that has now spanned eight years.

Fast forward to 2010, I started dating my future wife and she immediately became embroiled in the first of two custody battles with me. I would lose the first custody trial, despite being prepared and having a strong case. It was a huge blow to me and my family, but I learned a lot from that trial and decided I would change my strategy and keep fighting for my son.

My son was suffering in school, despite making the honor roll each quarter, as his test scores did not match his grades. He lacked help with his homework, his grammar suffered, his vocabulary was limited and his test scores continued to plummet through out the year.

Read the remainder of Vincent's essay at: nbcnews.com.
Again, Happy Father's Day! Enjoy your special day fathers!
Any thoughts?