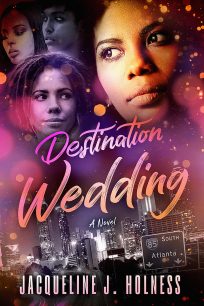 Destination Wedding is about three successful best friends in Atlanta who believe they are thriving in the Black Mecca. Bossy bank executive Senalda breaks down men from business to bed no holds barred. Hip hop PR guru Jarena praises the Lord and pursues married men with equal persistence. Famous and infamous radio personality Mimi fights with her fans and for the love of her on-and-off-again boyfriend.
But when an ABC News Nightline report, "Single, Black, Female — and Plenty of Company," asks why can't a successful black woman find a man? The friends are suddenly hyper-aware of their inclusion in the sad statistic: 42% of black women who have never been married. Like the women in the report, they are career-driven, beautiful black women living in Atlanta who have everything — but a mate. They resolve to defy the statistic by marrying in a year and have it all by tackling their goal as a project with a vision board, monthly meetings, and more. Project Destination Wedding is born. A "happily married" best friend Whitney is a project consultant.
But as the deadline ticks closer, the women wonder if they can withstand another year of looking for love in the media-proclaimed no-man's land of Atlanta. Senalda wrests a marriage proposal from the male version of herself, but the proposal comes simultaneously with a devastating secret. Jarena unleashes hell when her call to ministry coincides with dating her married college sweetheart. Mimi faces losing her career and jail time chasing her boyfriend and marries another man in the process. Whitney's power couple profile plummets when her husband, a pornography addict, announces he would rather pursue photography than be an MD.
Inspired by an actual Nightline report, Destination Wedding, which debuted on Dec. 3, charts four women's journeys as they discover that love is not an experiment easily confined to a timetable. Below is what others are saying: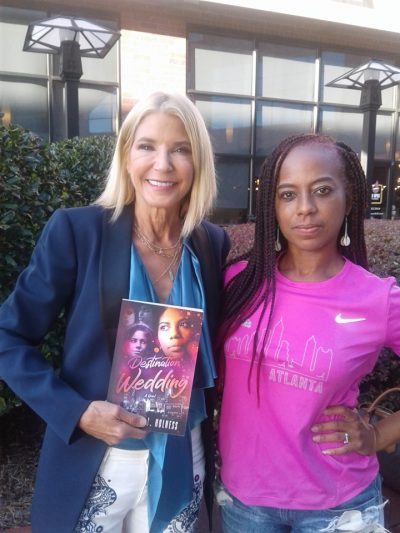 "It's terrific!" – Candace Bushnell, New York Times bestselling author of Sex and the City and Is There Still Sex in the City?

"The timing of Jacqueline J. Holness' story is perfect as the subject of 'black women finding a suitable partner' becomes the main topic of conversation when three or more of us gather. I discovered this to be true even among senior black women. I was a guest at a book club of professional women in New York recently where they went way off topic bemoaning the lack of mates for their daughters and nieces…Indeed, it is hard out there for a sister – which is why her book is important."  – Brenda Wilkinson, Georgia Writers Hall of Fame nominee and author of Ludell, Ludell and Willie and Ludell's New York Time

"Jacqueline J. Holness has penned a delightful read that puts a new spin on the age-old dilemma of the beautiful, successful, single black woman finding a mate! Did I say beautiful and successful? Set in the Black Mecca – The ATL – Destination Wedding will have you asking, 'Why is this so hard?' I found myself in the moment, rooting for these women – and thoroughly enjoyed their journeys to happily-ever-after." – Monica Richardson, author of the Talbots of Harbour Island series

"In need of a getaway? Destination Wedding is the read you need. Filled with characters that will remind you of your girlfriends and unexpected adventures,it's the perfect vacation read." Chandra Sparks Splond, author and blogger

"In Destination Wedding, Jacqueline J. Holness takes readers on page-turning twists and turns that hijack several friendships on the path to love. If you're eager for an entertaining read that will leave you rooting for the characters as if they're your friends, pick up your copy today." – Stacy Hawkins Adams, multi-published author of Coming Home, Watercolored Pearls, The Someday List and more
Buy Destination Wedding at any of these booksellers below:
Or if you live in metro Atlanta, buy at:
Medu Bookstore, 2841 Greenbriar Pkwy (in Greenbriar Mall), Atlanta, GA 30331
Nubian Bookstore, 1540 Southlake Pkwy, Morrow, GA 30260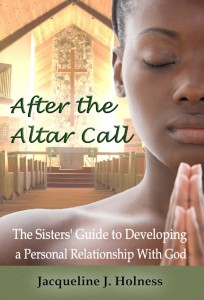 After the Altar Call: The Sisters' Guide to Developing a Personal Relationship With God, an Amazon Best Seller and a Black Expressions Book Club Best Seller, is a fresh, real and relevant how-to manual for black Christian women who desire to move past the "church speak" and into an intimate relationship with their Creator. What makes this book unique from other "relationship with God" books is that this book is written from a black perspective and spans a variety of issues typically not included in one book – from being thrice-married to leaving the Jehovah's Witnesses.
As a seasoned journalist, I have interviewed black women from diverse backgrounds to discover what having a personal relationship with God is truly about – beyond the initial "come to Jesus" moment typically associated with the altar call experience. I give readers a rare, personal look into the lives of these women, identify the precepts these women used to develop a personal relationship with God given their life experiences, and create a plan for readers to craft their own relationship with the Father.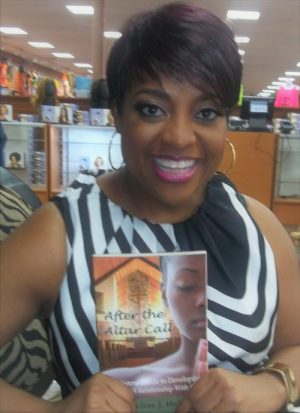 The book is comprised of interviews with 24 remarkable women with compelling stories such as the "The View" co-host Sherri Shepherd, Valorie Burton, life coach, author and co-host on the Emmy award- winning show "Aspiring Women" and the former co-host of the national daily television program, "The Potter's Touch" with Bishop T.D. Jakes; and Bishop Vashti Murphy McKenzie, the 117th elected and consecrated bishop of the African Methodist Episcopal Church and the first woman elected to Episcopal office in over 200 years of A.M.E. history.
I have also interviewed many notable Christian fiction authors such as Dwan Abrams, who also founded Nevaeh Publishing LLC; Tiffany Warren, who also started the Faith & Fiction Retreat; and LaTonya Mason Summers, who is also a licensed, professional counselor and the founding executive director of LifeSkills Counseling & Consulting.
In addition, the book features interviews with many women who are popular in the metro Atlanta area and beyond including the Rev. Stephanie Bronner, who along with her husband, the Rev. James Bronner, wrote the book, Bedroom Talk: How to Turn Your Marriage Into a Lifelong Love Affair. Her husband is the youngest son in the legendary Bronner Bros. hair care dynasty. Melissa Summers, who was known as "Atlanta's Girlfriend" as the former midday personality for V-103 and former host for KISS 104.1, is also a part of the book.
The book also includes interviews about timely topics such as surviving breast cancer, coping after a family member has died in a war and dealing with chronic illnesses such as lupus. Finally, some of the women have had amazing experiences like touring with Beyoncé and the original Destiny's Child, winning a car on "The Oprah Winfrey Show" and being an "American Idol" finalist.
After the Altar Call: The Sisters' Guide to Developing a Personal Relationship With God (Nevaeh Publishing) was released on February 14, 2012.