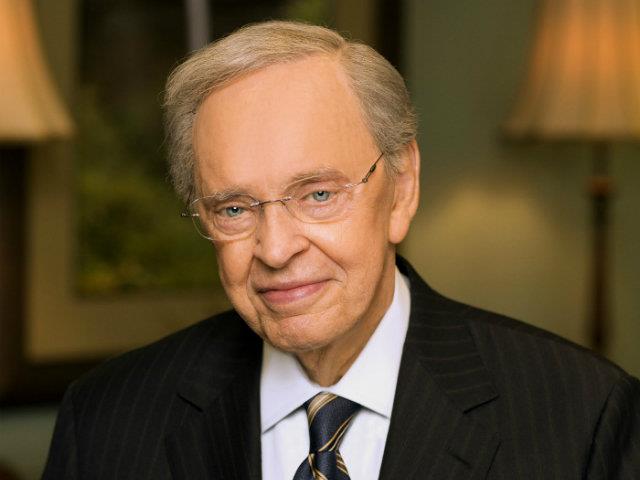 Hello World,
What a blow…When I first read the news that Dr. Charles Stanley was stepping down as pastor of First Baptist Church of Atlanta after more than  50 years last Sunday, I could not write about it immediately because his ministry has blessed me so very much. It still saddens me so very much. In fact, next to my father, who is the pastor whose faith in God has most inspired my faith in God, Dr. Stanley is next up. As I was telling this to my mother last week, I felt the hot gathering of tears around my eyes, similarly to how I felt when my father announced that he was stepping down from his position as pastor of my home church Central Christian Church in Atlanta. (Below is Dr. Stanley's announcement.)
If I'm being honest, a big part of why I love the ministry of Dr. Stanley is because he reminds me of my father. Both my father and Dr. Stanley grew up without fathers but are outstanding fathers despite the odds! (Both have miraculous stories of God providing for their college education through scholarships when money was scarce during their childhood.) What I love about my father is how faith is the crux of his being. Every thing he does is filtered through the lens of his faith. I have never met Dr. Stanley but the conviction with which he preaches which includes the intensity of his stance, his hand gestures, his choice of words and the piercing look in his eyes all communicate without question that faith is first in his life. Any desires he has had for success or security or family and other hallmarks of life on earth are only met through his faith in God and God's will for his life. I've only encountered and or met very few people who strike me that way.
I first encountered Dr. Stanley's church before I encountered him. When I was a little girl of about eight or nine years old, my mother worked for DFACS in downtown Atlanta. At the time, the building was located on Peachtree Street. We only had one family car then and every day before my mother started riding MARTA, my father packed me and my brothers in the car and headed from College Park to downtown to pick her up after work. There were many times that we had to wait for her to finish her work before she was ready to go. That meant my brothers and I had to occupy ourselves for some time before she showed up.
Well, right next door was First Baptist Church of Atlanta. We parked on the street next to the building so sometimes I would walk around the grounds closest to the car and look at the buildings. I noticed Dr. Stanley's name on the sign in front of the church. It was a nice church campus but I cannot say it was a stunning display of architecture or anything. As I look back, it was more like a seed had been planted in me that would sprout when it was ready.
Years later, when I became a Christian for myself, I was on the hunt for various Christian materials that helped me to develop my faith, and somehow or another, I either saw Dr. Stanley on television or heard him on the radio. And when I did, I remembered his name from seeing it as a child so I paid attention to what he had to say. So this is going to be hard to communicate, but I will attempt to do so. (I'm still growing as a writer so please be patient with me.)  His voice emits a kindness that is intangible. It's a tone and tenor that you instinctively know that you can trust. I feel the same way about my father so my ears perked up. However, as much as I love my father and I have been blessed by his ministry, I want a faith and have striven to craft one that is uniquely my own. That means that I've had to branch out and listen to other pastors. As I wrote earlier, at the top of my list of other pastors is Dr. Stanley.
I apologize that it has taken me some time to get to my seven reasons, but if you're still reading, I think you will be blessed.
1. He taught me how to "Obey God and Leave the Consequences to Him." Of all of the sentences I've heard Dr. Stanley say since I've been following his ministry, this sentence is what I've heard him say the most. It's a simple sentence but the power of this singular sentence can impact every area of your life if you let it. I remember when I decided to live up to my Christian convictions when I was in my 20s although I had been baptized as a teenager. One of the decisions I made was to stop clubbing and be in church on New Year's Eve. Babay, although my best friends at the time grew up in church like I did, they did not understand my decision and I found myself alone a lot. And even when I was around them, I felt rejected. There were many times I sobbed because I felt so alone and rejected. I wondered why if I knew God and was getting to know Him better, my life seemed to have gotten worse, particularly my social life. But I kept obeying Him, and I realized that I had to only depend on God and not my friendships. And in time, God brought certain friendships back into my life, but by then I had learned that God moves friends in and out of your life and to not hold on to any of them too tightly. Only hold on to God…I obeyed and left the consequences to Him and eventually I learned the lesson…
2. He taught me how to set goals as a Christian. I don't know if it's just indicative of my DNA, but I have always had high aspirations. When I was about six years old, I decided that I would be a professional writer and I have never wavered in that decision. And from that decision came many goals. For example, I wanted to attend an excellent journalism school once I realized that I wanted to become a journalist. Well, once I graduated from college, my first job wasn't a job at all. I was an intern at the The Christian Index, the "nation's oldest continuously published religious newspaper" and which initially and most extensively reported on Dr. Stanley's decision to step down.  At that time, I wanted to work in New York or at a secular publication. But God had other plans for me. During my time there, I began to realize that my writing career may evolve differently than I intended and I didn't know how to set goals at that point. But I heard Dr. Stanley speak about goal setting from a Christian perspective and I was able to chart a new, God-directed course.
3. He taught me what it means to be successful. Obviously, by most standards, Dr. Stanley is a successful minister. He has thousands in his church. Even more know him through his television and radio broadcasts. He is a New York Times bestselling author of a many books. Even his son's ministry reaches thousands. But all of those accolades have not defined Dr. Stanley's summation of success. Here is his definition: "Success is the continuing achievement of becoming the person God wants you to be and accomplishing the goals God has helped you set." This definition is from his book Success God's Way. Now for some Christians, this may mean a worldwide ministry while for others it may be a wonderful ministry in a small town. In my case, it may mean many many books that become New York Times best sellers or it may mean a few well-written books that reach a small but appreciative audience. Over time, LOTS of time, I've become comfortable with this definition of success. I just want to be what God wants to be me. That is success.
4. He taught me what it means to have faith. This could be number one, but as the years have passed, my faith has grown deeper due to various circumstances. I've seen God work over and over again in my life as I had faith, but when I got married, I wondered how God would work in my husband's life. When my husband graduated from college in 2014 (he went back to college after initially quitting in his early 20s), there were some obstacles in his way that made getting a job in his field harder than he had hoped. My husband became depressed, but when I heard a message about faith and obstacles from Dr. Stanley one morning, I shared it with my husband and told him that despite this obstacle, God would make a way. He just had to have faith. My husband wasn't trying to hear that. I had to have enough faith for the both of us even when it looked like things weren't going to work out in our favor. At that point, we hadn't even been married a year yet so I was scared but I kept my faith nevertheless. Well, a month to the day that I heard Dr. Stanley's sermon on faith, my husband got a job in his field at the place where had hoped to work originally.
5. He taught me how to have courage. Right now, I'm going through something that is taking a lot of courage on my part. At the beginning of the year, I started listening to Dr. Stanley's messages about courage, particularly as it relates to Joshua and the courage it took to enter the Promised Land despite the obstacles in the way of the Israelites. I'm trying my best not to have a "faith failure" as Dr. Stanley has warned about, and I'm taking it a step at a time. I cannot even imagine how it will turn out, but as God directs, I'm on the journey…I will tell more later…Stay tuned Saints…
Here's a message about a "faith failure."
Here's a message about courage that I recently saw.
6. He taught me how to go through a storm. I remember when it was announced that Dr. Stanley's now deceased wife had made the decision to divorce him. I don't think I've even seen his wife much less know her so I couldn't understand why she would choose to divorce him. But that's not for me to know. Despite a statement he had made that he would step down as pastor if he actually got divorced, through the direction of God, he decided to stay but promising that he would remain unmarried. To this day, he remains single and his ministry has continued to bless people despite that storm. And maybe this particular storm has helped him to identify with people who have experienced similar storms. And no one other Jesus is perfect…
7. He has taught me that it's okay to be kind. I have never met Dr. Stanley, and I don't know that I ever will but as I wrote at the beginning of this blog post, I feel his kindness although I've never been in his physical presence. Over the years, I've attempted to have a more stern demeanor I guess to convey strength, but I've been raised to be kind. Now, I do have a smart mouth. Ask me about the lady who had the audacity to put a stray cart behind my car in the grocery store parking lot yesterday. But underneath it, I know I'm kind. Now, additionally, my kindness is sometimes overshadowed by my being self-centered from time to time. But it's still a part of me. If you observe life, it does seem that being ruthless is one of the most direct paths to success, but Dr. Stanley had demonstrated a different way.
If somehow you read this Dr. Stanley, I'm so sad that you've decided to step down as pastor, but I understand you have to "obey God and leave the consequences to Him." But I look forward to continuing to learn from you through In Touch Ministries. May God continue to bless you and keep you.
Any thoughts?
Comments
comments