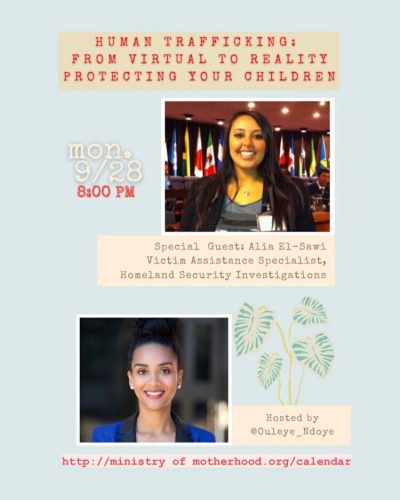 Hello World,
Protecting our most valuable and vulnerable population, our children, is of paramount importance to me, which is why I want to tell you about an important online meetup hosted by Ouleye Ndoye of Ministry of Motherhood. Below are her words…
Our children are now spending more time on the internet than ever before, due to COVID-19 induced "Virtual Learning" across the country. Human Traffickers use the internet to groom and recruit victims in many ways.

Join me tomorrow, Monday, September 28, 2020, at 8:00 p.m. for a candid conversation with Homeland Security Investigations' Alia El-Sawi as we learn from her important work in victim assistance.

We will share our expertise on human trafficking prevention, rehabilitation, and talk about what each of us can do from home to keep our families, neighbors and loved ones safe.

To register, click HERE.
Below is more information about Ministry of Motherhood, which was created by Ouleye Ndoye, who, most recently, served as the inaugural Senior Human Trafficking Fellow for the city of Atlanta as part of Mayor Bottoms' executive team.
The Ministry of Motherhood began in 2017 when I was a new mom. I was often in church and something about having a small baby on my hip and lap at all times led me to have conversations with other new and expecting moms. I realized that these conversations all had a similar thread, despite these women coming from different circumstances. They were seeking answers to similar questions. Questions I was also grappling with. We all needed a community. So, I started hosting small MoM Meetups at a nearby restaurant. Over time this group grew into a Ministry of Moms that included friends from the church and all walks of my life, stretching as far back as friends I'd known before college!

Hello! My name is Ouleye. I am a mother of two. My first birth was in a hospital and my second was at the Birth Center. These very different experiences led me to hours of research into the existing systems of maternal health in the United States and their history. In many ways, my birth experiences and the months thereafter ignited my passion for this work in maternal health.

My career has been devoted to promoting the health and human rights of women and children for over a decade. Becoming a mother deepened my passion for supporting women and their babies throughout the journey of pregnancy and the early months and years of parenting. The calling to do more for the collective wellness of mothers led me to found the MoMs Ministry at my church. Around the same time, I began my training to become a Doula with DONA International.

I am deeply committed to improving the maternal and postpartum health outcomes of women of color. We are 3-4x more likely to die due to complications around pregnancy and childbirth! I am also passionate about advocating for more humane maternity leave policies that truly support the mother-baby-bonding period.
Comments
comments