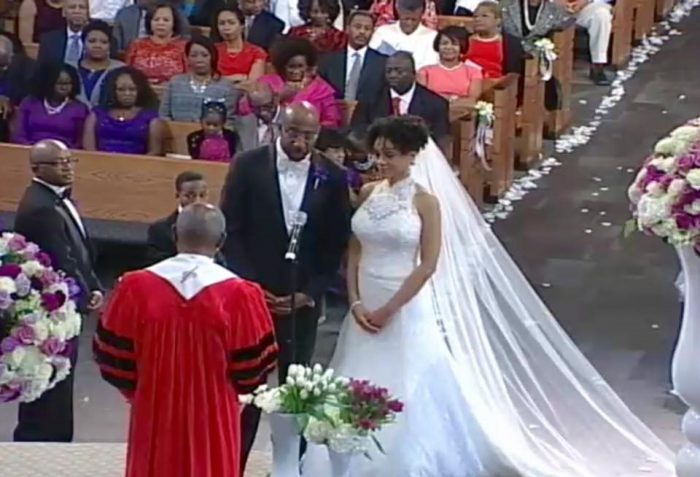 Hello World,
Earlier today, I checked the analytics for my website and noticed that many of the posts I have written about the Warnocks have received traction in the last couple of days. I wrote about their their romantic engagement in "Historic Ebenezer Baptist Church Pastor Proposes to Girlfriend During Watch Night Service! (VIDEO)" in January 2016,  their beautiful marriage ceremony just over a month later on Valentine's Day in "Why Wait? Historic Ebenezer Baptist Church Pastor Marries on Valentine's Day After NYE Proposal (VIDEO)!" and even the birth of their first child in "Historic Ebenezer Baptist Church Pastor & Wife Become Parents!" later that year. I think they are a beautiful couple, and I have visited Ebenezer several times over the years.
But when I Googled them today, this AJC article appeared…"Warnock, Wife Involved in Dispute" by Stephen Deere and Greg Bluestein. Rev. Warnock told the AJC that he and his wife have been separated since November and plan to divorce. The reason why he told the AJC this information is that the newspaper received a police report in which Ouleye Warnock accused her husband of driving over her foot in a recent argument. You can read the entire article  with the details HERE. 
Rev. Warnock's life has already been of interest to the general public as he is the pastor of Dr. King's church, but now that he is running for the U.S. Senate, his personal life will be scrutinized by a much broader platform. I wonder if he has factored that cost into his campaign costs. If not, now is the time because people are really looking for information according to my analytics. But let's not forget that the God we serve is sovereign and what God has put together, let no men (even the men (women) in the relationship) put asunder. Although things don't look so good right now, I hope the couple figures out a way to reconcile…
Any thoughts?
Comments
comments