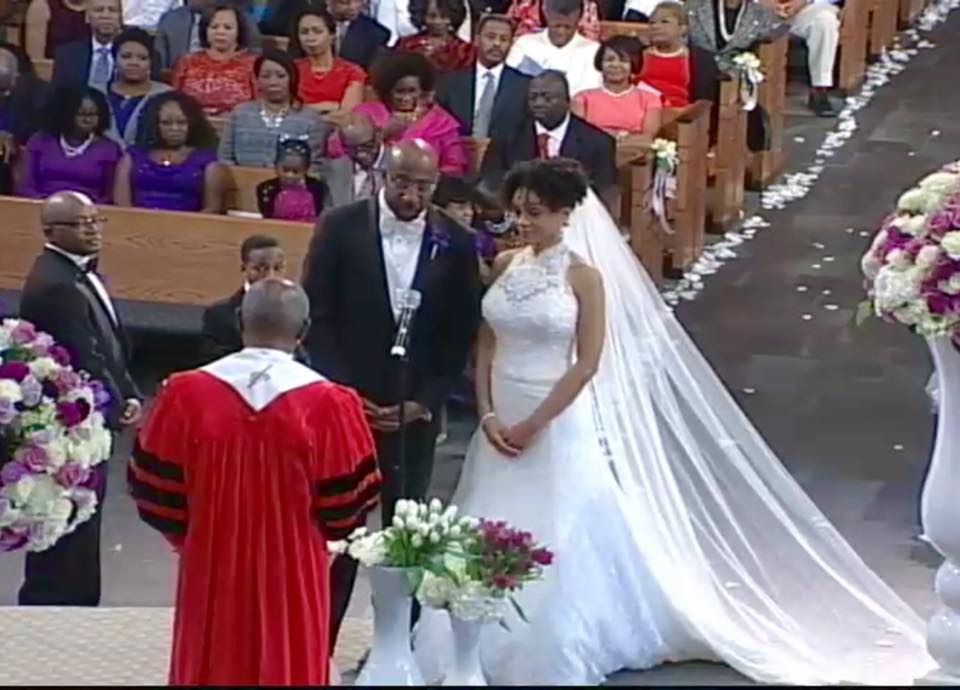 Hello World,
Rev. Dr. Raphael Warnock, senior pastor of Atlanta's Historic Ebenezer Baptist Church, the "spiritual home of The Rev. Dr. Martin Luther King, Jr." already created headlines when he proposed to Miss Ouleye Ndoye at the end of Watch Night Service at the church last month! Well, Rev. Dr. Warnock capitalized on another romantic occasion, marrying the former Miss Ndoye during a Valentine Day's wedding ceremony at the church last Sunday!
So I watched the video of the ceremony which came in at about 1 hour and 37 minutes. The wedding colors seem to be shades of lavender, purple and white as all of the flowers and decorations were in those colors. The wedding started off with a solo of Sweet Sweet Spirit which set the tone of the wedding. Also, there was a beautiful flute solo and a heartfelt solo rendition of Steve Wonder's Ribbon in the Sky. The music lasts for nearly 40 minutes as the mothers walk in together about the 38:09 mark of the video. I counted 10 bridesmaids and 9 groomsmen along with a ring bearer and two flower girls.
Flanked by her parents and with a soloist singing Maurette Brown Clark's The One He Kept For Me, Miss Ndoye walks down the aisle about the 47:00 mark. The wedding ceremony included readings from Genesis 2, you know the "God made a woman from the rib" from man and "one flesh" chapter, and a reading from 1 Corinthians 13, the Love Chapter. What I found most unique about the ceremony were the thorough and beautiful vows, which start at about 1:06:16. They covered EVERYTHING. As a pastor's daughter, I've been to countless weddings so I know what I'm talking about…Here they are below…
O: I know that love must be kept alive by active concern, and I pledge that in loving you, I will continue to court you in many and in new ways.

R: I promise to keep our love vibrant, to discover new ways of loving you and to make our love continue to grow in new riches.

O: I will continue to be your special friend, accepting and sensitive to your needs.

R: I will continue to be the companion who is always by your side, understanding and sharing in your laughter and tears.

O: I will continue to respect your opinions and feelings in all the ways you relate them to me, and I will freely share mine with you.

R: I will continue to be honest with you, not holding back what I feel, and I will continue to be open to hearing and responding to your feelings.

O: I know that sickness is often a real part of life, and I will meet these hardships with strength and courage.

R: I recognize that death and misfortune are untimely parts of life, and I will not let these events overshadow and take away from our life now nor will I turn from the burdens they may place upon me.

O: As individuals, we need the freedom to become ourselves, and I will live with you in a way that will allow you to reach your highest potential.

R: I promise to respect the individuality of yourself and will continue to work towards the development of mine so that each of us may live life to the fullest and yet I will be close enough to continue to share in your life and to share mine with you.

Together: You will be secure in my promise to you this day that during all the years of our life together, I will be ever mindful of the things we found important from our earliest encounter to this present moment. I am committed to grow and to let our marriage grow. So be it, and so it is. Amen.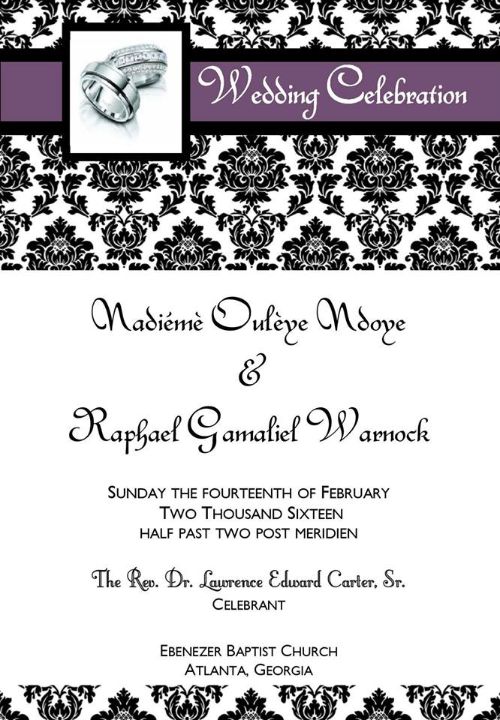 See what I mean? Following their vows, famed gospel singer Byron Cage sang "To God Be the Glory." Following his performance, the Rev. Dr. Lawrence Carter Sr., who was the celebrant, welcomed the couple to the "the halls of highest human happiness," a phrase I first learned about after reading a "A Man Called Peter: The Story of Peter Marshall," by my deceased spiritual writing mentor Catherine Marshall. Rev. Dr. Carter also introduced the couple as the 5th First Family of Ebenezer Baptist Church…
So what do you think of their very short engagement? The Warnocks went from proposal to wedding at a swift speed, particularly as it has been reported by the AJC that the two actually were actually first married at a private ceremony at Danforth Chapel on Morehouse College's campus last month! The two are graduates of Morehouse and Spelman College and "many Morehouse men and Spelman College women have married there." "According to TheKnot.com and WeddingChannel.com's Real Weddings Study, the average length of an engagement is 13.8 months. And 7% of people surveyed said they were engaged for more than two years," which is from the CNN article "Standing Engagement — Are Committed Couples Waiting Longer to Tie the Knot?"
My hubby and I got engaged in December 2012 and married the following August so we were engaged for eight months. I think longer engagements give couples more time to plan a wedding, but a wedding doesn't have to take a long time to plan in my opinion. Actually, we didn't start planning our wedding until February 2013 so it came together in an intense six months. Celebrity couple DeVon Franklin and Meagan Good-Franklin got engaged in March 2012 and were married by June. Earlier this month, the two released their book The Wait: A Powerful Practice for Finding the Love of Your Life and the Life You Love about their entire 13-month celibate courtship.
The Warnocks speedy proposal and wedding reminds me of a line from one of my favorite movies "When Harry Met Sally." Harry and Sally were friends for a long time before they were lovers, and Sally realized first they could really spend their life together. Of course, their friendship breaks down when Harry doesn't immediately return Sally's feelings. However, on New Year's Eve, Harry, who is spending the evening alone, suddenly realizes he is in love with Sally too. Instead of telling Sally the next day, he barges into a New Year Eve's party where Sally is partying alone and tells her exactly how he feels. It Had to Be You by Frank Sinatra is playing the background…Below are his words…
I came here tonight because when you realize you want to spend the rest of your life with somebody, you want the rest of your life to start as soon as possible.
The video of the entire the wedding is below. Congratulations to the Warnocks!!!
Any thoughts?
Comments
comments