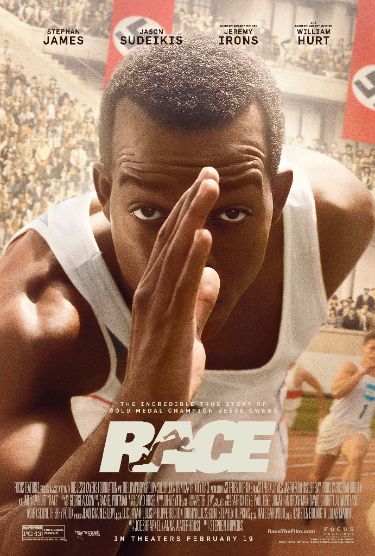 Hello World,
Although RACE is a timely movie considering it is Black History Month, the title RACE, may lead one to believe it's all about Jesse's race – his Black/African-American ethnicity. RACE, however, the story of Jesse Owens' life, is about determination, perseverance, timing, struggle, overcoming adversity and God's providence.
Still, his life story was more than that. It was about a man who had a dream; a quest to be the best. It was his dream to become the greatest track and field athlete in history regardless of his race. Jesse Owens' dream entailed having the discipline to train, the courage to get in the race and run to win. He was able to win four gold medals at the 1936 Berlin Olympic Games! You are being challenged to look deep into the story of Jesse Owen's life to see the parallels in your own life. You must see God's hand orchestrating the events in your life. You are running in a race…
RACE's cast includes Stephan James as Jesse Owens, Jason Sudeikis, Jeremy Irons, William Hurt, and Carice van Houten.
Time is of the essence. Jesse Owens won his race. History records him as a legend. What will it take for you to win? How will history record your life?A RACE Faith Study Guide, which is perfect for church ministries and youth organizations,  is available for a FREE download, by clicking HERE!
And below is the the trailer for RACE.
GET SOCIAL:

#LIKEJESSE @RACEMOVIE
Any thoughts?
Comments
comments