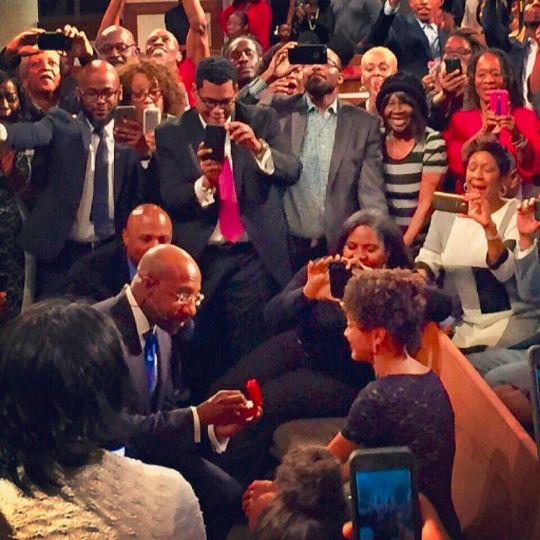 Hello World,
If you're in the A, you may already know the news, but since my audience is worldwide ( 🙂 ), I hope I'm the first to bring you the news! Rev. Dr. Raphael Warnock, senior pastor of Atlanta's Historic Ebenezer Baptist Church, the "spiritual home of The Rev. Dr. Martin Luther King, Jr." preached the Watch Night Service that will probably go down as the most romantic Watch Night Service of all times. At the end of the two-hour service, Rev. Dr. Warnock (who sounded a bit hoarse from preaching I guess or maybe it was nerves considering what he was about to do next) acknowledges Mrs. Christine King Farris, the longest serving member of Ebenezer and sister of Dr. King and people from his circle including his siblings, a friend from high school and one of his best friends who "know [him] before [he] was Rev. Dr." BEFORE introducing the church to a Miss Ouleye Ndoye about the 2:07 mark of the video below.
He says that "Morehouse men don't get far without Spelman women."  He goes on to say Ndoye, who is a graduate of Spelman, Oxford and Columbia, is the "one of the most brilliant people I know" and the tone of his voice lowers a bit before completing his statement with "and one of the most beautiful people I've ever seen" after which a collective "Oh" comes from the congregation…
Then he walks over to her at which some woman in the congregation says, "Uh oh, Pastor?" And then many members of the congregation armed with cell phones vacate the pews, furiously corralling themselves around the pastor and his special guest like he is a football player about to score a touchdown! (I saw "Concussion" last night so football motifs are on the brain. A must-see movie by the way!) He responds with, "Why y'all carrying on like this?" in the midst of the commotion. And the same woman it seems yells, "Go head pastor! Work it pastor!" "Can I talk?" says the Ebenezer Baptist Church pastor finally before beginning his proposal.
Obviously inspired by the words Indian poet Rabindranath Tagore, Pastor Warnock recites his words to Ndoye, who is seated, as he stands before her.
"Those who are near me do not know that you are nearer to me than they are. Those who speak to me do not know that my heart is full with your unspoken words. Those who crowd in my path do not know that I am walking alone with you. Those who love me do not know that their love brings you closer to my heart."
And then he quotes from the Word, reciting Proverbs 18:22 with a sweet twist as he pulls out a red jewelry box from one of his front jacket pockets.
"The Bible says that he who finds a wife finds a good thing and obtains favor from the Lord.  So, will you do me a favor and be my good thing? Will you marry me?"
Pastor Warnock, who is on bended knee by the end of his words, had to stop for a moment the applause was so loud but he was able to get the words of his proposal out. Ndoye, who is trembling and intermittently clasping her hands around her face, responds by saying, "Yes, I will."
All this time, I thought that Rev. Dr. Warnock, who became senior pastor of the church as a single man in 2005, was like Paul and had the gift of singleness. But as it turns out, he was just waiting for his "good thing" to arrive 🙂
Congratulations to the beautiful couple!
This Watch Night Service proposal reminds me on an episode of "Sex and the City" when Charlotte, who has converted Judaism to be a suitable marriage candidate for her Jewish boyfriend Harry, but they have a fight before he proposes. Still, Charlotte, who was serious about her conversion despite the breakup, goes to a Jewish mixer for singles where she bumps into Harry, who has by that time forgiven her for the fight. He proposes to her in the middle of mixer! One of the single Jewish women, who watches the proposal, responds by saying, "I'm so coming back next week!"
Maybe if more women knew they could score a marriage proposal (the football motif returns) at a Watch Night Service in church rather popping champagne  in the club, they would show up there  instead for their NYE festivities 🙂
Watch the whole service or just the proposal (which begins around the 2:07 mark below) below! Happy New Year Y'all!
Any thoughts?
P.S. UPDATE: Rev. Dr. Raphael Warnock and Ouleye Ndoye are now married as of Valentine's Day 2016! Read the story – Why Wait? Historic Ebenezer Baptist Church Pastor Marries on Valentine's Day After NYE Proposal (VIDEO)!
Comments
comments