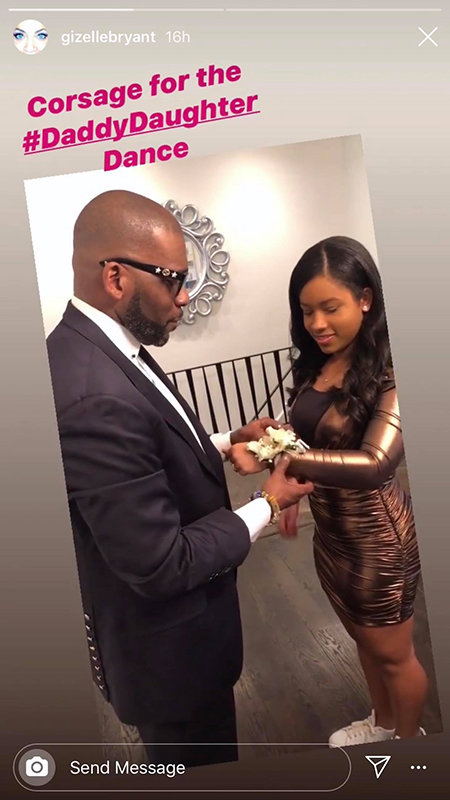 Hello World,
The first time I officially danced with my father was during my wedding in 2013. It was one of the most special moments in my life because the first man I had ever loved gave me away to the man I will forever love. I don't recall any of the schools I attended when I was growing up having a Daddy-Daughter Dance, but I hear about them all of the time now. Apparently, the school where Grace Bryant attends had a Daddy-Daughter Dance on Saturday as Bravo reported that New Birth Missionary Baptist Church Pastor Jamal Bryant took his daughter Grace to one. Grace is also the daughter of Gizzelle Bryant, who is on the cast of  The Real Housewives of Potomac.  Both of the Bryants, who are back together after being divorced for several years, posted about this special occasion on their Instagram pages. But Grace's dress, which is somewhat short and tight and shiny, has received some critical feedback…Below are some of the comments and Pastor Bryant's IG post…
"No Mam Grace. Come with a dress to your knees . Y'all look good but no Mam I'm old school."

"Naw. Naw grace lookin to grown 😭"

"Tell her to get back inside and put a crinoline over that Sir 🤭😉😆"
But I must say, most of the comments were complimentary…So what do I think? Believe it or not, I started receiving attention for my backside when I was still in elementary school. As a result, as I growing up, I tried to wear clothes that weren't too tight or too short because of the unwanted attention. That being said, that's just me. If her parents are cool with it, then that's that…
What say you?
Any thoughts?
Comments
comments