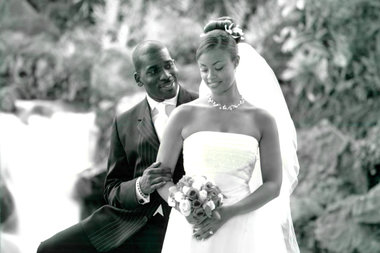 Hello World,
My Word! I thought it was enough that Kanye brought his Sunday Service to New Birth Missionary Baptist Church on yesterday, but the real tea is that Pastor Jamal Bryant is ready to make his first lady Gizzelle Bryant his First Lady yet again! The exes Pastor Jamal Bryant and Gizzelle Bryant are dating! I guess he is heeding my advice to him given through Al Gore's Internet! See my post Why Pastor Jamal Bryant Should Get Married Following Tweet's Announcement That She is Done With Church…
Maybe that is another reason why Tweet was in her feelings regarding her relationship with the new New Birth pastor. She sensed he still had feelings for this first wife! And for the record, I think this is great news! As I said, I think Pastor Bryant should be married and if he can reunite his family then that is the best outcome possible! In case you don't believe me, Gizelle confirmed their new relationship on with ex-husband Pastor Jamal Bryant during Part 1 of the RHOP Season 4 reunion last night!
According to Bravo, what she said is below…
However, when Andy asked at the reunion if the mystery man was her ex-husband, like he had heard, she confirmed the gossip and said she and Jamal reconnected last year.

Gizelle admitted that the transition from married couple to exes back to dating hasn't been easy for her and Jamal's three daughters, Grace, Angel, and Adore. "You know what, they're a little confused, to be honest with you, because they've never seen us together in that way. We got divorced 12 years ago," Gizelle explained. "So when he comes into town and he wants to take me to dinner, they're like, 'Wait a minute, aren't we all going?' Because that's what we normally do."
I wonder what brought the two back together? I haven't read My Word as of yet, but the written word is powerful. Maybe reading their fictionalized relationship from her point of view opened his eyes to what broke down their marriage. Or maybe being in Atlanta and away from his ex-wife and their daughters made him realize that being with her and his family is what he wants and needs. Whatever the reason, as I said before, bringing a family back together is the best outcome! I hope his congregation lifts them up in prayer because the devil stays busy, but I do think a new thing is being done at New Birth in more ways than one!
Any thoughts?
Comments
comments