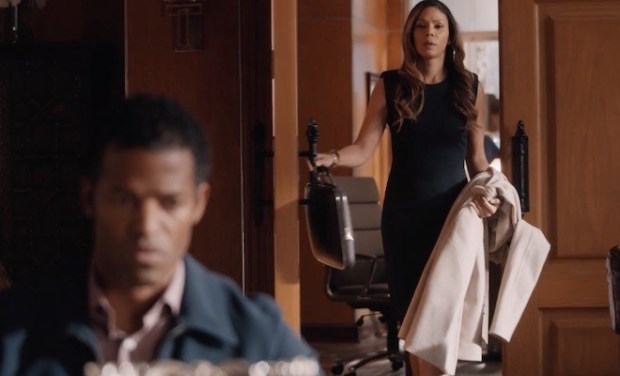 Hello World,
Let's skip all of the preliminaries shall we, and let's just proceed with this Greenleaf Recap Season 4 Episode 2: Did I Lose You?…We've got too much ground to cover…
Don't Wanna Lose You…
This week's episode begins with Grace waking up in her luxurious beige (or at least it looks beige in the morning light) bedroom. If my parents had a home that luxurious, I would stay with them too. Do you think she gives her parents something toward the costs of upkeep or something? Anywho, just as she steps out of bed, she hears a knock on her door. Charity, who has obviously just woken up as well as she has on a scarf and a robe, apologizes. "I'm sorry for the way I behaved last night," she says, stepping into Grace's suite. "I was out of line." Grace, in a forgiving tone, says, "You were disappointed." Charity asks if instead of being an associate pastor, she can be the music minister although the night before, she wanted to be an associate pastor or nothing else. "I just want to be on the team," Charity says to her sister. Grace is grateful that she didn't lose her sister in this particular skirmish. Grace promises to speak with Phil DeMars about Charity being the music minister. Once she walks out of Grace's suite, Charity's lips curl into a devious smile. Oh Charity, when will you learn?
Charity may be scheming with Phil DeMars, but her daddy, Bishop, still knows how to reach his baby daughter. He plays the song "Unforgettable" on the piano while he sings in that rich voice of his. Charity appears from upstairs and sings with Bishop. He says, "I know you're upset and feeling left out, but God has a plan waiting for you too." He then tells her that he has to skedaddle as he is meeting with a travel agent. "Operation Win Back Lady Mae" has officially begun and the first part of his plan is a second honeymoon for him and his now ex-wife.
Not wanting to get lost in the Greenleaf estate once again, Kerissa is using every spare moment she has to house hunt. She pulls up home listings on her laptop and studies them like she has to take a test. Living with her in-laws tests her sanity obviously. We learn that the Greenleaf estate is losing a resident as Sophia will be going to summer classes at Hampton University. We also learn that Zora is still Zora. When she learns that her Aunt Grace will be meeting with Phil DeMars, she says he's fine in an "evil way." Yes, Zora is like so many women: She has an unfortunate preference for bad boys.
At Calvary, Grace learns that Bob Whitmore's daughter wants to meet with her in the future as she is over praise and worship for all of the Harmony & Hope churches. She notes that Bob is okay with nepotism when it comes to his family but not otherwise. She sends newly named Associate Pastor Jacob to meet with Phil DeMars as he gets on her nerves. She then goes on to her new office (Bishop's old office) where Noah is sitting there, waiting for her. "How was your flight?" Grace says to him like it's a leisurely visit. "Why didn't you tell me we had a son?" Noah replies, ignoring her question. Grace explains that she was 18 years old and had recently told her parents about Mac and Faith. She says she originally wanted to have an abortion, but she couldn't go through with it. She put their son up for adoption right after he was born. "He was so beautiful," Grace says of their son, who is apparently named A.J.
Noah's just getting straight to the point. #Greenleaf pic.twitter.com/GnJErrojoU

— Greenleaf OWN (@GreenleafOWN) September 11, 2019
Noah notes how the news of his son with Grace could potentially cause him to lose Isabel and their marriage although they created a son years before Noah and Isabel were a couple. Apparently, Noah and Isabel haven't been able to conceive and the fact that Noah actually has a son with his first love would further devastate her. Grace also reveals that A.J. looked her up years earlier when Sophia was 12. Apparently, the adoption agency had unsealed the adoption records. I swear, knowing all of this about Grace has caused me to see her in a different light. All of this time, she easily pointed the finger at other people and their mistakes and misdeeds all the while knowing that her mistakes and misdeeds were just as bad as other people's. "I just want to make it right now," Grace says. Noah tells her that their son is being released from jail. I guess we will see if Grace makes all of this right after she has been wrong for so long…
If I Ever Lose My Faith in You…
After Noah leaves Grace's office, he runs into Jacob and they catch up for a bit. Jacob jokingly refers to Kerissa as the "same Excedrin headache." (So am I the only one who kind of thinks he is mismatched with Kerissa? Tasha Skanks and Jacob seem to have more of a genuine connection…What y'all think? I've almost lost faith in their marriage.) Although Jacob invites Noah over to the estate to visit his parents, Noah declines and asks Jacob to not tell his parents he was in town.
Jacob agrees to Noah's request although he thinks it's weird. He comes into Phil's office to meet with him. He explains that since Grace got pulled into a meeting, he is meeting with Phil instead. Although Phil is perturbed that he is meeting with the associate pastor rather than the pastor, he explains that Calvary's children will not be attending "Blue Lake Camp" this summer due to the costs. Jacob asks him to reconsider as the camp offers the children the chance to learn more about their black heritage when it comes to art, dance and music. Phil says that Harmony & Hope is all about diversity not just focusing on one heritage. Before he dismisses Jacob, he says, "Welcome back, brother" in an icy tone.
Jacob keeps his cool although he now understands why Phil get's on his sister's nerves. When he tells his sister what happened in the meeting, Grace says she will help pay the cost of the children attending "Blue Lake Camp."  Jacob also mentions that he saw Noah and that he was acting weird. Grace explains that she thinks Noah is having trouble with his wife. See, that's what I'm talking about. Grace doesn't have any problem bending the truth when it comes to her stuff, but she is always demanding the truth from everyone else. After Jacob leaves, Grace calls the jail where her son A.J. is incarcerated.
Away from Calvary's campus, Lady Mae and her granddaughters Zora and Sophia go shopping. While the girls are in a dressing room, Lady Mae receives a text from Deaconness Connie that makes her so incensed she throws her cell phone into one of the dressing room mirrors.
😱😱 #Greenleaf pic.twitter.com/sS0fuOvDGP

— Greenleaf OWN (@GreenleafOWN) September 11, 2019
Apparently, she owes more than $38,000 to Calvary for her "A Day With Lady Mae" production. She explains the cracked mirror by saying that she dropped her phone. Bishop, who is posted on the stairs in a green velour tracksuit when Lady Mae returns home, notices that his wife is mad enough to spit. She calls Deaconness Connie a "cutout of a woman" and explains what she did.
Kerissa has lost all faith in the Greenleaf estate and has moved beyond simply looking at homes online. Now, she's attends an Open House with her real estate agent. She is interested in putting an offer on a home, but she and Jacob don't have money for the down payment. When the real estate agent asks her about asking her in-laws for help, Kerissa says, "Girl, I would rather sell my plasma." Deep.
Meanwhile, Jacob finally meets Dante Saunders, the troubled Memphis Red Devils baller. Dante rolls up on Jacob in Calvary's parking lot and challenges him to play basketball using a football. The things that the male species do to prove themselves! LOL After their game is over, Dante offers Jacob a bribe to turn the other way when Dante acts a fool, but Jacob doesn't accept his money. Dante is impressed and Jacob feels that he has a real chance to mentor this guy.
And Phil's meeting with Jacob is not his only meeting for the day. At some restaurant, he also meets with his spy Charity. She says, "I don't know if I can do this." Bishop's singalong got to her obviously. "[Bishop] says that I'm the heart of the family." Phil points out that Bishop is an accused arsonist, owes the IRS and more. In other words, he is insinuating that Bishop cannot be trusted. Phil tells her family doesn't see her as the "jewel" that she is.
But Phil is not content to just meet with one Greenleaf sister when he also asked for a meeting with the eldest Greenleaf sister. "When I ask to see you, I expect the courtesy of a visit," Phil says to Grace when he sees her at Calvary. Grace makes it clear that Phil is not her boss although she says so in a mostly professional way. She also tells him that she will help to pay for the children to go to the "Blue Lake Camp." He is surprised that she has that much money as it may cost about $100,000 when it's all said and done. Y'all, where did Grace get this money? She barely works as a pastor at Calvary and before being a pastor, she was a reporter. Maybe because she's likely not paying rent, her money has added up. (Sorry y'all, the budgnetista in me is coming out…) Grace also uses this opportunity to ask Phil if Charity can be the music minister. He quickly agrees which makes him appear more generous and accommodating than Grace originally thought, but we know what that is about…
Now that Zora is back, her and her cousin have rekindled their relationship. Zora convinces her cousin to stay with her at Noah's old house (although he may need to move back in it if Isabel founds out about AJ) AND go to Lady Mae's early morning Bible Study with her instead of going to Hampton for the summer.
Since Bishop is trying to woo Lady Mae back, he concocts a way to fix his ex-wife's problem with Deaconness Connie. Cloaked by the cover of night, in the Calvary parking lot, he meets his old assistant Karine who is adorned with a black hat and sunglasses like she is a double agent. She hands him some papers and he speeds off the premises. Once he leaves, she says, "This sure doesn't feel like church." Ya think? Apparently, Bishop has lost faith in God because he's resorting to using the devil's tactics. And we know that what is done in the dark will surely come to light.
Lady Mae reminds her ex-husband of this principle when he presents with documentation proving that Deaconness Connie is receiving payments from Harmony & Hope. He says, "I'm trying to get this church back for you." She says, "This is not the way." It won't be power or might that gets Calvary back for the Greenleafs but by "my will says the Lord," says Lady Mae. She goes on to say, "We have to get our house in order, we have to get our hearts in order or we're going to lose everything." Tell him, Lady Mae.
Speaking of getting a house in order, Grace finally tells her daughter about her older half-brother. Sophia points out that Grace always criticized her parents for not being there for her sister Faith when Grace completely abandoned her child. She calls her "such a hypocrite" and says that that she doesn't want her to accompany her to Hampton. Apparently, her mother's revelation was enough to convince to go away again when Zora had convinced her to stay. Has Grace lost her daughter forever or at the very least, a very long time?
Win, Lose or Draw…
Kerissa is willing to lose it all to escape from the Greenleaf estate. She wants to sell the Real Church land, the land across from Calvary that they bought when they were going to build a church there. She believes the profit from the sale of the land will be enough for a down payment on a home. "I want out of this house." But Jacob doesn't want to sell the land without praying about it especially as he may have other ideas about how to use the land. The former jock is considering building some sort of youth athletics facility where he can minister to athletes like Dante. Kerissa says she will hold off on getting a market analysis for now but as soon as she is out of Jacob's sight, she contacts the real estate agent anyway. She is forever trying to lead the marriage. SMH…
Bishop is wondering whether he will be able to win Lady Mae back after all as he looks at the plane tickets he bought. Not only is she asking him to court her, she is also asking him to clean his heart. Can he do that? I don't know and clearly he doesn't either…
It's looking like Grace has lost her daughter for now. Early in the morning, she takes off in her jeep for her long drive to Hampton but not before telling her that her father will be joining her on the journey. Ouch. I feel it for Grace, but she did bring this on herself.
Lady Mae is determined to win back Calvary God's way and tells Bishop's accomplice Karine the same. She presents Karine with a check for all of the costs associated with "A Day With Lady Mae" and asks her to give it to Deaconness Connie before the scheduled board meeting. She says she is taking this action according to Romans 13:7.
And don't forget it. #Greenleaf pic.twitter.com/koQXTRNyVl

— Greenleaf OWN (@GreenleafOWN) September 11, 2019
Now that Grace has lost Sofia, at least for now, maybe she will attempt to win her son back. A.J., who has nice locs, calls her from jail and says, "So you gon help me out or what?" She says will help him with his monetary needs and as well as help him find a place to stay. And after Sofia got on her mother for only wanting to throw money at her son and not develop a relationship, maybe developing a relationship with her and Noah's son is what she needs to do win her daughter back as well…
👀👀 #Greenleaf pic.twitter.com/ffmW281YWF

— Greenleaf OWN (@GreenleafOWN) September 11, 2019
Thank you sooo much for reading my Greenleaf Recap Season 4 Episode 2: Did I Lose You? and my other recaps so far. If you would like to keep up with OWN's "Greenleaf," and my recaps, please click on this link to subscribe to my blog 
!
Any thoughts?
Comments
comments