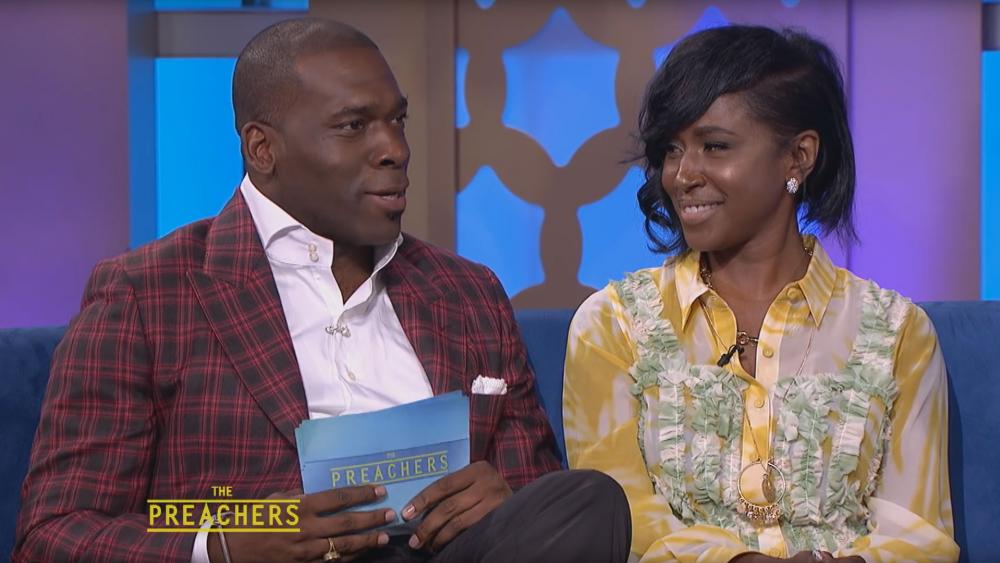 Hello World,
Back in November, shortly after Dr. Jamal Bryant was named the new pastor of New Birth Missionary Baptist Church in Lithonia, Georgia, I penned this post 'Should Divorced Men Such as Dr. Jamal Bryant, Newly Named New Birth Missionary Baptist Church Pastor, Be Allowed in the Pulpit?' Many people had varied opinions and I understand why. But after all that New Birth Missionary Baptist Church has been through, at the end of the day, I wished and do wish Dr. Bryant well as he puts his stamp on this well-known but beleaguered church. And I'm taking notice of what he has done thus far. I wrote one complete post about one of his initiatives, 'New Birth Missionary Baptist Church Pastor Dr. Jamal Bryant & Members Give Approximately $300 Each to Members Affected By Government Shutdown…' and I mentioned the FREE City Wide Wedding the church held in another post.
I enjoyed listening to his recent interview with Dr. Rashad Richey, a local radio show host, at Beulah Heights University!
I found him to be very transparent about himself and his ministry. (And he is too charismatic!) He mentioned that while he was a student at Morehouse College, education, in the traditional sense, wasn't his primary goal. He said, "On paper, my major was political science, but in actuality, my major was Spelman." Ha! He also revealed that being called to ministry does not mean you are not flawed. He said, "I'm anointed, but I hate sleeping alone." He offered this as one example of being a flawed person in ministry. He didn't say he was referring to himself when he made that statement, but given his past, you have to wonder. I mean this was the man who had to address a random paternity allegation just three years ago!
And now his most recent girlfriend R&B Singer Charlene Keyes known as Tweet (that we know of anyway) is saying she is done with church! Remember when he called her his last lady! And that was just in 2016…
Well, chile, in a Instagram Live video from a few days ago, Tweet and her daughter Shenice discuss their dislike for the church. Without apology, Tweet said she will speak her "truth."
"It's coming out in the music, it's coming out in interviews, It's coming out. I'm saying what I want to say. I'm not shading nobody. I'm telling my truth. And church has been the worst, I will not do church anymore. I love God like you said, and I have a relationship with God, but you won't see me in nobody's church house, not giving nobody my tithe, not giving 10 percent to nobody, period."
Tweet explained that people presented themselves one way in a public setting but acted in another way in private. She said it really shocked her because her pastor that she knew while she was growing up had integrity. She also mentioned another pastor in Atlanta that she feels has integrity.
"Bishop Weeks, who was an incredible man of God, integral, Bishop Weeks, if he still had his church in Atlanta, I would drive there and go to his church. He taught me integrity."
That statement to me was very telling. Does Tweet live in the metro Atlanta area? Her former man's church is in the metro Atlanta and she didn't say anything about driving out there!
You have to wonder what went down in their relationship. It's not a good look when your former boyfriend has been named the new pastor of a church in another city and now you're done with church and talking about it! They reportedly broke up last year! And Tweet mentioned going out to have a cocktail twice in that video! She was once a heavy drinker by her own admission and now she's joking about going to have a cocktail after going off about church…What's really going on?
Smh…chile….I fear that a scandal is waiting to happen at New Birth…And if it's one thing that New Birth does not need it's a new scandal. That church is not over the old scandal yet…
I'm not saying that Pastor Bryant should just pick the first woman that he sees, but the Word says that it's not good for any man to be alone ("The Lord God said, "It is not good for the man to be alone. I will make a helper suitable for him." Genesis 2:18) and this man in particular it seems…
So if Pastor Bryant meets a nice woman who has what it takes to be a First Lady (And it kind of messed up that Pastor Bryant and Tweet didn't make it because she would have been a saaangin First Lady too) and after thorough premarital counseling (because pastors need counseling too), he should go ahead and get that done sooner rather than later. As the Word says, "Now to the unmarried  and the widows I say: It is good for them to stay unmarried, as I do. But if they cannot control themselves, they should marry, for it is better to marry than to burn with passion." 1 Corinthians 7:8-9
He's a man of a particular age so he should know what he wants by now. And it shouldn't be that difficult to find her with all of the suitable woman we have in Atlanta 🙂
So what y'all think?
Any thoughts?
Comments
comments