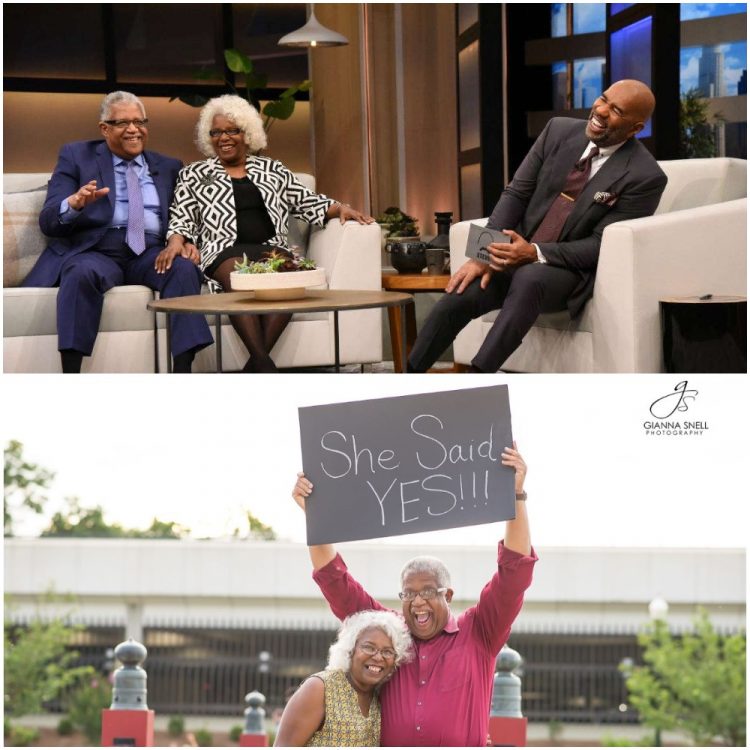 Hello World,
Happy Valentine's Day Y'all! As has been said, "You Can't Hurry Love, No You'll Just Have to Wait." After deciding that I most definitely wanted to get married in 2003 (and telling God to show up right then), I had to wait until Valentine's Day weekend 2010 to go out on a first date with the man who would become my husband in 2013! (Happy First Date Anniversary to US) That's seven years of waiting if you're paying attention!
And some have to wait even longer than that…Two years ago, the joyful engagement photos of an older Alabama couple Murphy Wilson and Lucinda Wilson, who are both in their 70s, went viral likely because their story proves that love can happen at any age! Lucinda, who had been divorced for 30 years, was able to find love again when she met Murphy, whose wife had died in 2013, at their church…
Below is an excerpt of their story from their engagement photographer Gianna Snell's website…
Lucinda Myers, a florist and baker, moved to Huntsville, AL in July 2013, the same month that Murphy returned to church. Myers is originally from Boston, which coincidentally is also Murphy's hometown. Having been divorced and single for 30 years, she had been praying and waiting for God to send her a husband. And although the wait was difficult, and she had moments of saying out loud, "God, where is he?"…she kept on praying and doing the things that made her happy, such as cake decorating, babysitting and helping others. She moved to Huntsville for a fresh start.

Each Saturday, Lucinda sat in the balcony on the front row at church while Murphy was one row behind. For over 3 years, they both occupied the same space in church but didn't have any interaction with each other. Murphy had made it up in his mind that he was not going to talk to anyone because he really wanted God to do the choosing.

But one day, something caught his eye… "It was her hair," he said. "And then she turned around, and Man…she's got this smile. She was very attractive…I just couldn't stop looking at her."

Still not saying a word to her from week to week, Murphy became more and more intrigued by this woman… so much so that a nearby church member caught Murphy staring at Lucinda one day. After church, the woman approached Lucinda and told her that she had a secret admirer in the balcony. Lucinda was shocked because she'd had no interaction with him, so she emphatically said, "Well if he is admiring me, he has to come to me. I'm certainly not chasing any man."
To read the whole story, go to giannasnellphotography.com.
The couple told their love story to Steve Harvey on his show STEVE earlier this month. Check out the video below!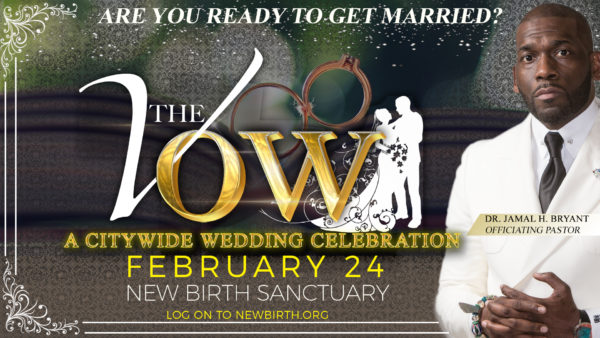 And if you find yourself engaged today and live in the metro Atlanta area, but don't have the money to get married or other circumstances have prevented you and your love from tying the knot, New Birth Missionary Baptist Church is FREE City Wide Wedding during their 9:30 AM Worship Service on Sunday, Feb. 24!  Now, pre-marital counseling is required for 2 sessions in their Multi-Purpose Room in order to obtain a Marriage Certificate from New Birth. And two sessions will be held THIS Saturday February 16 from 10:30 AM – 2:30 PM and THIS Sunday, February 17 12:30 PM – 3:00 PM! For more information, go to newbirth.org.
Also, if you are single today, you can get free wings at Hooters! From Thrillist: It's true. Head to the famously skimpy restaurant on February 14, and you can partake in its annual "Shred Your Ex" event. Buy 10 wings, rip up a photo of your ex, and you're going to land 10 boneless wings for free. As Jimmy Durante would say, "Hot cha cha." If having to step over the waggling tongues of drooling pubescent teens isn't your idea of a good time on a lonely Valentine's Day, you can shred exes online. After you tear your former partner to pieces, you'll get a digital coupon and can order some wings to take back to your empty apartment. Though if you do it at a restaurant, the pictures go into a shredder, which will truly impress the teens at the table next to yours. Teens love shredders!
Finally, whether you're hitched or single and just love a good love story any time of the year, one of my favorite authors Kim Cash Tate is a launching a new web series "CLING" on You Tube. Premiering March 9, A New Love Story. It's time to cling to your First Love. Shiloh 'Rikki' Stevens has a thriving ministry inspiring countless women to cling to God. But as her personal life crumbles, she finds herself holding on to God for dear life . . . and sometimes losing a grip. Created and written by Kim Cash Tate. Directed by Will Thomas. See the trailer above!
Any thoughts?
Comments
comments