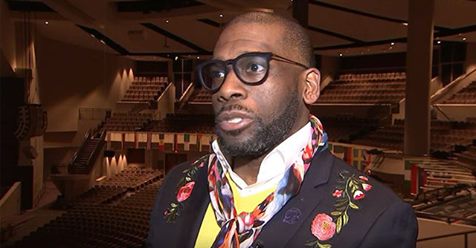 Hello World,
As this is the Government Shutdown, the longest one in history, continues, many federal workers are in need of cash plain and simple. But thankfully, many churches and other benevolent organizations and people are stepping up and giving money to federal workers in need.
Tom Jones of WSB-TV reported that New Birth Missionary Baptist Church, led by its new pastor Dr. Jamal Bryant, in Lithonia, Georgia is helping fellow members whose paychecks have been affected by the Government Shutdown. See the video for yourself:
To read the story, click on THIS LINK!
In addition to New Birth, other metro Atlanta churches are helping members affected by the government shutdown. Check out an excerpt of this article from the AJC below:
On Sunday, the Rev. Wilbur Purvis asked how many members of his congregation were affected by the partial government shutdown.

Several raised their hands.

The pastor of Destiny World Church in Austell prayed for them, but something in his heart told him to do more.

A few days later, he handed out $500 checks to five people.

To read the entire article, click on "Atlanta Churches, Faith Groups Help Furloughed Federal Workers" by Shelia M. Poole & Janel Davis.
Here in Atlanta, the government shutdown has also affected how the upcoming Martin Luther King Jr. holiday on Monday, Jan. 21 will be celebrated as National Park Service employees have been furloughed. The service runs the Martin Luther King Jr. National Historical Park, which is now closed. Had Dr. King lived, he would have been 90 years old yesterday. His youngest daughter Dr. Bernice King nearly choked up talking about the absence of National Park Service.
VIDEO: "Due to the government shutdown they are unable to join us today." @BerniceKing gets emotional speaking about the absence of the @NatlParkService while unveiling details of the 2019 Martin Luther King Jr. Holiday Observance Program. @FOX5Atlanta #MLK #GovernmentShutdown pic.twitter.com/7YXmzGUzzB

— Billy Heath III (@BillyHeathFOX5) January 10, 2019
All that being said, you don't have to be a member of a megachurch or a King to have compassion on federal workers affected by the Government Shutdown, one of my FB friends said he slipped a TSA member some cash at the airport. I bet that simple gesture was appreciated…
Any thoughts?
Comments
comments