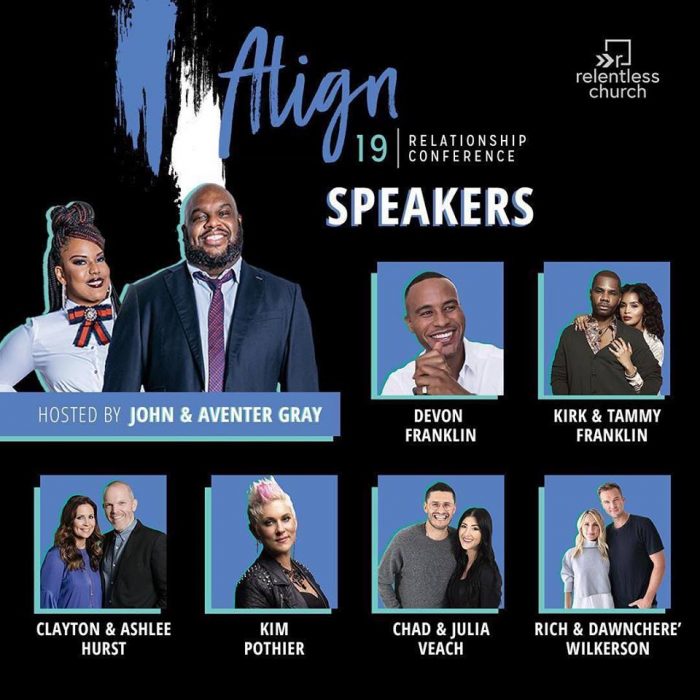 Hello World,
It was a exactly a year ago that Pastor John Gray got caught up in a controversy regarding relationships. R&B star Ciara faced backlash from single ladies simply because of a snippet of a Pastor John Gray sermon that she tweeted. Remember this tweet below?
#LevelUp pic.twitter.com/rmS0WMOV1B

— Ciara (@ciara) January 20, 2018
Ciara tweeted a snippet of Gray's sermon from the 2016 I Am Woman Conference in St. Louis, Missouri. I felt it was kind of unfair to blame Gray for something he said in 2016 that Ciara tweeted in 2018, and I also didn't think Ciara's message of #LevelUp was wrong considering all that she went through to get where she is today. And if you want to read that entire post, click on "Why Ciara & Pastor John Gray Are Right To Advise Single Ladies to Level Up…"
But now, a year after that January 2018 tweet, Pastor John Gray is caught up in another controversy regarding relationships. Relentless Church recently posted on Facebook that Gray along with his wife First Lady Aventer Gray will be hosting a relationship conference entitled "Align 19" which will be held at their church Relentless Church in Greenville, SC on Feb. 7-9. UPDATE: The date has been changed to Sept. 12-14.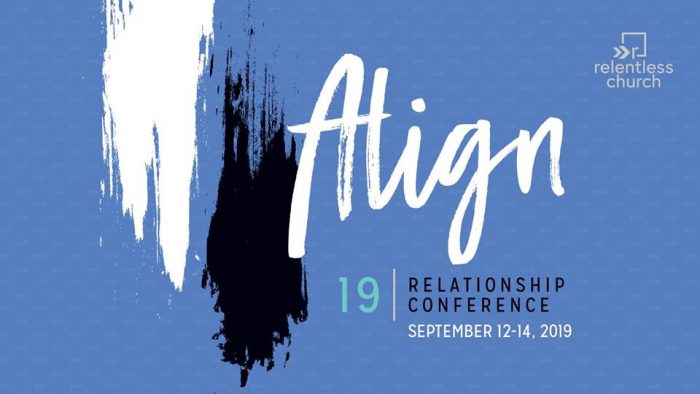 This announcement has folk talking again because The Christian Post and other news outlets reported that Gray and his wife admitted that they had considered divorce for two years, which he said on a YouTube video from the summer of 2018. From The Christian Post:
"What they didn't see is that for the last two years we weren't sure if we would even make it. This is what the people saw," he said while fake smiling, "but they didn't see the tears at night. They didn't see the times when one of us was sleeping on the couch because the argument. We had to keep smiling because even though we were struggling and even though I was failing as a husband, I was already in front of the people and the people can't receive my brokenness because where do leaders go when they bleed? Because sheep don't do well with blood so I had to bleed alone," Gray said.
In that same video, his wife spoke about a "strange woman"  whom affected their marriage. From The Christian Post:
"I prayed for them and him and then the devil loses," she said to applause. "'Cause what's not gonna happen is you tell me that I'm gonna lose my purpose because somebody whispered to a 16-year-old John? The devil is a liar. I'm staying with my husband and you can go back to the pits of Hell where you came from."

She added, "So you want me to leave my husband because you spoke to the 16-year-old that couldn't get a date? And he listened. So I'm supposed to leave my husband because you spoke to a place of brokenness that had not yet been submitted back to the Father? But because I know the tricks of the enemy and I'm learning them every day, I can stand here in boldness for everybody that tried to sneak in, thank you, because I got closer to God because of it. I got in that word … come on devil, you don't want it with me."
As a result of these revelations regarding their near divorce and this "strange woman," some think Grays do not need to be hosting a relationship conference. And given the fact that Pastor Gray could have been contemplating divorce and allegedly cavorting with a "strange woman" while giving relationship advice to women at the 2016 I Am Woman Conference, he could very well be a hypocrite. I must say those were my initial conclusions as well.
But then, I started thinking about the fact that the Grays will be the hosts of the conferences but are not billed as speakers (as least according to the flyer anyway). I don't know about you but when I need help in a particular area, I gather as many experts in that area that I can find and try to learn from them. That expertise may be found within the pages of a book. I may attend a conference or two. I may get counseling. I try to align myself with people who have what I want so that I can get what they have.
As far as the speakers at the Align relationship conference are concerned, Kirk and Tammy Franklin have been married for 23 years and although they have faced some challenges (I remember when Kirk Franklin admitted to having a porn addiction), they are still together. That is an inspirational story for couples who have faced similar challenges. Although DeVon Franklin is happily married now, but prior to getting married to Meagan Good, he was celibate for over 10 years as a single man. He obviously has a word for single people. I'm not as familiar with the rest of the slate of speakers, but based on their bios, they have testimonies that could encourage conference attendees. And as far as the Grays are concerned, maybe their decision to name the conference "Align" which means "to to be in or come into precise adjustment or correct relative position" is indicative of their intention to adjust or correct  their  marriage after what they revealed about their personal lives last year.
But what about the fact that he was giving relationship advice in 2016 while likely not having a good relationship with his own wife at the time, some of y'all are probably saying? LOL. I say I hope he uses better judgment in 2019 regarding his speaking engagements and overall speech because I can see why he was more than ready for 2018 to be over and hit the reset button for 2019.
Y'all it seemed like Pastor Gray was being talked about and not in a good way for much of 2018. See for yourself below.
Am I missing any controversies?
Pastor Gray said in his New Year's Eve sermon "The Reset" that he was dressed in all black in his "funeral outfit" because "2018 tried to kill me so I thought I would dress for the occasion."  He said that, "Some of the stuff that tried to kill me, I helped…Some stuff wasn't the devil. Some stuff was you. It would be great if we shouted for that too because what we're saying is, 'I take personal responsibility.'" He then goes on to talk about how he even thought about suicide behind all of what transpired in 2018. I agree with Pastor John Gray that much of what happened to him at least regarding his public persona and statements could be traced back to his decisions. For example, I'm pretty sure he is not the only megapastor who gifted his wife with a lavish gift in 2018 especially on the heels of Christmas but many of them did not post what they gifted.
I remember Pastor Gray before he was a pastor. He was a comedian I believe. I saw him at a church event here in Atlanta, and I thought he was funny at the time. But I didn't think much else about him because he was another Christian comedian doing this thing. But now his circumstances have changed. He is a pastor with worldwide platform. Somebody say, "More platform, More problems…" As it says in the Word, "Not many of you should become teachers, my fellow believers, because you know that we who teach will be judged more strictly. (James 3:1)  His inclination is still to be funny although his words, which may come from an innocent place, are now judged more seriously.

I hope he remembers this verse as we proceed in 2019.
What say you?
Any thoughts?
Comments
comments