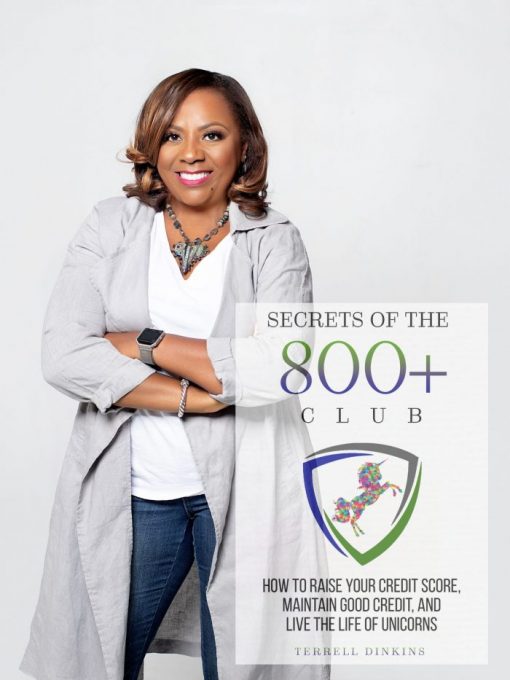 Hello World,
As this coronvirus crisis continues, having good credit is more important than ever. Unfortunately, businesses are shutting down, people have less discretionary money and healthcare costs are unpredictable. With these factors, it's good to know that you can use credit to bridge the gap, but what if you don't have good credit?  Enter financial advisor and wealth empowerment speaker Terrell Dinkins, MBA. Her latest book Secrets of the 800+ Club: How to Raise Your Credit Score, Maintain Good Credit, and Live The Life of Unicorns (which is only 127 pages so it's a quick read) is designed to give you the information to help you get lower interest rates, gain access to premium credit cards, and secure greater spending power. I interviewed Terrell about her first book One Bucket at a Time: A Woman's Guide to Creating Wealth in 2015. Click HERE for that interview. Below is Terrell's bio followed by my interview with her.
Terrell is a true "Georgia Peach." A native of Atlanta, she earned her BBA in Finance from Georgia Southern University and her MBA from Mercer University's Stetson School of Business and Economics. She completed the executive program in Financial Planning from the University of Georgia's Terry College of Business. She has also earned the ChFC® (Chartered Financial Consultant®) designation from The American College of Financial Services, and the CDFA® (Certified Divorce Financial Analyst) designation from the Institute for Divorce Financial Analysts.
Terrell is a past board member and speaker of Henry County Toastmasters. She is also a proud Life Member of Alpha Kappa Alpha Sorority, Incorporated. Her greatest accomplishments are being a wife and mother of two children.
1. Your first book One Bucket at a Time: A Woman's Guide to Creating Wealth was released in 2015. What was the response to that book, and why did you feel the need to write a new book Secrets of the 800+ Club: How to Raise Your Credit Score, Maintain Good Credit and Live the Life of Unicorns? (Was good credit not covered in the first book?) 
I've received great responses for my first book. People are still discovering it, and more people are buying it as an add-on to my new book. My first book was written because a colleague and now friend said there was a need for the world to know about the different money buckets. Back in 2015, I wasn't thinking about becoming an author, yet! I was teaching my clients the importance of creating multiple money buckets for a rainy day. My friend said the money buckets shouldn't be a secret just for your clients, and she encouraged me to write the book. The first book shows you how to build wealth, and the new one goes into great detail about one of the contributing factors that block wealth, poor credit.

I wrote the new book because I felt there was a need for the information. Scammers are taking advantage of vulnerable people and their desire to raise their credit scores. I knew there was an easier and honest way to get results if someone wanted to put in the work to raise their credit score and maintain good credit. The unfortunate reality of our economic structure is that people who have low credit scores pay thousands of dollars more in fees than those with excellent credit. I'm always open to helping people save money that can be used to build wealth. Just the other day, I was approached by a scammer, and she stated that she could delete student loan debt and child support debt. We know this is not true!
2. Your title is very interesting. What is the life of a unicorn? 
Unicorns are mythical beings that symbolize magic, miracles, and wisdom. I thought that would be a great symbol to represent those individuals who consistently maintain excellent credit, with credit scores above 800. Doors are willingly open for unicorns when they apply for credit. They receive lower interest rates, access to premium credit cards, and have greater spending power. In my book, I write a detailed profile of individuals whom I consider to be unicorns.
3. In the Introduction, you write about a real estate agent whom you encountered at an event who talked about the importance of good credit in getting a home. Additionally, she was pitching her credit repair program. You wrote that while you did not have a problem with her selling her services, people don't need to pay for a credit repair program to improve their credit. Do you believe that many people don't realize that? 
Yes, I think people don't realize that. Most people just need to figure out how to get that score up because paying their bills on time hasn't helped. Scores become an issue when people are trying to make a purchase. Then they are desperate because time is not on their side, so they pay someone. If the secrets to raising your score are at your fingertips, you never have to be in a desperate situation.

Is there ever a need for a credit repair program? Please explain like with a service such as Consumer Credit Counseling Services? Yes, there is a need for legitimate credit repair programs. Consumer Credit Counseling Services is one of them. These programs can negotiate rates and speak with creditors on your behalf. They teach you the right way, just like I've done in my book.
4. Isn't having a good credit score as simple as paying your bills on time? 
If that were the answer, more people would be members of the 800+ club. You can make minimum on-time payments on your credit cards and have an extremely low credit score. That's the issue with so many people. They are stuck and confused because they feel like they are good stewards making sure their bills are paid on time, but the score isn't moving. Those who don't know the secrets pay the highest price for credit. Making on-time payments with installment credit is different than making on-time payments with revolving credit if you are trying to raise your credit score. There is a recipe for having excellent credit.
5. In your book, you write about student loan debt as one of the top reasons why people don't have good credit. A few weeks ago on Facebook in a group of which I'm a member, a recent Georgia high school graduate posted that he had secured all that he needed to pay for his first year of college (through loans and other forms of assistance) in Florida, but that he was still about $3,000 or so short. He also mentioned that after the first year, he would only have to pay in-state tuition costs. As a result, he posted that he was seeking donations. His post created a lot of conversation. What would your advice be to that young man had you seen the post? 
I would have offered to have an offline discussion with the young man if he were willing to listen. But before I fully answer that question, I want to say that this is where crucial conversations need to take place with our young people about the cost and options for college. The cost of college (if you are serious about finishing) goes beyond paying for the first year. Start creating a plan for completing college. I commend the young man for wanting to take steps to attend college. It's not for everyone.

I would have asked him if his parents were aware that he was seeking donations on social media. I would have also asked him has he thought about the next three or four years after his freshman year. Does he have a plan in place to go the distance (cross the graduation finish line)? I would have asked him did he consider Georgia schools or junior college.

Finally, I would have asked him has he thought about how the student loan debt would impact his lifestyle after graduation. In my book, I spend quite a bit of time on this subject. I have a son who is a college sophomore. We had this conversation.
6. Years ago, I bought my first home when I was in my 20s, and I didn't have money to buy a bed so I bought it on credit. Shortly after that, I lost my job and wasn't able to pay most of my bills on time including my furniture bill. As a result, my bill was so high when that financial storm was all over that I resolved to never buy furniture on credit ever again. But you recommend using your credit to pay for things like furniture instead of saving up for it. Why? 
I never put anything on credit I can't afford to pay for with the assets I have on hand. I use my credit card for everything and pay the bill in full each month. This process allows me to strengthen my credit and build points on my credit card. I cash in the points for gift cards and discounts. A few of the cards are cashback cards (with no annual fee), so I turn around and apply the cash to the charge on my account. For people who aren't disciplined with credit, they are better off paying cash for furniture. Furniture stores and department store interest rates are outrageous! I took advantage of the no-interest deals for all of the furniture in my house and paid the bill off before the final due date. I use my money buckets (the first book) to fall back on in the event of a life storm (most people will have at least one storm in their lifetime).
7. You mentioned the COVID-19 pandemic at the end of the book. What is your best advice for improving your credit during this pandemic or is that even possible right now?
People have time on their hands right now to invest in themselves through learning and adjusting to a different lifestyle. Since COVID, saving account balances have increased, and credit card balances have declined. So, yes, it is possible to improve your credit during this pandemic. People are paying down debt! I am, however, conscious of the fact that this isn't the case for everyone. Some of the temporary job losses are going to be permanent. I have two friends who have lost their jobs during the pandemic. One of the friends took a course through Cornell University (investing in knowledge) and has since found new employment. The other friend has pivoted and decided to start her own business.

Time can be a friend. We've been forced through this pandemic to take time out for ourselves and think about what is important. People have saved money because they discovered that buying a new pair of shoes or an outfit every pay period isn't necessary. I had the opportunity to launch my book over the summer, but I purposely waited until the fall. In the fall, we shed the old and come out renewed the next year. I want people to feel renewed with a sense of accomplishment as they discover the Secrets of the 800+ Club.
To find out more information about Terrell and to buy Secrets of the 800+ Club: How to Raise Your Credit Score, Maintain Good Credit and Live the Life of Unicorns and or One Bucket at a Time: A Woman's Guide to Creating Wealth, go to onebucketnation.com. Additionally, both of her books can be purchased on Amazon and Barnes & Noble.
Any thoughts?