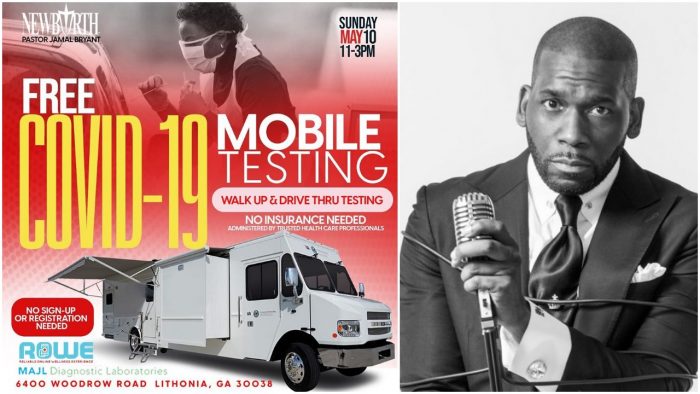 Hello World,
I'm shaking my head as I write this because I've got so much to communicate so bear with me as I go through what I'm feeling as I write all of this. The good news first: Last month, New Birth Missionary Baptist canceled its COVID-19 testing event as just before it was scheduled to happen, Georgia Gov. Brian Kemp ordered the state to shelter in place. At that time, the COVID-19 testing was offered at a cost of $125, but now the testing is being offered for FREE! See the flyer above for details.
Okay, now that the good news has been taken care of, let me get into this bad news. Yesterday, I came across this blog post that I will not link to here, but I imagine you can search for it and find it for the time being (more on that later). This blogger referenced an Instagram post in which the author of the IG post wrote that congratulations are in order because a "secret lady," whom the blogger wrote was a New Birth Missionary Baptist Church parishioner, allegedly and recently gave birth to Pastor Bryant's child. Pastor Bryant's ex-wife Gizelle, with whom he has reconciled although they are not remarried as of now, is even mentioned in the IG post.
So that post was obviously explosive and as some bloggers do, this blogger created a whole blog post about this IG post. As a I read the post,  I wondered if the allegations could be true. I've written blog posts about the fact that Pastor Bryant has not been perfect regarding his personal relationships in the past. But as I read through this blog post, it did not sit right with me that no sources were credited. As a journalist,  we do sometimes use secret sources in stories as some sources request anonymity before they are willing to be interviewed. However, these sources typically give enough information so that anyone reading the story would be able to discern the truth. Otherwise, it just comes off as conjecture and irresponsible.
That's why I have a problem with some of these so-called bloggers who lack journalistic training. It is irresponsible and cruel to post false information about people with absolutely no credible sourcing. I'm not gonna lie. I feast on a juicy bit of gossip every now and then, but I know the difference between gossip and the gospel truth. And most importantly, I'm a Christian. I have no problem calling out people within the church, but I do it when I have enough information to support what I write.
I'm glad that Pastor Bryant saw fit to immediately refute these baseless claims. Please see his video response below. He titled the video "Congratulations Are In Order," referencing the original IG post. But you have to watch until the video ends to see why he did so…In the words of Megan Thee Stallion, it's "savage." Also, I like the fact that he is wearing all white which I think is a not so subtle way to affirm that he is blameless, as it pertains to this particular accusation.
Here is a summary of Pastor Bryant's response:
I've been in a tailspin over the last 24 hours because everywhere I would turn on my social media and on my phone, I was met with the words, 'Congratulations' and immediately, when I heard, 'Congratulations,' I thought, 'Wow, that's great. Somebody sees the work of the church.' That in spite of the quarantine and the churches being shut down, New Birth, even with closed doors, refused to close our eyes to abject poverty or food insecurity. For the last seven weeks, we've been blessed to be able to feed 7,000 individuals in metropolitan Atlanta with fresh groceries. We've partnered with Trader Joe's, Publix, Panera Bread, Atlanta Food Bank and donations from gracious people like you.

I thought when I read in social media, blogs, the 'congratulations' was that we were doing the work of Christ, feeding the hungry and taking care of those who were destitute. When I realized the congratulations were not us opening up the king's table, I immediately thought that maybe, just maybe, that congratulations were in order because we were able to secure some 5, 7, 10,000 COVID-19 tests. I thought people were extending and issuing congratulations to us because we attempted to do it about a month ago, and was met with open rebuke because they were those who said they couldn't afford the laboratory processing fee so we postponed it until every person could have access.

So we were able to partner with a laboratory and with a testing site, both owned and operated by black women, and so those congratulations were considering that so many black businesses are failing and finding themselves without any support even with the stimulus packages that evades minority businesses. So when it is that we open up our parking lot this coming Sunday on Mother's Day and say that COVID testing would be free to all – uninsured, under insured, Medicaid, there would be no price and you don't even have to register, that just show up and stay in your car and all of the African-American healthcare providers who are volunteering would come to your car and test you within three to five minutes. DeKalb is one of the most underserved communities in the state of Georgia. I thought that was the, 'Congratulations.'

Much to my shock and my amazement, the congratulations was not about feeding 7,000 people, nor about providing free testing to some 70 to 10,000 people on Mother's Day, but reckless and irresponsible bloggers who went on with no facts, with no evidence and might I add with no truth to make a baseless accusation that I have fathered a baby in April, May, February, January, here in Atlanta and was hiding this baby, from some mother in Atlanta or in my church, that, no. 1, is 1000 percent untrue, a 1000 percent faulty.

In days gone by, I usually don't say anything. Michelle Obama informed us that when they go low, we go high. If it was just for me, I could just withstand it, ignored it and keep going. But I had to think about my daughters who are now of the Internet age, who have to read these falsities by cowards who would write things, with no boundaries, no compassion, no understanding, but flagrant lies.

I have to think about the church that I'm pastoring, that I'm grateful to pastor: New Birth Missionary Baptist Church here in Stonecrest, Georgia who has gone through a battery of assaults and attacks on the Internet before I ever came. I made a commitment to God and to these people that I would never take them through a storm, through hardship, through embarrassment, through anything that would bring shame to the body of Christ. And I've withheld on to that covenant and to that vow to God and to this church.

I've had to think about what this would mean to the gospel and people would, in fact, use this as a runway to believe that you can't outlive your past. Because it is fodder for so many people who believe that if you made any mistake in the past, you'll keep doing them in the present and relieve them in the future. God is a God who restores and transforms. We sing it often, 'Things I used to do, I don't do anymore. Places I used to go, I don't go anymore.' And as a consequence, I do not stand as somebody who has done everything right. I haven't dotted all of my i's. I haven't crossed all of my t's. But one thing that I can stand to true is the man that I am now, is not the man that I used to be. And all of it is credited to God's saving power, His grace and His forgiveness. There's somebody who needs to know, you can outlive your past. It doesn't matter what people think or what people say. And in the words of William Shakespeare, 'To thine own self be true.'

Amazingly, I read in physics, when I was still a high school student, that there was something about the force of momentum, whether it was a thing or it was a person, when you are moving with momentum, the only thing that can stop you is what is in front of you. What is behind you does not have the authority, the force or the power to do so, only what is in front of you. I'm grateful to God that the Lord is allowing and affording us the opportunity to do a great work in Atlanta, but I'm telling you that no power, principality, no hater, no envy, no jealousy, no spite, no vindictiveness will be able to stop the momentum of God that is moving in my life and in the life of New Birth church.

I'm thankful for all of you who have extended prayers and genuine deep-seated concern for me, for my mental health and even for my family. I'm grateful. Please, whatever you do, especially on this National Day of Prayer, please keep praying for me. I am not what I should be, but I thank God that I'm not what I used to be.

In the words of that great American writer, 'Rumors of my demise have greatly ben exaggerated.' Mark Twain said that. So to those of you who are celebrating prematurely, hoping that the enemy was going to win, and that character was going to crack, and that ethics would somehow elude me, I'm sorry. And to the bloggers who wrote this with no names, no evidence, no proof and all the more, with no truth, this blog is for you. (Pastor Bryant then pauses to hold up a blue balloon with the word "Congrats' and 'Way to Go,' written on it along with multicolored confetti dots. ) I wanted to extend to all of you, 'Congratulations.'
And now,  I will let you hear his words out of his mouth so that you can hear the savagery for yourselves! Ha! I have to give you a few cool points for that one, Pastor.
He goes on to say that on Saturday, New Birth Missionary Baptist Church will be feeding 1,000 people who are in need of groceries. His exact words then are, 'Somebody blog that," and so I am. If you are in need of groceries and you live in the A, mosey on over to New Birth where the food is free and the pastor aine putting up with it with some of y'all no mo…
And furthermore, if you need a free COVID-19 test, come through on Sunday…
Pastor Bryant was named the new pastor of New Birth Missionary Baptist Church, which had suffered through years of controversy, at the end of 2018. Since then Pastor Bryant, who has also suffered through controversy (some from his own making), before he arrived, has created both good and interesting, to say the least, headlines after he arrived. But this one — good, bad or indifferent — should not be attributed to him.
So unlike other bloggers, I will not be saying, 'Happy Mother's Day' to some phantom woman who has been referenced in this "story" as was instructed in the original IG post. And that's pretty much all I have to say at this point.
Any thoughts?