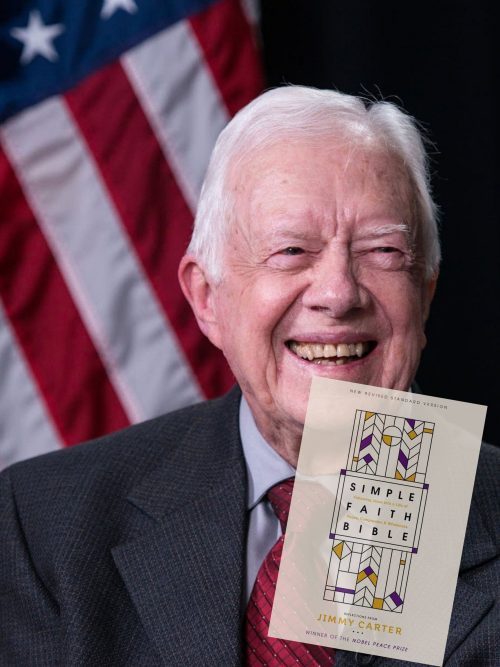 Hello World,
For many reasons, former U.S. President Jimmy Carter is one of my favorite presidents: his unabashed faith in the Lord, his Georgia heritage, his long-lasting marriage, his commitment to community service…I could go on…That's why I'm excited to tell you that the Nobel Peace Prize winner is the editor of the new NRSV Simple Faith Bible: Following Jesus into a Life of Peace, Compassion, and Wholeness (Zondervan, 2020). As a Bible Gateway Blogger Grid, I received a free copy of this new Bible. The NRSV Simple Faith Bible is published by HarperCollins Christian Publishing, Inc., the parent company of Bible Gateway.
According to the publisher, Carter's relentless desire for peace, compassion, and wholeness permeate the notes of this Bible. His decades-long Sunday School teaching ministry, public service, and humanitarian engagement form the basis of each Bible book's introductions, contemplative essays, reflective quotes, and honest prayers, calling readers to a warmhearted, justice-filled life of faith.
[Read the New Revised Standard Version (NRSV) Bible translation on Bible Gateway]
"I cannot imagine a better time to present this Bible," said Melinda Bouma, vice president and publisher of Zondervan Bibles. "In a world of uncertainty and fear, when justice cries out, President Carter's engagement with the Word will reveal the beauty found in these pages. Many will be inspired, equipped, and encouraged through his reflections and prayers. His faith is a model for us all."
Set in Zondervan's exclusive NRSV Comfort Print® typeface, this New Revised Standard Version Bible offers a smooth reading experience that complements the foremost Bible translation vetted by Protestant, Catholic, Orthodox, Evangelical, and Jewish scholars. Renowned for its beautiful balance of scholarship and readability, the NRSV faithfully serves the church in personal spiritual formation, in the liturgy, and in the academy.
Below is an essay on Matthew 3:1–2 from the Simple Faith Bible.
Pause for a moment and consider what John meant by the words kingdom of heaven. The Pharisees and Sadducees distinguished God's kingdom as something far in the distance or something with elements of punishment for sins. So here John the Baptist uses kingdom of heaven as a phrase designed to alert the people. He wanted them to see that they needed to repent in the present because the kingdom of heaven was already in their midst.

We live in the midst of the kingdom of heaven now, just as John did in the time of Christ. The kingdom of heaven is a continuing history of human beings and our relationship and reconciliation with God through faith in Jesus Christ. Everything now and in days past and in years ahead is under the sovereignty of God. Human beings are designed to live in God's kingdom. And we can be part of the kingdom of heaven if we separate ourselves from the morals and customs and demands of the secular world and align ourselves with God through faith in Jesus.

Features of the NRSV Simple Faith Bible:

The text of the New Revised Standard Version (66-book Protestant canon), vetted by an ecumenical pool of Christian academics and renowned for its beautiful balance of scholarship and readability
Foreword by Jonathan Reckford, International CEO of Habitat for Humanity
Over 600 application-oriented notes, articles, reflections, and prayers gleaned from Nobel Peace Prize winner and former US President Jimmy Carter's extensive teaching ministry and public life of service
Exclusive Zondervan NRSV Comfort Print typeface
9.5-point print size

And here is a video about the Simple Faith Bible.
I'm reading through the Simple Faith Bible now, and I am being educated, encouraged and empowered by the word of God first and foremost AND the testimony of one of His great servants in this beautiful Bible…
To buy your copy, click HERE…
Any thoughts?
Comments
comments