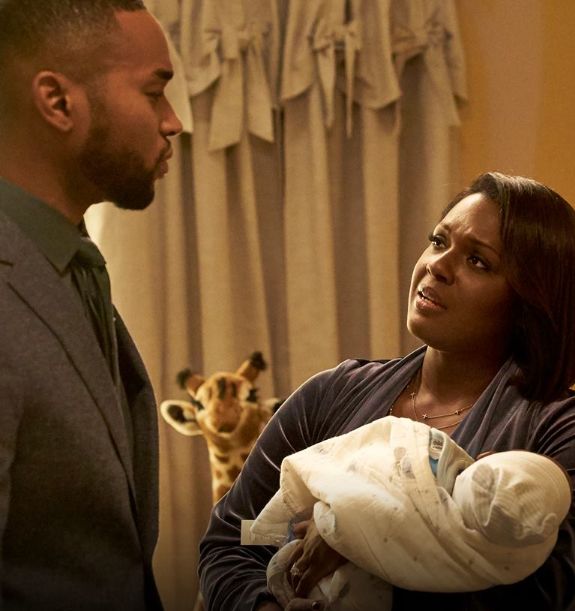 Hello World,
As this is Holy Week, I wondered if the Greenleafs of OWN's "Greenleaf" would be a bit more holy in this episode, but if you keep reading this Greenleaf Recap Season 2 Episode 5, you will learn the Greenleafs may send themselves to Hell instead of allowing God to usher them to Heaven…
Creep…
Pastor Grace starts off this episode creeping into the Greenleaf estate shortly before sunrise. Just when she thinks no one notices her tiptoeing in, her daughter Sophia, with the zeal of a brand new Christian,  surprises her as she was praying early in the morning as Jesus recommends in the Word. Her daughter calls her out and says she must be a friend-with-benefits to Darius, but she denies it. She spent the night talking with Darius about how to put Mac in jail she tells her daughter. Sophia suggests that they simply pray and give the matter to God. Bless her Praying Pollyanna heart…I love this African proverb: When you pray, move your feet…
On the other side of town, Jacob and Kerissa have to creep around in the dark for another reason: the lights in the parsonage have gone out! And apparently, it's not the first time. Kerissa tells her husband she is going to call Basie's wife Tasha to complain. "If they thought the place was livable, they would be living here," she says. To make matters worse, Basie Skanks calls them first and tells Jacob about the injunction that will stop the construction of Triumph 2 for at least 28 days. Jacob's new boss says they will not cower at Calvary's injunction!  Instead, they will throw a curve ball and show up at Calvary to confront Bishop straight up in his face.
Lady Mae is trying to creep into Aaron Jeffries' heart. He has moved into Jacob's room , and she shows him the beauty of where he will now be living. His balcony provides a panoramic view of the greenery of the Greenleaf estate. Lady Mae uses this opportunity to tell Aaron that if Calvary fails, they would have to sell the estate to settle the books.
Father Figure…
Charity and Kevin get along well for a couple who has decided they are divorcing. Charity asks Kevin if he can watch their son Nathan while she meets with Jabari, her album producer, to discuss cover art for her album. He agrees to do so and tells her that with their relationship status, he's not sure if he will have the same access to his son as he does right now. She assures him that although they are getting divorced, he will still be able to be a present father for his son.
Basie drags Jacob to Calvary's campus like he is Jacob's daddy, huffing and puffing in the tradition of George Jefferson from the sitcom "The Jeffersons" aka Deacon Frye from the sitcom "Amen." Am I the only one who sees the comedy in Basie? I know this is supposed to be serious business, but he seems like a chihuahua: all bluster and nary a bite. Basie with Jacob in tow busts up in Bishop's office and asks him, "What kind of father does this to your only son?" He then demands that the matter be resolved "peacefully and spiritually." What does that mean?
As Bishop is busy, Pastor Grace will officiating a wedding at Calvary – if the couple can stop bickering during their premarital counseling. The couple meets with Grace and they argue about the education of their children yet to be born. Apparently, the wife-to-be wants her children to receive a Christian education while the husband-to-be wants secular schooling.
In another part of the church, Charity and Jabari discuss the cover art for Charity's new album. But Jabari doesn't want their partnership to end, he tells her that she should be a professional songwriter with his publishing company – which would include coming to Nashville from time to time. Y'all know what's up, right? Or what he wants to go down…They're cheesing and hugging as they converse when Lady Mae walks in. Jabari excuses himself before Lady Mae asks, "Should I be concerned?" Then she drops this line: "Be careful. Take it from a woman who knows." (Insert mouth dropping open) With this line, Lady Mae confirms that she had an affair on Bishop with Pastor Jeffries.
Lady Mae is not the only one dropping bombshells. Charity tells her mother not to worry as she and Kevin are getting divorced. Lady Mae advises Charity to let her marriage bend – bend so much that it is "knotted up like seaweed from a swamp." (not particularly pleasant imagery for a marriage) But avoid breaking it all costs. Again, Lady Mae's words reveal that this is a path she has walked on and worn out…Finally, she tells Charity that she and Kevin need to counsel with Bishop and Lady Mae…Would you want your parents to counsel you about your marriage? I just feel like there are some things that your parents don't need to know about you once you're grown – and the intricacies of your marriage are one of them….
Speaking of Bishop, he goes to Aaron's office to ask for his advice about how to deal with Jacob and Basie. He advises him to ignore them as long as he can. Aaron Jeffries is now the acting general counsel at Calvary. At the request of Lady Mae, Aaron even approaches Kevin about representing Charity in the divorce should it come to that. Throughout the episode, he tries to craft the perfect voicemail message, but he keeps on getting interrupted because the Greenleafs need his assistance. Obviously, he's going to be an integral part of the Calvary team, unlike Jacob…
While waiting for Bishop to discuss the injunction, Basie tells Jacob how he discovered that his father had died in the fire set at Bishop's church. He was given some hot cocoa before his mother broke the news to him. Basie says, "That night something broke in my life." When Bishop invites Basie and Jacob to meet with him finally about the injunction, Basie says to Jacob, "The table is set. The only question is what are you serving?"
Bills, Bills, Bills…
Wearing a jean jumpsuit that displays all her curves, Tasha, Triumph's First Lady, shows up at the parsonage ready to be a handyman. But Kerissa is not here for Tasha's sunny sermonettes. She wants the lights to work and tells Tasha without any diplomacy. To her surprise, Tasha breaks down and reveals that Triumph may not have the money to properly repair the parsonage. She also reveals that Basie has a lot of financial commitments with the new church and she wonders if her husband is going too fast. "The menfolk hurry and the women worry," she says.
Preston and Simone won't have to worry about wedding bills after Simone calls off the wedding. When Pastor Grace presses Simone about why she longer wants to get married, she says that she was disappointed when she discovered that Pastor Grace, not Bishop, would be the one marrying them. She tells her that she doesn't know how Pastor Grace who is supposed to be a "real Christian" could have just run off and left the church. Yeah, I would not want any ole pastor marrying me either so I agree with that statement. But obviously this woman doesn't have clue what happened with Grace's sister Faith and her Uncle Mac.  Sophia, who is new to Christianity, attends baptism orientation class and learns that while she may be baptized again in the future for whatever reason, she will never ever be someone who hasn't been baptized. Baptism is the point of no return. Agreed.
While Bishop's first church burning down enabled him to get bill money from his insurance company, there was some irreparable damage, according to Jacob. Basie's story has fired up Jacob as Jacob tells his father, that they both lost their fathers that night. That was deep. So he intends to fight his father. Jacob tells both of his parents, "Now, I pity you because you can't raise me any higher, but I can still grow up." On the way from the meeting, Jacob sees his sister Grace, who accuses him of being childish for building a church across the street from Calvary. He accuses her of coming home and stealing his life from him. Deep down, Jacob doesn't really want to preach. He just wants to be accomplished at something. I really don't even know if he would have anything to preach about Sunday after Sunday, but hey, that hasn't stopped a lot of so-called pastors…#shade…
But for Jacob's blistering words, Calvary is back in the black after the Fall Revival Bishop announces at a board meeting. I thought a revival was supposed to be about reviving people not a bank account…but reviving a bank account could lead to reviving people I guess…He also tells the board that with Aaron's help, Triumph 2's construction could be delayed indefinitely.
Speaking of Aaron, Lady Mae shows up in his quarters with a grapefruit pound cake. (Sounds delish, right?! I've never heard of grapefruit pound cake. If you have a recipe, drop one in the comments.) Aaron was about to go out for a jog but decides to sample some of Lady Mae's baked goods. The cake is so delicious he tells her that he will have to run now! He also explains sweets aren't needed to bribe him by saying, "I'll never tell anyone about you and dad. What would be the point?" Tell us!!! We won't tell!!! How does he know about the affair?!!!
What exactly happened between Lady Mae and Aaron's father? We need to know! #Greenleaf pic.twitter.com/R135GEzz2H

— Greenleaf OWN (@GreenleafOWN) April 13, 2017
In Grace's quarters, Sophia is so sweet she offers to pray for her discouraged mother, "a pastor who doesn't believe in the power of prayer." Grace is so moved, she almost cries…Sometimes it takes the excitement of a new Christian to rekindle an old (not chronologically) and weary Christian's faith…
And that is where the episode ends…And that concludes my Greenleaf Season 2 Episode 5 recap!
If you would like to read these recaps as soon as I post them, please click on this link to subscribe to my blog 🙂!
Any thoughts?
Comments
comments