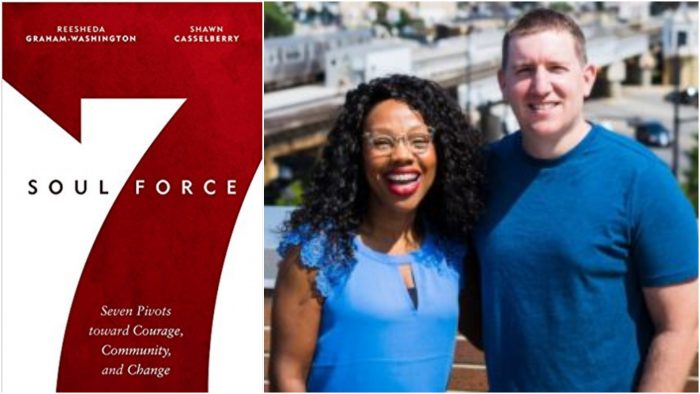 Hello World,
Speaking of Father's Day this Sunday, this will be the first Father's Day that my father is celebrating as a retired pastor! As my father retired last December, sometimes I get worried that my father won't have enough to do in his retirement. He says that I need not worry since he has always wanted to devote more time to his writing projects. Still, I asked him if he wouldn't mind reviewing a book Soul Force: Seven Pivots toward Courage, Community, and Change by Reesheda Graham-Washington and Shawn Casselberry that I received Herald Press earlier this year. He obliged. So below is a brief book review by my father Dr. Denzil D. Holness.
If you are a community leader, a change-agent or an activist Soul Force is a book you must read, mark, study and digest. For in its pages, Reesheda Graham-Washington and Shawn Casselberry, drawing on their discoveries and rich experiences, have given you a timely resource on how to bring about positive changes both in yourself and in your community in seven key areas.

You will undoubtedly find this book very enlightening as it gives you a critical knowledge and understanding of the following seven key areas you will have to move from and pivot to: from fear to freedom, from barriers to bridge-building, from self-centeredness to solidarity, from hurt to hope, from consuming to creating, from charity to change and from maintenance to movement. Additionally, it will open your eyes to see what it implies to use your soul force to bring about positive changes both in yourself and in your community in the seven key areas you must pivot to.

Futhermore, you will find this book empowering. For it assures you that by tapping into your "soul force" – that creative power or energy within all of us – you can indeed overcome negative messages or lies that you are powerless to affect such personal and social changes.

Moreover, you will find this book challenging. By its "indicator of growth" and set of searching questions under each pivot area, this book is a serious call to self-examination and reflection. So it is an invitation to enter into an honest dialogue with yourself and others.

Finally, you will find this book inspiring. In addition to the growth indicators and set of searching questions, each pivot area also includes inspiring stories from the experiences of the authors and from several people who have tapped into their creative power to affect positive personal and societal changes. You too will be inspired by their honesty, vulnerability and courage to affect such changes.

Well-written and well-organized, Soul Force is indeed a timely and valuable resource for personal and social changes to community leaders, change agents and activists.
Below is more information about the authors:
Reesheda Graham-Washington is executive director of Communities First Association, a faith-based nonprofit committed to asset-based community development, and the founder and CEO of L!VE Café, a boutique coffeehouse that focuses on transformation. She is licensed in the Evangelical Covenant Church and is a former teacher and administrator for Chicago Public Schools. She and her husband have three daughters and live in Chicago.
Shawn Casselberry is executive director of Mission Year, a yearlong urban ministry program focused on Christian service and discipleship. He is author of God Is in the City: Encounters of Grace and Transformation. He has a master s degree in world missions and evangelism from Asbury Theological Seminary. He and his wife, Jen, live on Chicago s West Side.
Any thoughts?
Comments
comments