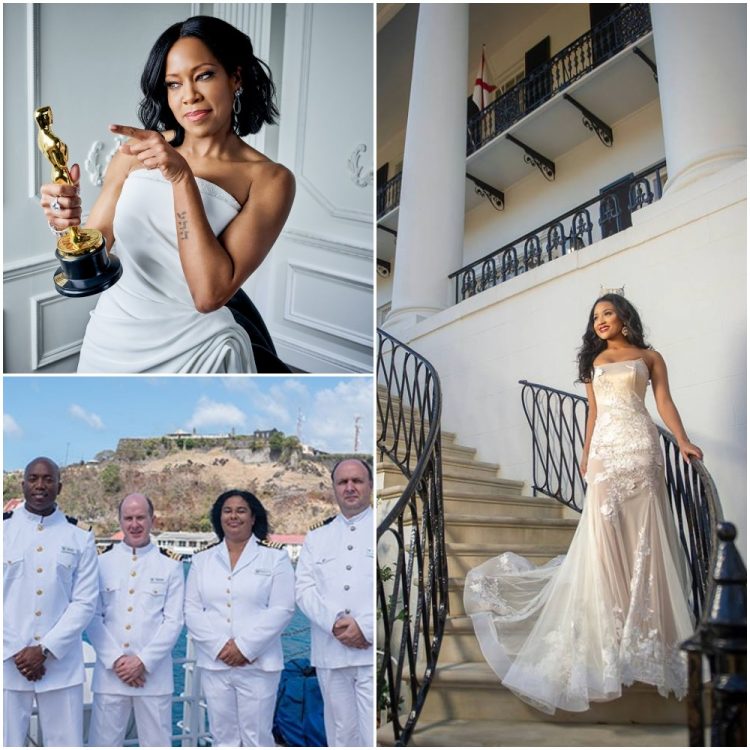 Hello World,
As it is Women's History Month, I'm back with my monthly roundup of blog posts and or magazine articles for black Christian women! So below is my Top 10 monthly roundup of blog posts and or magazine/newspaper articles for black Christian women for February ( but you don't have be a black Christian woman to to check them out 
  As usual, let me know if you like my list! Enjoy and share!
1. "Favorite Oscars Moment: Regina King's Divine Acceptance Speech" by EEW Magazine Entertainment Editors  & Associated Press
Excerpt: Regina King was honored as best supporting actress for If Beale Street Could Talk at Sunday's Oscar Awards ceremony. "God is good, all the time," she said in her divine acceptance speech, EEW Magazine's favorite moment of the night. See more at: eewmagazineonline.com
2."Ida B. Wells Becomes First Black Woman With A Chicago Street Named After Her" by Tanya Y. Christian
Excerpt: On Monday, Chicago officials, along with family members and community leaders, made Ida B. Wells an official street designation. The signs bearing the African-American journalist, author and activist's name were unveiled at the Chicago Public Library. They now hang on what used to be Congress Parkway.  "This woman … was not just an inspiration to me, as a Black woman in politics, but one who endured so much so that we could all stand here today in service to our communities," Lt. Gov. Juliana Stratton said at the naming ceremony. "Ida B. Wells spent her life as an activist, and seeking to ensure that women, and Black women in particular, were not isolated from political movements, despite the racism and sexism we must often contend with, even to this day." See more at: essence.com. 
3."You Know Her as Harriet Tubman—We Call Her Aunt Harriet" by Donna M. Owens
Excerpt: Ernestine "Tina" Martin Wyatt, 65, a nurse, educator, and artist who grew up in Buffalo, New York, is Tubman's great-great-great-grandniece. Tina has always known she was related to Tubman. "My great-great-grandmother, Ann Marie Stewart, was the daughter of Soph, one of Tubman's sisters who was sold away, we think to Georgia," she says. Tina's family often visited Auburn, New York, where Tubman owned land and died in 1913 around age 90. See more at: glamour.com
4. "Meet The World's First Black Woman Cruise Ship Captain" by Laura Begley Bloom
Excerpt: But those statistics didn't let Belinda Bennett — the world's first black woman cruise ship captain— hold her back. Bennett has worked for the small ship line Windstar Cruises for 14 years and sails the MSY Wind Star through the Caribbean in winter and Europe in summer. She recently won the U.K.'s prestigious Merchant Navy Medal for Meritorious Service. With Black History Month coming to a close and International Women's Day and Women's History month just around the corner, we caught up with this trailblazing woman who is making history and helping create a sea change in her industry. See more at: forbes.com.
5."Black Woman Replacing Alabama Newspaper Editor Who Endorsed KKK" by Associated Press
Excerpt: A white Alabama newspaper editor who advocated for the revival of the Ku Klux Klan is turning over control of the small weekly to a black woman. The Democrat-Reporter of Linden, Alabama, announced Friday that Elecia R. Dexter will take over as publisher and editor from Goodloe Sutton, who has run the 140-year-old paper since the 1960s. See more at: nbcnews.com. 
6. "Making History: Miss University of Alabama Crowns First Black Queen" by Kinsley Centers
Excerpt: Tiara Pennington, the first African-American to be crowned as Miss University of Alabama, knows that the color of a person's skin should not stop them from reaching their goals, because if she did, she would not be where she is today. See more at: cw.ua.edu
7. "Female Football Player Makes History With Full College Scholarship Offer" by Emily Caron
Excerpt: Toni Harris became the first female football player at a skill position to sign a letter of intent for a football scholarship on Tuesday when she committed to Central Methodist University in Missouri. See more at: si.com
8. "NASA Renames Facility in Honor of 'Hidden Figure' Katherine Johnson" The Atlanta Voice staff
Excerpt: NASA has redesignated its Independent Verification and Validation (IV&V) Facility in Fairmont, West Virginia, as the Katherine Johnson Independent Verification and Validation Facility, in honor of the West Virginia native and NASA "hidden figure." "I am thrilled we are honoring Katherine Johnson in this way as she is a true American icon who overcame incredible obstacles and inspired so many," said NASA Administrator Jim Bridenstine. "It's a fitting tribute to name the facility that carries on her legacy of mission-critical computations in her honor." See more at: theatlantavoice.com
9. "Ga. Teen Accepted to 31 colleges Goes Viral For Inspiring Photo" by Cheryl Preheim & Christopher Buchanan
Excerpt: Kayla Willis wasn't sure if she should share the fact that she had been accepted to 31 colleges – but the Internet was pretty inspired when she did. Kayla attends Westlake High School in South Fulton but she's now known around the world after a photo from the senior hall in her high school went viral. See more at: 11alive.com
10. "Ida Belle Dixon, Longtime Princeton Resident, Will Celebrate Her 100th Birthday in March" by Jean Stratton
Excerpt: How to tell Ida Belle Dixon's story? During her 100 years of living, she has witnessed history, and made her own. She has endured poverty and hardship, experienced joy and love, all the while sustained by her deep Christian faith. See more at: towntopics.com
Also, another black Christian woman will be highlighted on tonight's season opener of "Uncensored" on TV One at 10 p.m.!
Long before she rose to fame as the winner of the third season of "American Idol" in 2004, Fantasia was always destined for greatness. Fantasia grew up in a large, musically inclined family that was heavily involved in church. Disputes with her father led her to move out of her family's home, drop out of school and eventually leave the church. Fantasia bounced around on friends' couches until she became pregnant. The struggles of being a teenage mother solidified her relationship with God and with the help of her grandmother, she rejoined the church and moved back home with her family. Through the encouragement and support of her local community, Fantasia tried out for and eventually won "American Idol."

With the success of "American Idol" came the realities of becoming an instant music sensation and household name. On this episode of UNCENSORED, Fantasia gets real about how the pursuit of stardom can drive people to unhappiness. She reveals how close friendships with Patti LaBelle and Aretha Franklin helped her navigate her voice, career and personal life along the way. Launching a new business "Rock Soul" that focuses on the next steps for her career and music, Fantasia is ready to give back and take control of her voice once again.
Check out the trailer below:
If you know of any black Christian women bloggers and or writers, please e-mail me at jacqueline@afterthealtarcall.com as I'm always interested in expanding my community of black Christian women blogs and websites. As I noted before, while this is a roundup of interesting blog posts and or magazine and newspaper articles for black Christian women, you don't have to be one to appreciate these pieces  
.
Any thoughts?
Comments
comments