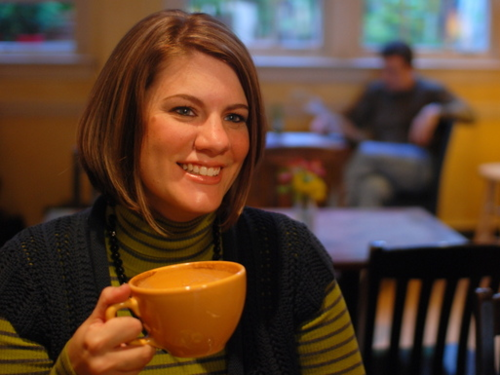 Hello World,
One of my favorite funeral songs is "When We All Get to Heaven." I know it's weird to even have a favorite funeral song, but even in coming together to celebrate the life of a loved one, there is comfort in singing songs as a collective I've found. But as I thought about this song this morning, it occurred to me that that the key word in this title is "All" when I typically focus on the "Heaven" part. When we ALL get to heaven, what a day of rejoicing that will be…
Till we ALL get to heaven, there is no day of rejoicing…This morning, I'm saddened by the news of the death of a wonderful Christian blogger and author Rachel Held Evans, who passed away yesterday at 37 years old after a brief illness…
If you would like to know more about her life, please read "Rachel Held Evans, Christian writer of honesty and humor, dies at age 37" by Emily McFarlan Miller.
If you like to read some of her writing, please read these three posts below:
1. This is from her last post "Lent for the Lamenting."
Excerpt: There are recovery programs for people grieving the loss of a parent, sibling, or spouse. You can buy books on how to cope with the death of a beloved pet or work through the anguish of a miscarriage. We speak openly with one another about the bereavement that can accompany a layoff, a move, a diagnosis, or a dream deferred. But no one really teaches you how to grieve the loss of your faith, or the loss of your faith as it once was. You're on your own for that." – Searching for Sunday. Read the rest at: rachelheldevans.com.
2. As a romantic, I enjoyed this post "10 Marriage Reality Checks (from 10 Years of Marriage)."
Excerpt: This week Dan and I celebrate our 10th wedding anniversary!  Of the many good things in my life, I must say my happy marriage is probably the best. But like every couple, we've had to learn as we go. So here are a 10 myths and 10 reality checks we've encountered along the way:
 ***
Myth #1: The best way to prepare for marriage, and to thrive in it, is to learn the differences between men and women so you will know what men/women want.
Reality Check: The best way to prepare for marriage, and to thrive in it, is to learn about your partner so you know what your partner wants.
You don't marry a gender; you marry a person. And yet the majority of Christian marriage books dole out advice based on gender stereotypes: "men need adventure," "women need security," "men like quiet time," "women process verbally," "men crave respect and control," "women crave love and emotional intimacy," "men are like microwaves," "women are like ovens."  But even before we got married, Dan and I realized that just as often as we fit these generalities, we don't. Dan knows I'd prefer tickets to a football game over a nice piece of jewelry and that too much security and not enough adventure leaves me feeling bored. I know that Dan is better at nurturing friendships than I am and thrives creatively when he has the chance to collaborate with other people. Read the rest at: rachelheldevans.com. 
3. And this one is really brave – "Life After Evangelicalism."
Excerpt: This is for everyone who stayed home from church yesterday—for every mom of a special needs kid, every survivor of sexual assault, every black or brown body in a predominantly white community, every son or daughter of an immigrant, every defender of the marginalized who just couldn't bring yourself to stand and sing "Great Is Thy Faithfulness" alongside the people you feel sold you out this week, the Christians who supported Donald Trump. Read the rest at: rachelheldevans.com. 
May you be rejoicing in Heaven on high,  Rachel while those below lament your death…
Any thoughts?
Comments
comments