Hello World,
I was one of several people from local Christian churches that volunteered to help faciliate the 64th Annual International Conference on Missions (formerly the National Missionary Convention) at the Georgia International Convention Center Nov. 17 through today. It was so awe-inspiring to see all of the missionaries from all of the world in one place. And as I walked to the various exhibitor booths of the missionaries, I felt like I was getting an impromptu geography and world affairs lesson. And it brought home this verse:
Therefore go and make disciples of all nations, baptizing them in the name of the Father and of the Son and of the Holy Spirit. Matthew 28:19
Wing Wong, a China missionary and president of the conference, described some of God's miracles during his message to the missionaries yesterday. During one missionary trip to China, Wong and his fellow missionaries including his son were arrested three times! And each time, God delivered them!
During one arrest, Wong's son Ivan, who as an American never learned Mandarin, was taken away to be questioned separately by the police. Wong was scared for his son's safety and informed the police that his son could not speak Mandarin. When Ivan and one of the police officers returned, the police officer told Wong that he lied to them because his son spoke perfectly and they understood one another. Wong later asked his son had he learned Mandarin without his knowledge, and his son told his father no. He further explained that he is unsure how it happened. "Somehow, I could understand them, and somehow they understood me!"  Now, that's a miracle!!! And 92 people were baptized on that trip despite the opposition the missionaries experienced!
Below are a few pictures from the exhibitors, I met yesterday. If you can, please pick at least one of the missionaries and offer your support!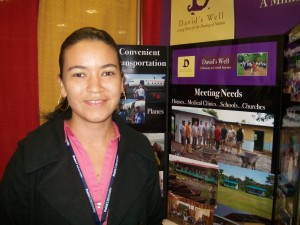 This is Yolanda Rodriguez of David's Well, a ministry to Central America. Her father and mother Juan and Ydalia Rodriguez, who are from the Dominican Republic, are missionaries in Panama, Costa Rica & Nicaragua. Through their mission, they have dug clean water wells, built four health clinics, built 10 new schools and planted 80 new churches. For more information, e-mail davidswellpanana@gmail.com.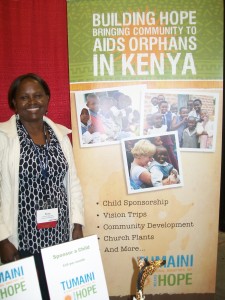 This is Mrs. Mutunga of Tumaini International Ministries Inc.  Mrs. Mutunga and her husband provide assistance to AIDS-orphaned children in Kenya. Currently, they are working to raise $2 million to complete construction of a multipurpose community center which will host the organization's Christian camps, a medical clinic, counseling services, vocational training and a Christian leadership program. For more information, go to tumainiinternational.org.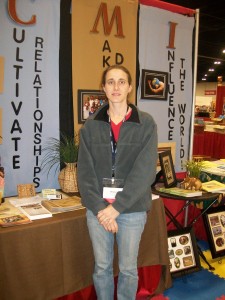 Anna along with her husband Jared Odle and their children work as missionaries with the Alliance of Christian Missions in Burkina, Faso in West Africa. Through their Business as Mission, they created a gold brokerage and mining management company, Ethnic Investments LLC,  in Burkina, Faso and have employed 150 men in the area. "God doesn't just want us to take the gospel, He wants everyone to experience His fullness with clothing and shelter and everything we have here." Amen!!! For more information, go to http://www.acminternational.com/missionaries/odle/odle.html.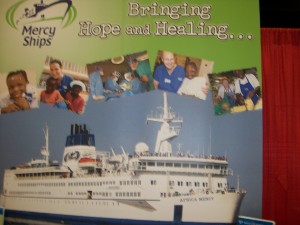 I thought this mission was so innovative! Mercy Ships, a global charity, has operated a fleet of hospital ships in developing nations since 1978. They literally bring healing via doctors, nurses and other medical personnel that embark on these voyages to hurting people all of the world. From Nelson Mandela "I applaud Mercy Ships in their efforts of transformational development as they make a lasting difference in a world of need. Mercy Ships has committed themselves to the vision of an African renaissance in their vision of bringing hope and healing to the continent of Africa." For more information, go to mercyships.org.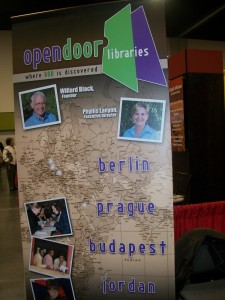 Since I fell in love with libraries as a child, this mission got my attention. Open Door Libraries has created four public Christian libraries with full-time missionaries in Berlin, Budapest, Prague and Amman. From these, five churches have been planted!!! For more information, go to opendoorlibraries.org.
Look for more pictures from the convention in the gallery on Friday, Nov. 25.
Any thoughts?
Comments
comments