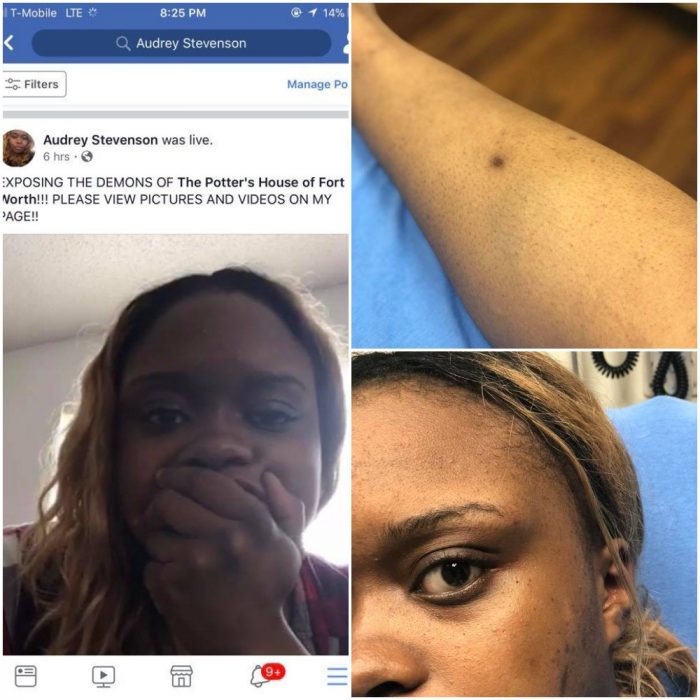 Hello World,
Some Palm Sunday Shenanigans went down this past Sunday it seems! Media outlets from The Christian Post to Media Takeout are reporting that Audrey Stevenson, 22, a member of The Potter's House of Fort Worth church under the leadership of Pastor Patrick E. Winfield II and First Lady Veronica Winfield, claims she was allegedly assaulted at the church. She argued with church staff regarding being able to be on the church stage…See the details below…
With gospel music playing in the background, presumably establishing a worshipful experience in the sanctuary, something that could have taken place on the street was going down in one of the the side rooms of the church building. In a video recorded by Stevenson, church elder and administrator Rhonda Lewis  is heard saying to Stevenson, "So I want to be clear. On the stage, you are not allowed to do anything on the stage. Now they just said to me that you stated the pastor said you could do the stage? Am I clear about that?"
Stevenson responds with, "No, I called First Lady and she said they had no regulation of me not being able…"
Lewis interrupts. "Who has no regulation?"
"First Lady & Pastor has no regulation of me serving under any type of restriction and that we are going to have a meeting involving you and Louise so that's where I'm at with First Lady," Stevenson explains.
The back and forth continues until Lewis says to church security, "Dude, I want you to hear what I'm hearing right here so that when I confront this, so say what you said one more time. I just want to make sure he heard me."
According to The Christian Post's article:

The conversation soon devolved into a tense argument after Lewis indicated that Stevenson was out of order for having gone to the pastor's wife with the dispute and indicated that there would be no meeting as she is the church administrator. She further called Stevenson a manipulative liar and noted that she had been "sat down" — meaning removed from service — and thus should not be on stage. Stevenson asserted that she has a right to call the pastor's wife and told the elder she should be "ashamed" of herself.

As Stevenson tried to leave the room, a church security official, identified as Brandon Amie, blocked her way, saying he needed to "explain something" to her. She was then handcuffed and restrained as she begged him to let her leave. At one point, she indicated Amie had his knee in her back while she continued screaming.
There are many verbal bombs thrown during the conversation, mostly by Stevenson:
"You told me to shut up. I'm being spiritual." (She even cussed with another s-word.)
"You're an elder and you're going straight to hell on a one-way trip."
"I'm from Detroit! What's up?"
"I'm bi-polar." (Why did she say that? Was this to imply that she was about to do something as a result? And if she truly bi-polar, why did she say that then? Was she asking for medication? I don't get this disclosure at this particular time.)
The Christian Post spoke with Stevenson's mother who said the confrontation has been months in the making.
"These are despicable, ludicrous, demoralizing, hideous acts happening in the church of God. And these are the people who are in leadership, I want to tell you if they get away with this, they'll do this to somebody else's child. Or to someone else's sister. This is a woman. Audrey is 22 years old. 5′ 2″. I'm short. I'm only 5′ 5″ and they would do this to her? What kind of people are these?" she asked.
Below is a video of the fracas:
Below is the apology that Bishop T.D. Jakes, leader of the entire The Potter's House,  issued on the Fort Worth church Facebook page: (By the way, T.O.R.I. stands for Texas Offenders Reentry Initiative. It's such a shame that something that was supposed to be so positive ended up being so negative. The devil stays busy…He is the author of confusion and strife.)
I kinda believe that Ms. Stevenson went in that back room ready to get stuff started. I mean she had her phone on the entire time and from what I could tell the other participants in the confrontation were not even aware of the recording. (At least I hope not or else why did they act like that, particularly Brandon?) That being said, there was a more peaceful way to deescalate the situation. And she should have been allowed to leave when asked.
Chile, don't get it twisted. Just because you're in church doesn't mean that confrontations won't happen.  Anywhere that people can show up, people will show out. But at least at church, we know that we are saved through the blood of Christ and allowing that blood to cleanse us of unholy tendencies. It may take a while, but that doesn't mean it's not happening. And that is why Jesus died. To cleanse us from our sins…
"But if we walk in the light, as he is in the light, we have fellowship with one another, and the blood of Jesus, his Son, purifies us from all sin." I John 1:7
Do you believe that Audrey Stevenson was assaulted at The Potter's House of Forth Worth? Should she had been handcuffed? Should she have been thrown out the church? I hope to see you in church on Easter Sunday this Sunday…
Any thoughts?
Comments
comments