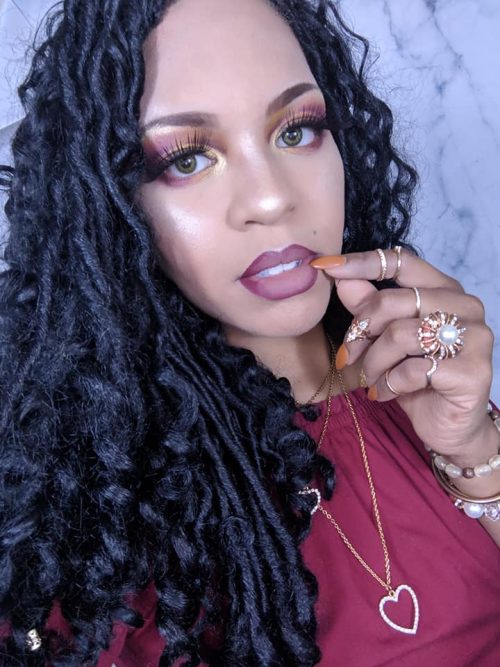 Hello World,
For Desiray Cooper, the path to the beauty industry took an unexpected turn — from one of walking out her dreams of life on the runway to one of launching her own line of beauty and body products. The D'esir Cosmetics line (desircosmetics.com) includes body butter, an eyeshadow palette, lip scrubs and soy massage candles.
Cooper's attempts to meet the high demands of the fashion and beauty industry led to an eating disorder followed by doctors' diagnoses of autoimmune diseases. Those challenges were compounded by attacks triggered by food allergies and intolerances. Over time, the metro Atlanta resident would connect with others facing similar challenges. Then came physical tests by her son who battled outbreaks from eczema. The combination of trials inspired Cooper to take matters into her own hands by developing skincare and makeup products that are safe to use — avoiding the pattern, as with some other brands, of including harsh ingredients.
Below is my interview with Desiray…
Tell us about D'esir Cosmetics.

D'esir Cosmetics is an online-based skincare and makeup line, with each skincare collection centered around your deepest desires. For example, with our newly released eyeshadow palette "I Need Love Like Confetti," we celebrate that deep inside everyone desires love, so the palette name serves as a representation of the need for endless love — as with confetti that keeps falling. We also have a spa product collection of gluten-free products, which are free from the unnecessary chemicals most companies add to their products. We use real ingredients that not only make you smell good, but nourish the body.

Why did you see a need to launch D'esir Cosmetics?

The industry was always lacking something I was seeking. I came to realize that if I felt that way, there must have been others feeling the same. As someone who is always looking for products that won't irritate my skin, I came to understand those would have to come through me. For example, it took me almost two years to perfect my body butter. My son suffered with severe eczema for years with no relief; there was no product on the market that was able to help his skin — not one — and we tried them all. It wasn't until I developed my body butter made with natural ingredients such as shea butter, mango butter, coconut oil and nutrients that feed his skin that we were able to see a transformation.

You previously owned a popular bakery, now a cosmetics company. Is it safe to say you've been bitten by the entrepreneurial bug?

I constantly look for ways to create solutions for problems. When I launched the bakery in Spangdahlem, Germany, there was a large community of Americans that was not able to get real American sweets locally. Our military people wanted a 'cake boss,' and a cupcake craze experience in Germany, and we did just that.

You're a PK, with a mother as a pastor. How would you say your spirituality has played into your business ventures and professional life?

My faith in God is the center of everything I do. It's Him and Him alone that has pulled me out of a very dark place of depression more times than I can count. I'm a living witness if you call on Him He will answer you in your time of need. I'm on a journey, and He is guiding my direction. This is a process that allowed me to reach where I am today and will continue to guide me in the future. I know without Him, nothing is possible.

On your website, you share of how personal experience with an eating disorder and your son's eczema issues helped lead to the start of your business. Tell us more about that.

Growing up, I always felt like I had to find my place in society — as I faced questions about 'why was I made this way?' and 'why was I almost six feet tall in high school?' I was always made fun of because I looked different. I soon found my passion for fashion, and my love for everything art. The only thing standing in my way was my weight. Constant bulimia, and abuse of laxatives even has taken a great toll on my body. It seems as though for a few years I dealt with constant discomfort, hair loss, loss of teeth and a diminished self-esteem. I'm on a journey to loving myself, and hope to inspire others in the process. There is no amount of success or even love that should cause you to lose yourself. Having autoimmune diseases and other health problems was triggered by my choices; that's a hard pill to swallow. Trusting God has allowed me to accept the plan He has for my life, and I understand His process led me down a different path. I wanted to use every gift He gave me, and through this I created my own brand that defines its own definition of beauty — and that is we are all beautiful in our own way.

What advice would you offer to others with business ideas yet to be birthed?

Trust God and make Him the center of every decision you make. Do your homework and learn everything you can about your craft. Understand that it is hard work, and be ready to commit to it so that you can see it all the way through.
D'esir 
Cosmetics
is an online business offering beauty and body solutions that are safe on skin, including products that are free of parabens and gluten. D'esir aims to empower others from all walks of life to own their beauty and embrace their desires. 
More info:
desircosmetics.com
Any thoughts?
Comments
comments