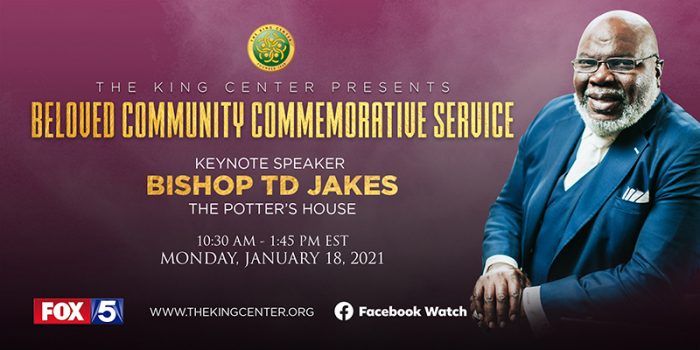 Hello World,
The COVID-19 pandemic has not stopped the King Center's  week-long celebration of Dr. Martin Luther King, Jr.'s life and legacy although it has been modified. The culminating program for the celebration 2021 Dr. Martin Luther King, Jr. Beloved Community Commemorative Service will be held on the Dr. Martin Luther King Jr. federal holiday tomorrow per usual; however, the service will be online. Below is the lineup and how you can register to attend virtually.
KEYNOTE SPEAKER:
Bishop TD Jakes, Bishop of The Potter's House
REMARKS:
Kirk Franklin, Grammy Award-Winning Gospel Artist and Author
Amina Mohammed, UN Deputy Secretary General
DR. KING TRIBUTE:
Ndaba Mandela
Tamika Mallory
Yasmin Poole
Ashley Woods
PRESIDERS:
Reverend Natosha Reid Rice
Pastor Sam Collier
Dr. Bernice A. King, The King Center
PERFORMANCES:
Angella Christie, Gospel Saxophonist,
Tammy Taylor, Gospel Recording Artist
Jekalyn Carr, Grammy Nominated Gospel Artist, Actress and Author
Dr. Joyce Finch Johnson, Organist
Dr. Patrice Turner and the Commemorative Choir, Ebenezer Baptist Church
YOUTH PRESENTATION:
Dr. Connie F. Lindsey
CRITICAL CONVERSATIONS:
Moderator– Nona Jones, Head of Faith-Based Partnerships, Facebook
Pastor Jamal Bryant, Senior Pastor of New Birth Missionary Baptist Church
Pastor Jentezen Franklin, Free Chapel
Rev. Natosha Reid Rice, All Saints' Episcopal Church
Pastor Sam Collier, Lead Pastor, Hillsong Atlanta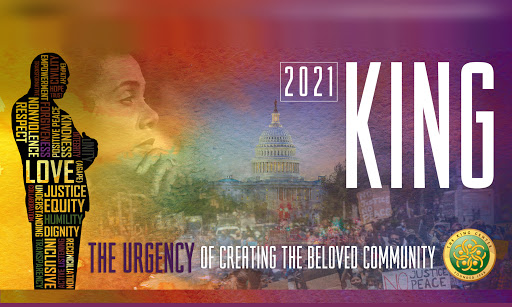 SPECIAL CONCERT FEATURING :
Jekalyn Carr, Grammy Nominated Gospel Artist, Actress and Author
Introduced by Kirk Franklin, 16-Time Grammy Award Winner
(Immediately Following the Service)
In partnership with KidsRights
www.kidsrights.org
The event will be live streamed on multiple platforms, including Facebook, The King Center web page, and other sources, as well as televised locally on Fox 5 Atlanta. To register, click HERE.
Any thoughts?
Comments
comments