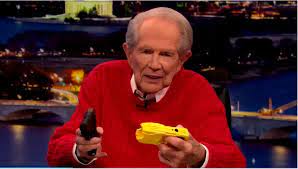 Hello World,
As the verdict in the trial of Derek Chauvin, the former Minneapolis police officer accused of murdering George Floyd, is expected soon as closing arguments will be delivered Monday, let's pray, Saints…
Some surprising developments have occurred throughout the course of the trial including 700 Club's Pat Robertson, who has been an advocated for the police, speaking against police brutality regarding George Floyd, Daunte Wright & Army Lieutenant Caron Nazario. See below…
And here's a story about his statement:
Pat Robertson on Daunte Wright Killing: Police Have 'Got to Stop This'
by Lindsey Ellefson
"700 Club" host Pat Robertson said Thursday that police officers have "got to stop this stuff" while reacting to the killings of Daunte Wright and George Floyd, as well as the pepper-spraying of Army Lieutenant Caron Nazario.

The conservative televangelist insisted he's still "pro-police," but expressed serious disgust during his broadcast, reserving special contempt for Kim Potter, the officer who shot Wright last weekend and, according to the police department, confused her gun for her taser. Potter, a 26-year veteran of the Brooklyn Center police, resigned this week and is facing charges of manslaughter.

Robertson called the idea that Potter confused her taser for her gun "crazy." As he spoke, he held up models of a pistol and a taser, making clear to his audience there is "no comparison" between the black gun and the yellow, less lethal device. Read the rest at thewrap.com.
Any thoughts?
Comments
comments