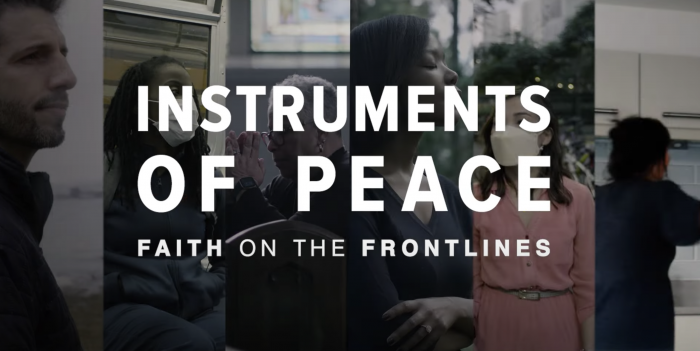 Hello World,
As I've read Our Daily Bread Ministries devotionals for many years and I've recently written for Our Daily Bread Ministries, I'm truly excited about this new offering from  Our Daily Bread Films. Please see below.
Our Daily Bread Ministries announced the launch of Instruments of Peace: Faith on the Frontlines, a six-episode YouTube series that follows six Christian healthcare workers—three doctors, two nurses, and a chaplain—who have chosen to take up the fight against Covid-19 and care for patients in some of the hardest impacted regions of the world, including—Detroit, New York City, Olympia, Johannesburg, Manilla, and the United Kingdom.
Through retrospective interviews and in-the-moment video diaries, the series explores the range of emotions these frontline workers experience as people die around them and funding for health services fluctuate. Each Monday from April 19th through May 24th, Instruments of Peace delves into what faith looks like when committed to caring for the sick during a global pandemic. Below is the trailer followed by the episode guide and a few photographs from the series.
Episode Guide:
April 19th Ep 1: Idara Joy Inokon: Fighting for Life
Trauma. Death. Pressure. Brooklyn, New York, ICU nurse Idara Joy Inokon lived this every day as the Covid-19 pandemic ramped up in the spring of 2020. Her patients kept crashing and her hospital unit became a revolving door of death as she faced the stress and anxiety of the unknown. Yet every day, she continued to show up. And she continued to trust God for peace and strength in the middle of the storm. Now a travel nurse in El Paso, TX, she's wondering how much trauma she can take, and asking God to give her strength every day.
April 26th Ep 2: Aaron Beck: Learning to Trust God
A worldwide pandemic lets us know that we are not in control. Just a few months after moving his family across the country to the Pacific Northwest to join a medical practice, Aaron Beck found himself treating patients in a hotspot. He faced uncertainty for his own health, fear of what that meant for his young family, and doubts about how to provide the best care for his patients. But through it all, he forged a deeper dependence on God, because he had no choice but to trust.
May 3rd Ep 3: Marcia Fairrow: Prayer and Grief
Marcia is a chaplain in Detroit, MI who loves to pray with and comfort patients and their families. When Covid-19 hit, ventilators and health and safety restrictions took that human connection away from her. As she battles her own grief and anger, she struggles to learn how to be a chaplain for people she can't physically be with.
May 10th Ep 4: Hannah and Zuriel Bernardino: Acts of Kindness and Love
Hannah is a Doctor at a Wellness Center in Manila, Philippines. Her husband Zuriel is a pastor and her emotional rock. When Covid-19 hit Manila, Hannah was transferred to a Covid ICU, where she battled her own anxiety and depression. But, Zuriel was there to support her while she cared for others, and together they are living out their faith.
May 17th Ep 5: Nellie Balfour: A Young Hero and a Mother's Legacy of Prayer
When Nellie was a child, her family fled Apartheid in South Africa to Australia, where she developed severe asthma. The doctors who took care of her became her heroes and motivated her to become a doctor. Now a pediatric doctor in a poor district of Johannesburg, SA, she struggles to save children in a place ravaged by Covid-19 and to trust that her best efforts are good enough. But, inspired by a mother who prays ceaselessly, she is learning to give her fears and anxiety to God.
May 26th Ep 6: Bex Lawton: Faith and Fear for Those We Love
Bex is a mother of three young children and a pediatric nurse in England. In 2019, her husband nearly died from a liver condition and Covid-19 made her terrified that if he were to catch it he would die. While some other Christians shamed her for her fear, she felt like fearing for her husband's life and taking every precaution was the most loving thing she could do. This conflict put her on a path of struggling with, and ultimately being sustained by, her faith.
Our Daily Bread Films produces documentaries and short videos that inspire and encourage people to draw closer to God and help them grow in their faith. They are a part of Our Daily Bread Ministries, a nondenominational, nonprofit organization that distributes more than 60 million resources in 150 countries.
Any thoughts?
Comments
comments