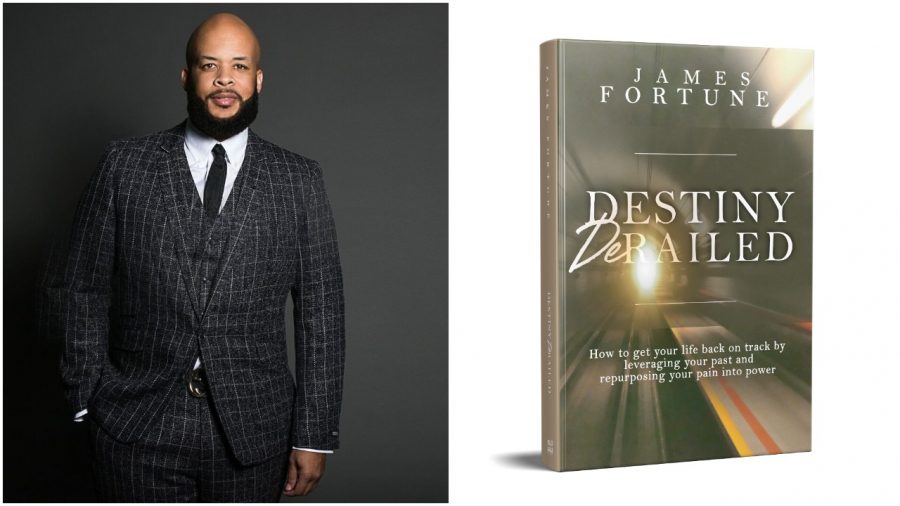 Hello World,
I believe the God we serve is a God of second, third, fourth, etc. chances if we repent from what we've done wrong and attempt to live on a righteous path. Stellar Award- winning and two-time Grammy Award-nominated Gospel artist James Fortune says he is on righteous path following a devastating derailment.
Along with ELOHAI International Publishing & Media, Fortune has announced his first book Destiny Derailed: How to Get Your Life Back on Track by Leveraging your Past and Repurposing your Pain into Power. He chronicles his journey of healing and restoration after a major derailment —public scrutiny following domestic violence that occurred in his home and a subsequent divorce — in 2014. Destiny Derailed is a self-help memoir designed to empower every person who has been knocked off course, experienced loss, let themselves down, or thought that a situation they've experienced disqualified them from God's promises. Destiny Derailed aids in giving readers the encouragement and biblical foundation needed to navigate any tough situation by seeking and believing in God's promises.
With the recent release of his album "The Collection," which debuted at #1 on Billboard's Gospel Chart, recent marriage and newborn baby, Fortune is a testament to the restoration power of Jesus Christ and proof that a destiny derailed is not a destiny denied. He hopes it is the first of many great informative and life-changing books.
Praise for Destiny Derailed:

"Instead of hiding in the shadows, James most effectively ministers from the broken place and
disarms devils by pointing the finger of responsibility at the one where it all began—himself. Let
this work bless you and teach you the most valuable lesson of all: saying yes to God DOESN'T
eliminate your frailties-it simply gives God permission to get glory out of them."

Pastor John Gray, Relentless Church

"This book is so full of healing. James literally poured out of a beautiful place of transparency. By
the time you are done, you will be walking in complete healing! Forgiveness will set in, and
shame will be completely gone. Your scars will be turned to stars. People with the worst past can
indeed make the best futures."

Real Talk Kim, Church of the Harvest, Fayetteville

"Whether you experience a private or public catastrophic decision, disastrous failure,
or a heinous attack on your life, when you are a child of God, your greatest setback
can be the precursor to your greatest comeback."

Pastor Charles Jenkins, Fellowship Chicago
To buy Destiny Derailed: How to Get Your Life Back on Track by Leveraging your Past and Repurposing your Pain into Power, click on the link.
James Fortune is an award-winning gospel music artist, father, husband, and author. He lives in Houston, Texas and is best known for his transparent records that speak to the hearts and souls of his listeners. Learn more at mrjamesfortune.com.
Any thoughts?
Comments
comments