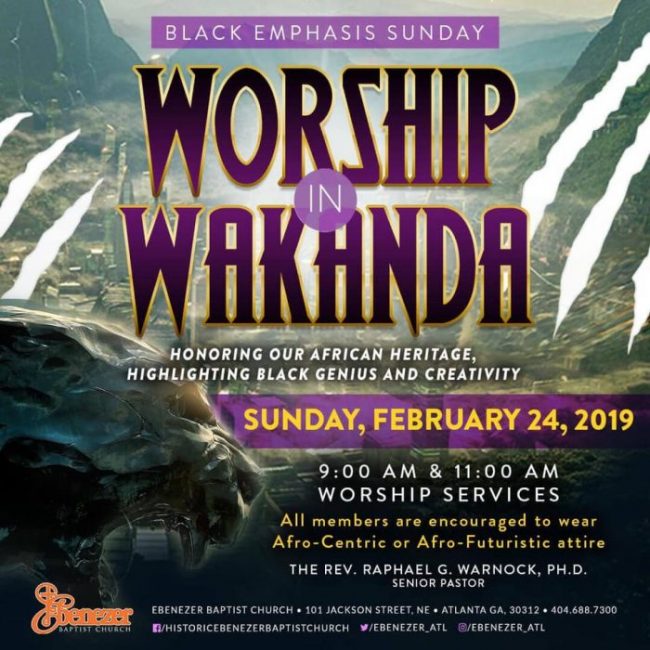 Hello World,
Tonight is the Superbowl of the movie industry! In other words, the 91st Academy Awards aka The Oscars, as fraught with controversy as it may be and has been, is tonight at 8 pm! Of all of the nominees, I'm most interested in "Black Panther" as a nominee for Best Picture! "Black Panther" was the highest grossing film of 2018 and was the third highest grossing film in the United States EVER and should definitely win tonight!
And if you did not know, "Black Panther" was filmed in Atlanta, which has been called the real Wakanda, the fictional destination in the movie where black excellence is fostered and celebrated every day of the year not only during Black History Month! I don't know if this on purpose, but Ebenezer Baptist Church, where Dr. King and his father Rev. Martin Luther King, Sr. served as pastors, is hosting "Worship in Wakanda" today at its church services.
According to the flyer, on this Black Emphasis Sunday, African heritage, highlighting black genius and creativity, will be honored. Also, members are being encouraged to wear Afr0-centric or Afro futuristic attire. And "Black Panther" costume designer Ruth E. Carter could be the first black person to win an Oscar for costume design if she wins tonight! Remember when erebody was posting pics of themselves in African garb to see the movie? #WakandaForever!
Another Atlanta hero and civil rights giant Congressman John Lewis will be one of the best picture presenters tonight!
And speaking of civil rights, today begins the last week that the National Center for Civil and Human Rights in Atlanta is free to visit! Coca Cola paid the admission for all to visit for free during Black History Month! I've visited and what I loved the most is seeing the collage of mug shots of the young people of all races who were willing to be arrested for the cause of civil rights back in the '60s. Some of them looked as young as my 17-year-old nephew…
Anywho, I'm watching the Oscars tonight! What about you?
Any thoughts?
Comments
comments