Hello World,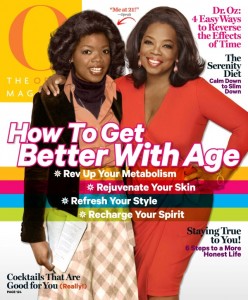 What I love about Oprah and have always loved about Oprah is her ability to keep it real although she is in the public eye and admit her mistakes – from her decision to use a dangerous quick weight loss regime to lose the pounds years ago to the launching of her OWN network last year. In an interview with her bestie Gayle King on "CBS This Morning," Oprah revealed her top mistakes in launching her network. Launching too early was her top mistake, she said.
"Launching when we really weren't ready to launch," she said. "And doing that because you've announced you're going to do it. It's like having the wedding when you know you are not ready and you are walking down the aisle, and you are saying, 'I don't know if we should be walking down the aisle… maybe we should have postponed this.'"
 Check out the video below if you want to see the interview…
Oprah isn't shy about admitting mistakes she made before she was Oprah the media mogul either. In the May issue of "O Magazine," Oprah writes a letter to her younger self when although she was a college student at Tennessee State University, she was already a reporter at Nashville's WLAC-TV! She was actually the youngest and the first black news reporter for the station. And although she was already on the cusp of success, she was preoccupied with dating a boy named Bubba. One day, she brought him to the station to let him see where she worked. Instead of being proud of her, he was intimidated by her success…An excerpt of her letter is below…
"On this day you've brought him to the station to see where you work, hoping he'll be proud, too. He seems less than impressed. The truth is, he's intimidated. You don't know this, though, because you can see yourself only through his eyes. A lesson you will have to learn again and again: to see yourself with your own eyes, to love yourself from your own heart.
Read the entire letter here….
When I look at my life when I was about 21 years old or so, I, too, regret some of the choices I made in love…choosing the guys that were ambivalent about me instead of the ones that really held me down…my mother warned me about mistreating one former really nice boyfriend in particular…all things have worked together for my good (Romans 8:28) but if I could go back, I would have done it differently for sure…
I don't live in regrets but what would you do differently at 21 or so if you could go back and right wrongs?
Any thoughts?
Comments
comments