Hello World,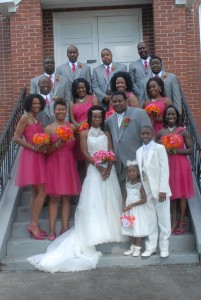 Prior to Robert asking me to marry him in December 2012, I really had given very little thought to wedding planning. Yes, I read Cinderella as a child and even watched the weddings of Princess Di and Kate and William on television, but I never dreamed of my own wedding day…I always wanted to be married, but when I thought of my future, I dreamed about a fabulous career as an author/journalist…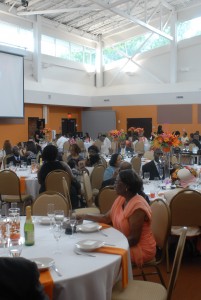 But I digress…In February of this year, it finally dawned on me that if I wanted to have a wedding, I should probably start planning one…Once I started researching, I was shocked to discover that the average cost of a wedding is a whopping $25,656, according to costofwedding.com…I'm all for having the wedding of your dreams, but I'm not down with debt, and we determined that we would NOT be paying for wedding expenses after our wedding day…But with the help of God, my parents, LOTS of Internet research, and creativity, Robert and I were able to plan our wedding for 200 people for $11, 756. 41 not including our honeymoon costs…So because I read so many blogs that helped me to plan our wedding, I decided to give back and break down how we were able to have a fabulous wedding on a reasonable budget…
1. First of all, I took a workshop entitled "Say Yes to Less! Wedding Cost Savings Strategies" presented by Sasha J Events LLC at the Riverdale Town Centre in which I learned a lot about cutting down the costs of wedding planning…This class really jump-started my wedding planning. I recommend taking this workshop if you're in the metro Atlanta area…If not, please try to find a similar class or workshop where you live…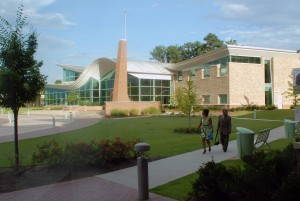 2. While I was at Riverdale Town Centre (a very lovely facility), I discovered they rent several of their rooms for weddings and wedding receptions. And let me tell you, the reception typically comprises the largest chunk of the budget…I literally booked a room that seated 250 people that day! And one of the ways that you can cut costs is to book a room at a city community center rather than book a hotel banquet room where you end up paying for the overhead…
If you book a room at the Riverdale Town Centre, you are encouraged to select one of their preferred caterers or pay a higher fee…I selected Greedy Palates Gourmet Catering Company. I highly recommend Chef Assata and her team!!! The food was reasonably priced and "scrumdillyicious" :)We also rented our silverware and table linens from her!
Aside from the food that you serve to your guests, you must also serve cake! A friend of mine is a chef and bakes cakes on the side! We were able to get a pretty wedding cake plus lots of cupcakes to serve our guests for a fraction of the cost of typical wedding cakes…(Another one of my cost cutting tips is to hire your friends and associates if you can work together…My chef friend said she didn't know that I was so bossy  🙂 )
Also, we opted not to serve alcohol because of the cost of alcohol and hiring security personnel which is required at Riverdale Town Centre as well as the amount of preachers that would be there…LOL (My father and three uncles are preachers sooo…)Including the cost of sparkling apple cider that we bought ourselves and renting linens, we spent $5113.62 for the reception!
3. So what is a wedding without a breathtaking wedding dress? Well, if you want breathtaking, you have to be ready to spend that moolah baby! Again, I was stunned that wedding dresses cost so much…I was able to find my wedding dress in the clearance section of Anya Bridal Warehouse! With tax, my dress cost $538.92…The alterations cost over half of the amount of the total dress  at $386.10! This is the only dress that I tried on because I loved it so much…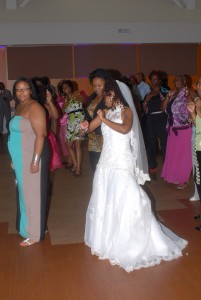 And because I am a discount diva, I bought my wedding shoes online from David's Bridal for $18.13 including shipping and handling, and I bought my veil from Bride Beautiful for $64.19.
Ashley Means from M.A.C. at Southlake Mall did an excellent job on my makeup…One of my bridesmaids Latoicha Givens of Luxe Tips did all of the bridesmaids' makeup!
The total cost of my wedding attire including makeup, gown preservation, garter belt, wedding day robe, etc. was $1492.86.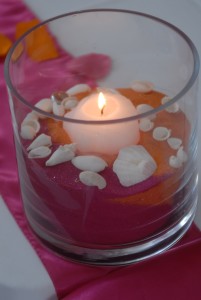 4.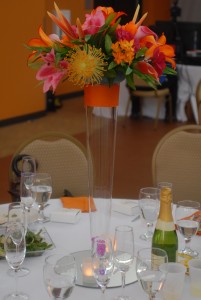 Of course, aside from wearing a beautiful dress,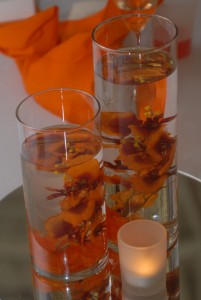 you must have a beautiful atmosphere to complete a beautiful wedding day…I learned in the workshop that using fake instead of real flowers is a major cost cutter…I was able to find a wonderful florist/decorator Honour Rowe with H.Y.R. Designs who was able to beautifully decorate our church and the reception room for a reasonable price…I originally encountered her at a bridal show at the Riverdale Town Centre…And that is another cost cutting tip, vendors will often cut their prices if you meet them at a bridal show…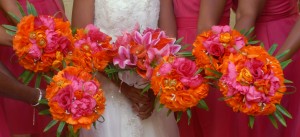 5. If you're anything like me, you look forward to dancing at the reception more than anything! I booked Sight and Sound Entertainment for my dj services as well as videography…And that is another way to save…Combine those services! (Also, at the last minute, they agreed to create the slides for our slide show for a reasonable cost 🙂 )And because I met Richard Lundy at the same bridal show I mentioned above, I was able to get a deal!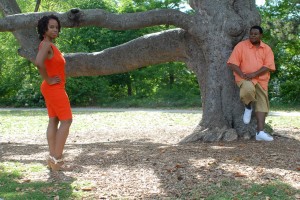 6. You know what they say, a picture is worth a 1000 words…and to my dismay, I discovered that wedding pictures can cost several thousands of dollars…Although the wedding matrix will have you almost willing to spend a home down payment on wedding photos, I kept believing that I could secure a quality photographer for a reasonable price…And I did…Thanks to Doug Smith Photography, we were able to secure a creative engagement session in Piedmont Park and awesome wedding photographs for a reasonable price…Also, with the help of one of my sorors, I was able to find a reasonable company for our photo booth at our wedding! I highly recommend Take That Media 1!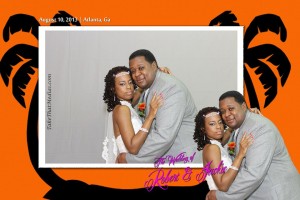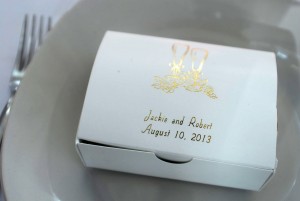 7. Another way to save money is to get help from your family! My mother, my shero, bought mini-cake boxes which had our names and the wedding date engraved on them. She enlisted friends of hers to make Jamaican rum cake. Her team sliced all of the cake and placed them in the mini-cake boxes to give out to her guests. And the best part is that my mom as well as her team paid for all of this!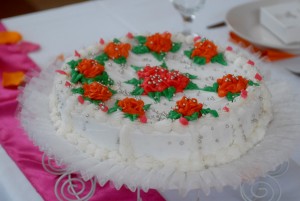 Winning!!!
8. I have never really been into cars, but I discovered in my wedding planning that using your paid-for 2001 Honda Accord as your wedding vehicle just won't do…But a friend suggested a way to cut down on costs for renting a fancy vehicle for the Big Day…Rather than renting a limo that typically costs about $300 and up just for a few hours, we opted to rent a Mercedes van (I cannot remember the actual model) which seated me and all the bridesmaids for $176.69 from the luxury vehicle section at Hertz. We got the van for the entire day! Also, we asked one of Robert's friends to drive the van for us…Incidentally, he works part-time for a limo company so it all worked out!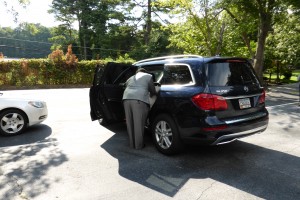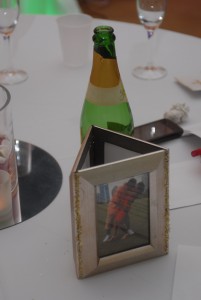 9. Although I planned most of the details, by July, I was pooped and realized that I needed the help of a planner to make sure that everything came together…We hired Park Place Parties and Catering which helped me to find jewelry for my bridesmaids, add a few personalized  touches to our tables, coordinate contact with all of the vendors, and direct the wedding ceremony and reception – all for a reasonable price…
10. And chile, I used Vistaprint for my wedding invitations, programs and thank you cards! I spent $294.42 (I originally invited 250 people) for my wedding invitations, $142.48 for programs and $120.88 thank you cards. I must admit they weren't the most ornate invitations, programs, and thank you cards I've ever seen, but they did the job…And to save more money on stamps and stationary, we asked our guests to either RSVP online or call me so that we did not have to include RSVP cards and stamped return envelopes…
I must say as much as I complained about spending all of this money, by the time we finished planning our wedding, I realized that it was actually a lot of fun in spite of worrying about RSVPs, wedding day play lists and endless details…In fact, I am still reading articles on the Internet and books about weddings…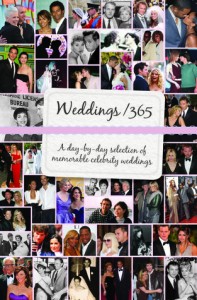 If you're a fan of celebrity pop culture like I am AND weddings, you've got to check out "Weddings/365: A day-by-day selection of memorable celebrity weddings" by Harvey Solomon! Did you know that the wedding of Liza Minnelli and David Gest in March 2002 cost a whopping $3.5 million?! The wedding of Paul McCartney and Heather Mills cost $3 million! One of the ways that celebs cut the costs of their weddings is to sell their wedding photos…Demi Moore and Ashton Kutcher got $3 million for their wedding photos from "People" magazine…What do these three couples have in common? Hmm…More proof that a lavish wedding doesn't exactly equal long-time wedded bliss…
Any thoughts?
Comments
comments