Hello World,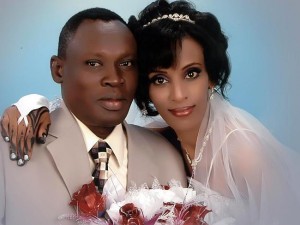 What are we willing to sacrifice for our faith? As I know that mostly Americans read my blog, I would imagine that most of you, most of us, very rarely if at all, consider true sacrifice as a part of our faith unless it's Easter. By true sacrifice, I mean giving up something that is very costly, such our lives even, because we profess to be Christians…
However, in other countries that don't ensure religious freedom, Christians must live in the tension of having faith in God while knowing they may be forced to give up their very lives because of their faith…
Such is the case for 27-year-old Mariam Yehya Ibrahim, a Sudanese woman who has been sentenced to death for refusing to reject her faith in Jesus Christ. According to a CNN article, Ibrahim has been in jail since January 17 and was convicted of apostasy on May 15. Complicating matters, Ibrahim was pregnant when she was jailed and gave birth to her second child, a girl, last month. In addition, her nearly two-year-old son is in jail with her. Her husband, Daniel Wani, who is Christian and an American citizen, told CNN, her case is now being considered by a Sudanese appeals court.
Although Ibrahim's father was a Muslim, she was raised as a Christian by her mother, an Ethiopian Orthodox Christian, after the father abandoned their family when she was 6 six years old. Apparently, her Muslim relatives are the ones that turned Ibrahim into authorities.
In addition to waiting on the decision of the Sudanese appellate court, Wani is also seeking assistance from U.S. Sens. Jeanne Shaheen and Kelly Ayotte from New Hampshire, his home state.
As American Christians, we need to be, at the very least, praying for for Mariam Yehya Ibrahim and Daniel Wani. And as we pray, we should also consider what are we willing to sacrifice for our faith?
As the saying goes, Jesus is not willing to bear the cross alone…If you don't believe me, read John 15:20-21…Remember how I told you that servants are not greater than their master. So if people mistreat me, they will mistreat you. If they do what I say, they will do what you say. People will do to you exactly what they did to me. They will do it because you belong to me, and they don't know the one who sent me.
And there are many stories in the Bible and beyond that demonstrate that some of us may have to pay for our faith with our lives…
I'm not a "gloom and doom" Christian by any means, but we have to know that having sincere faith in Jesus Christ will cost us something…
So I ask this question again: What are we willing to sacrifice for our faith?
Below is a video detailing some of this couple's story…
Any thoughts?
Comments
comments