Hello World,
Right now I'm working on the revision of my first novel which I'm attempting to complete by October so pray for me please…But I did want to post a quick entry on the blog today…
Recently, megastar Beyonce' was named number 1 on the Forbes Celebrity 100 List because "Queen B played 95 shows, bringing in an average $2.4 million per stop, according to Pollstar. She also dropped her most innovative album. Titled simply Beyoncé, the album hit iTunes with barely any publicity and was billed as a "visual album" because there was already a music video for each of the 14 songs.  The single "Drunk in Love" has gone platinum, selling more than 1 million copies."
But King S, as in King Solomon in the Bible, proclaimed that "there is nothing new under the sun." And he has the words to back it up…Check out Proverbs 5:15-20 ERV.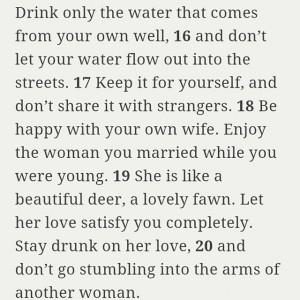 In verse 19, Solomon uses the term "drunk on her love." Hmmm…Maybe Bey browsed through the Bible for inspiration for her song "Drunk in Love" which is about the intoxicating love between her and husband…But I ain't mad…The definition of inspiration is "a divine influence or action on a person believed to qualify him or her to receive and communicate sacred revelation" according to the Merriam Webster dictionary. Nothing is more inspired than the Bible…
And I'm hoping AND praying that I continue to be inspired as write this novel…I see you Bey 🙂
Any thoughts?
P.S. Thanks for a FB friend for inspiring this post 🙂
Comments
comments