Hello World,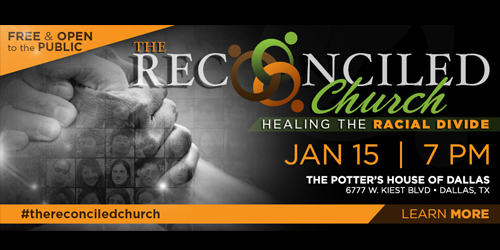 Just in time for Dr. Martin Luther King Jr.'s birthday tomorrow, national leaders are convening at The Potter's House of Dallas on Thursday, Jan. 15 to take practical steps toward racial reconciliation. Leaders include:
Bishop Harry Jackson, one of the nation's most prominent African-American pastors, is chairman of the High Impact Leadership Coalition and senior pastor of Hope Christian Church in metro Washington, D.C.

Bishop T.D. Jakes, senior pastor and New York Times bestselling author, leader and speaker

Andrew Young, ordained minister, civil rights leader and former mayor of Atlanta and United Nations Ambassador

Dr. Alveda King, pastoral associate and director of African-American outreach for Priests for Life and Gospel of Life Ministries and niece of Dr. Martin Luther King Jr.

Dr. Samuel Rodriguez, president of the National Hispanic Christian Leadership Conference/CONELA

Dr. Tony Evans, senior pastor of Oak Cliff Bible Fellowship and founder and president of The Urban Alternative

James Robison, founder and president of LIFE Outreach International and co-host of LIFE Today TV

Dr. R.A. Vernon, founder and senior pastor of The Word Church and

Dr. Jim Garlow, senior pastor at Skyline Church
"The Reconciled Church: Healing the Racial Divide" is a forum comprised of racially and culturally diverse Christian faith leaders to take practical steps toward racial reconciliation across America.
"The Reconciled Church" will begin with a private prayer session followed by four prescriptive panel discussions of best practices around the country and potential solutions to heal racial division. The dialogue will center around the seven "Bridges of Peace" including prayer summits; reconciliation forums; community engagement forums; community service and compassion outreaches; personal, marriage and family development; engagement with the criminal justice system; and economic development strategies.
Late afternoon, leaders will gather for an interactive session with media to summarize their conversation and consensus for moving forward. In the evening a public communion worship service, commissioning individuals to go out and work for reconciliation, will be held, during which leaders will sign a covenant of reconciliation.
It is free and open to the public.
3:00pm Interactive Media Session
7:00pm Prayer, Communion and Commissioning Service
LiveStream 7pm
The Potter's House
6777 West Kiest Boulevard
Dallas, TX 75236
For more information, go to thereconciledchurch.org.
Any thoughts?
Comments
comments