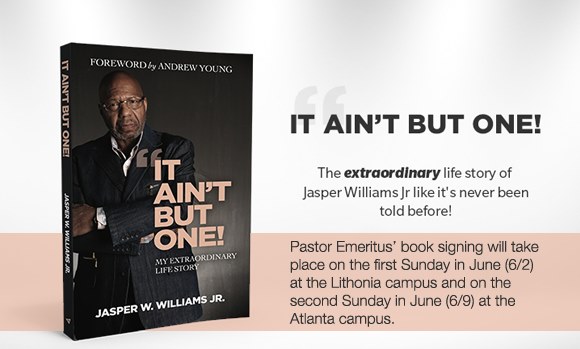 Hello World,
Last September,  Rev. Jasper Williams Jr.'s eulogy at Aretha Franklin's lengthy homegoing caused a ruckus to put it mildly, so much so that I wrote "Seven Reasons Why I Approve of The Rev. Jasper Williams Jr.'s Eulogy at Aretha's Franklin's Funeral…," but Rev. Williams didn't just show up on the scene in September. In fact, he preached his first sermon at a mere seven years old, was the head of a church at the young age of 20 and hasn't stopped since. Nearly 70 years later, he has a story to tell and he's telling it in his book aptly named, "It Ain't But One: My Extraordinary Life Story." Below is the official description of the book, which includes a foreword by Ambassador Andrew Young. 
Growing up in the shadow of his namesake, Rev. Jasper Williams Sr., young Jasper had big shoes to fill. He did so for the first time at the age of 7, preaching a sermon and feeling the exhilaration of God's call on his life and "the realization that I could be the man my Daddy had repeatedly told me I would be when I grew up… just like him!"

Now, nearly 70 years later, Williams looks back on his life and ministry, recounting the challenges of taking the reins of leadership at Salem Bible Church at the tender age of 20, growing and shepherding the congregation and rising in leadership and influence in the Atlanta community and across the country.

Recent years have seen Williams emerge as a statesman in the African American community, speaking boldly and advocating for the restoration of the black family. Readers will be challenged and inspired as Williams offers insights gained from decades of faithful service.

With transparency and humor, Williams recalls the perils and loneliness of ministry, as well as the sheer joy of preaching–something that has earned him the title "Prince of Preachers."
The pastor emeritus will sign his autobiography "It Ain't But One: My Extraordinary Life Story" on Sunday, June 2 at the Salem Bible Church Lithonia campus (5460 Hillandale Drive Lithonia, GA 30058) and on Sunday, June 9 at the Salem Bible Church Atlanta campus(2283 Baker Road, NW Atlanta, GA 30318). And obviously if you can't make it to either signing, you can buy his autobiography on Amazon, Barnes & Noble and wherever books are sold.
Any thoughts?
Comments
comments