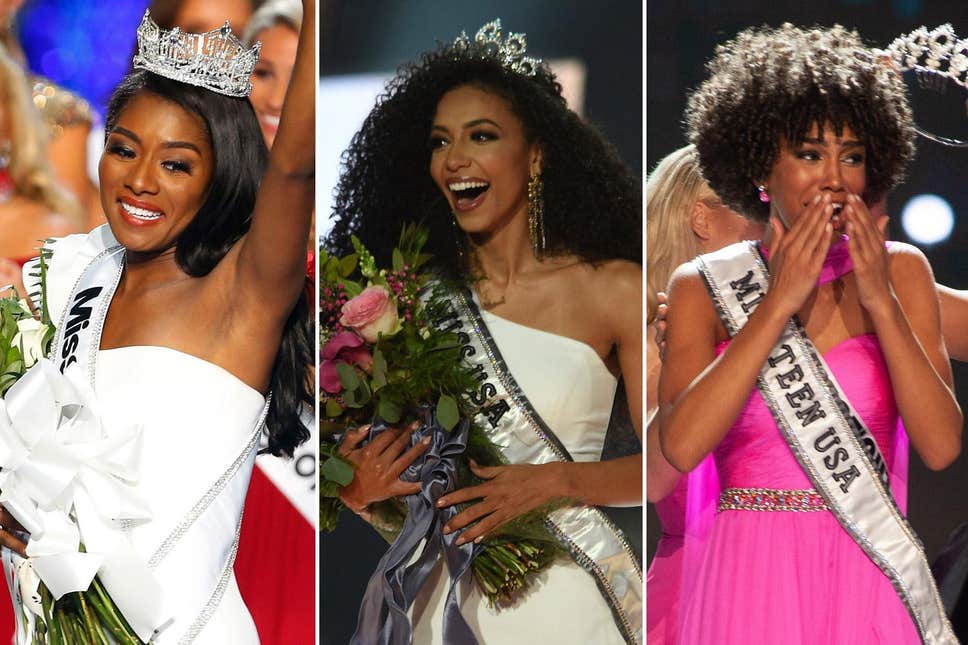 Hello World,
Happy June! I'm back with my monthly roundup of blog posts and or magazine articles for black Christian women! So below is my Top 10 monthly roundup of blog posts and or magazine/newspaper articles for black Christian women for May but you don't have be a black Christian woman to to check them out
  As usual, let me know if you like my list! Enjoy and share!
1. "For the First Time in History, Miss USA, Miss Teen USA and Miss America Are All Black" by BOTWC Staff
Excerpt: We already know that Black is beautiful, but for the first time in history the top beauty pageants in the country have simultaneously elevated this truth. Three Black women are currently wearing crowns as the 2019 Miss USA, Miss Teen USA and Miss America. When Cheslie Kryst's name was announced as Miss USA on Thursday she completed the historic trio with pageant winners 2019 Miss America Nia Franklin and recently crowned 2019 Miss Teen USA Kaliegh Garris. See more at: becauseofthemwecan.com. 
2."Ciara Finally Lets Us In On The Prayer That Led Her To Russell Wilson" by Taylor Honore
Excerpt: Since Ciara and Russell Wilson got married in 2016, single women everywhere have been scouring the church pews in search of the fateful prayer the 33-year-old "Level Up" singer said in order that to secure the man of her dreams, and sis finally gave up a sip of the proverbial tea. See more at: xonecole.com. 
3. "Searching For A New Church Home? Here Are 6 Things To Consider" by Ashley Hobbs
Excerpt: You've visited twenty different churches but none seem to fit. Some Sundays, you're excited to get up, get dressed and go search. Other times, you'd rather pledge membership to Bedside Baptist and call it a day. But there is a tug at your spirit. Your desire for faith community is growing by the day and YouTube sermons are starting to feel supplementary at best. You want to experience God corporately in a way that not only transforms your life but others' lives through you. I'll say this: Sometimes you find what you want by experiencing what you don't. Finding the right church home is an important search and it takes time, trial and error, and a discerning heart to find a community that speaks to you. A faith space in which you can grow, serve, and thrive. See more at: xonecole.com.
4. "All-Black World War II Women's Battalion To Be Honored at Memorial Day Parade" by Andrea Cambron
Excerpt: The Women's Army Corps, created by President Franklin D. Roosevelt on July 1, 1943, included a little known battalion of African American women. Nicknamed "Six Triple Eight," the unit of 824 women traveled overseas to England and France where they were tasked with handling, sorting and delivering an immense backlog of mail destined for and sent by U.S. forces. Women of the Six Triple Eight ran their own mess hall, hair salon, refreshment bar and other recreational facilities. When the unit's military police were denied firearms, they instead trained in jujitsu, an effective alternative in keeping intruders out of their compound. See more at: wtop.com.
5. "Nigerians Celebrate Leah Sharibu's 16th Birthday, Demand Her Release" by Samson Folarin and James Abraham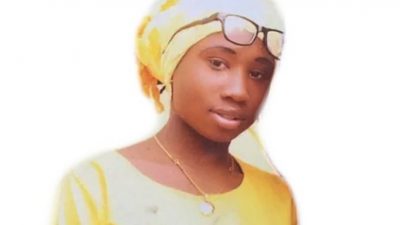 Excerpt: Sharibu was among the 112 schoolgirls abducted by Boko Haram members at the Government Girls' Science and Technical College, Dapchi, Yobe State, on February 19, 2018. While most of the victims were released, she was reportedly held for refusing to deny her Christian faith. On Tuesday, May 14, Nigerians took to different social media platforms to mark her birthday as they demanded her release after 449 days in captivity. See more at: punchng.com. 
6. "'God Has Been Calling Me Here:' First Female, Black Episcopal Bishop in Colorado Talks Her Past and the Church's Future" by Allison Levine
Excerpt: For the first time in history, the Episcopal Church in Colorado will be led by an African-American woman. On Saturday, the church hosted the ordination and consecration of Kym Lucas as its 11th bishop. She is both the church's first woman bishop and first black bishop.  See more at: 9news.com.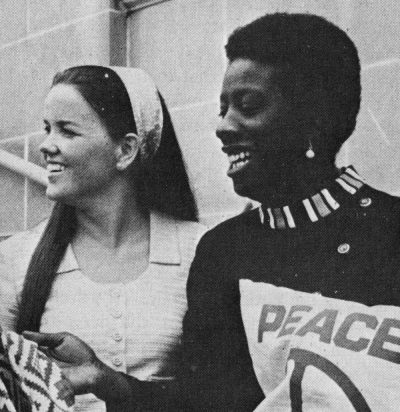 7. "Unita Blackwell, Civil Rights Pillar and First Black Woman Mayor in Mississippi, Dies at 86" by Adam Ganucheau
Excerpt: Unita Blackwell, the sharecropper who later became the first black woman mayor in the state of Mississippi and advised six U.S. presidents, died Monday at age 86. Her son Jeremiah Blackwell Jr. told Mississippi Today his mother died Monday morning at a hospital in Biloxi after a long battle with dementia. See more at: mississippitoday.org.
8. "How Black Women Championed Demands for Reparations" by FM Editors
Excerpt: Sojourner Truth also demanded reparations for slavery through land redistribution. Following the end of slavery, during Reconstruction, Truth argued that slaves helped to build the nation's wealth and therefore should be compensated. In 1870, she circulated a petition requesting Congress to provide land to the "freed colored people in and about Washington" to allow them "to support themselves." Yet, Truth's efforts were not successful. US former slaves got no land or financial support after the end of slavery. See more at: faithfullymagazine.com.
9. "Uzo Aduba To Play Shirley Chisholm In FX Limited Series, 'Mrs. America'" by  Wilson Morales
Excerpt: Mrs. America tells the story of the movement to ratify the Equal Rights Amendment (ERA), and the unexpected backlash led by a conservative woman named Phyllis Schlafly, played by Blanchett. Through the eyes of the women of that era – both Schlafly and second wave feminists Gloria Steinem, Betty Friedan, Shirley Chisholm, Bella Abzug and Jill Ruckelshaus – the series explores how one of the toughest battlegrounds in the culture wars of the 70s helped give rise to the Moral Majority and forever shifted our political landscape. See more at: blackfilm.com. 
10. "This Traveling Library Is Making Sure 'Black Women's Literature Has the Place It Deserves'" by Char Adams
Excerpt: So she kicked off the project by asking friends and family to simply donate a book to her cause. Nearly four years ago, that little girl marked her first trade, and now, Akinmowo has over 1,000 books in what she has named the Free Black Women's Library. Since then, she's set up a collection of books in monthly pop-ups all around Brooklyn, New York. Having graduated from brownstone stoops, the library now functions as a traveling biblio-installation that sets up shop in museums, creative spaces, theaters, art galleries, churches, and festivals. See more at: oprahmag.com. 
If you know of any black Christian women bloggers and or writers, please e-mail me at jacqueline@afterthealtarcall.com as I'm always interested in expanding my community of black Christian women blogs and websites. As I noted before, while this is a roundup of interesting blog posts and or magazine and newspaper articles for black Christian women, you don't have to be one to appreciate these pieces  
.
Comments
comments